Like many of you who are in the midst of summer right now, I haven't been cooking much of late. However, I have been getting back into smoothies come breakky time, so I thought I'd share some tips on how to take a glass of blended fruit and milk to something close to perfection.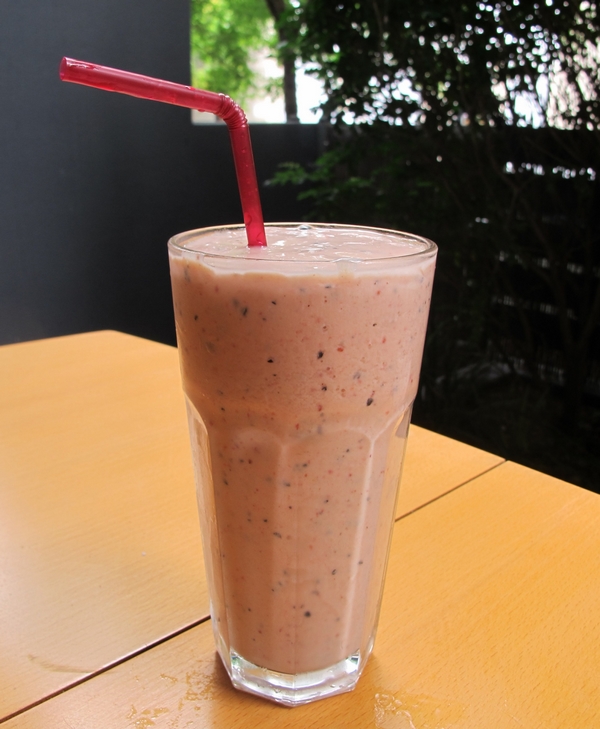 1. Make your smoothie mostly fruit
There are two reasons for this. Firstly, as someone who isn't a big fan of fruit unless somebody else has cut it up for me and garnished it with lashings of whipped cream, this is a sure fire way to get a big serve of multiple fruits in one go, without losing out on fibre as you do when juicing. Secondly, because milk isn't the main ingredient, those who are lactose sensitive/intolerant or like to avoid dairy won't be missing out – you can sub in juice, soy milk, soy yogurt, almond or rice milk, even coconut milk, as long as you chill it first.
2. Fill the glass, not the beaker/blender/food processor
In the past, I was forever getting the quantities (or the ratio of ingredients) wrong when it came to smoothies. I'd whack a bunch of ingredients in the beaker for my stick blender, blend away like mad, topple the lot into my glass and find I'd made too much/not enough/it was too watery. These days, I just fill as many glasses with fruit as needed, top with yogurt or ice cream, and fill to the brim with milk. Pour the glass/es into the blender and viola! The perfect size.
3. Freeze your fruit
This will give you a thickshake or melted ice cream consistency, making the smoothie feel treat-like rather than medicinal. It also means you can save your fruit before it goes strange by chopping, portioning and freezing it ready for smoothies. Your smoothie will be cold, delicious, and so thick you could eat it with a spoon. In fact, if you pop it in the freezer for half an hour you could even serve it as dessert.
4. Use 4 fruits or less
In the smoothie pictured, I have fresh mango, half a frozen banana, frozen strawberry pieces and the pulp of two passionfruit. I've noticed keeping things to 4 fruits or less gives a cleaner taste. Also, one of the strongest flavours in the smoothie is banana, which makes sense because bananas are one of the sweetest fruits you can buy, so I never put in more than half a banana unless I want that to be the only flavour. The worst smoothies I've had don't taste like anything in particular because there are so many kinds of fruit in there that no one flavour stands out. So whatever your fave fruit is, go heavy on that.
5. Use a straw
Ok, so this is just a personal preference of mine, but doesn't life just feel that much more luxurious when you're sipping your drink through a straw? I'm not saying you'll feel like you're on a northern Brazillian beach or anything, but a straw can't hurt. Hell, why not chuck in a cocktail umbrella for good measure.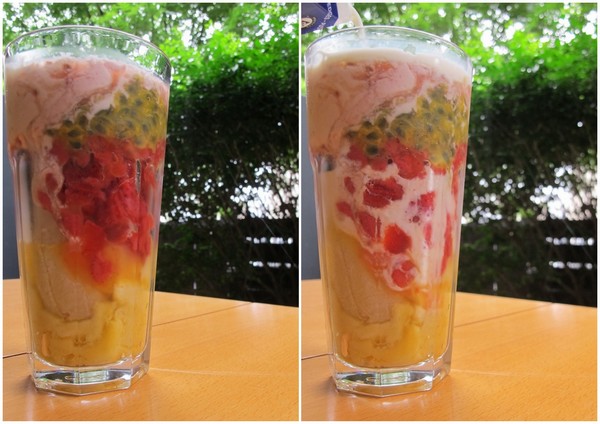 What's your fave smoothie recipe?
About me

Sharing easy recipes, hunting down the

best coffee

. Honest accounts, nothing too serious.

Read more...

Popular posts this month…

This work is licensed under a

Creative Commons Attribution-NonCommercial 2.5 Australia License

.

Disclaimer:

All opinions in this blog are mine, an everyday, real-life person. I do not accept payment for reviews and nor do I write sponsored posts. I do not endorse the content of the comments herein.