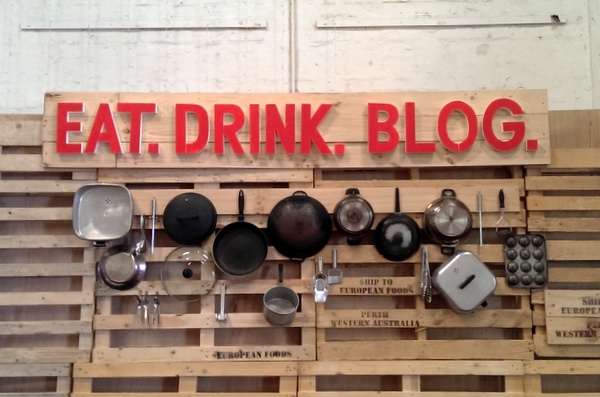 Someone finally said it. Maybe, we're doing it wrong. But perhaps not in the way that we think…
Bloggers = mainstream media
At this year's Eat. Drink. Blog. conference in Perth, one of the highlights for me was Thang Ngo's presentation on mobile and the future of blogging. In it, he warned us that if we're not careful, bloggers could be dethroned by a more tech, mobile and analytics-savvy crew. He pointed out that our success, whether measured by google rankings, page views or the less tangible 'relevance', is in many ways a happy accident, whereby traditional media dropped the ball – they got online too slowly and we were already there. But complacency and failure to move with the times could leave us straggling behind.
Every day, it seems we are becoming more and more like traditional media, and they are becoming more and more like us. Could punchy, short, media-rich content save us? Certainly it would drive traffic and increase unique views. And then?
There's more to blogging than numbers
As bloggers, what's the aim of the game? Is it to be seen by as many eyes as possible? Of course if we write, we want to be read, so it makes sense to know how to 'be seen', but as I write this, the top story on News.com.au is 'Box Office Bombs: the 15 worst movies in film history', so clearly numbers are not all there is to blogging.
Saying 'no' to PRs
Then something significant happened. For the first time since I first attended Eat. Drink. Blog in 2011, somebody got up and talked about working with PR companies and said something other than 'just do what feels right to you' or 'full disclosure'.
Phil Lees, the blogger behind 'last appetite' and Social Media Manager for Tourism Victoria, said that in his opinion, food bloggers shouldn't write sponsored posts, because sponsorship influences the kinds of things they write about, and that will influence their readers.
This was hardly revolutionary, but all hell broke loose in our little corner of the twitterverse. As Phil himself tweeted:

You are an expert
Let me put it this way. PRs contact you because you are an SME; a subject matter expert. You are an 'influencer', with a strong brand. But how did you become an SME, how did you build that 'brand'? Probably through hard work and dedication. Probably through your unique voice. Probably because you were good at finding something or saying something or doing something in a way that others weren't. In a nutshell, you knew something they didn't, and you were willing to share it.
So you're approached by a PR company, and they basically want to co-opt your brand, grab some reflected glow from you SME status. They offer you whatever they offer you to get you to say something about what they are trying to sell. There is nothing wrong with this, but there is also nothing right with it.
Your blog is your space
As Erika wisely said in her recent post, your blog is your blog much like your home is you home. If someone wants to provide you with a product or experience that you wouldn't otherwise be interested in and you wouldn't recommend, your rejection of their offer should be a forgone conclusion. And if you do write sponsored content, one thing that you can never say is "I write what I want, I don't let anyone else influence my content." That's impossible. That's impossible anyway, none of us are un-influance-able. But it's certainly impossible if you're writing sponsored content.
WTF does that mean?
I'm not saying that if you do PR posts, you are an idiot or your readers are idiots; that you say you enjoyed x brand of cocoa and suddenly your readership is rushing out to buy it, and your blog becomes an value-less platform for product spruikers nationwide.
What I'm saying is, brands are paying to take up space in our 'neighbourhood', to be part of our conversation, a conversation they may have no right to be a part of. On a micro level, sure, you can do 'what feels right to you'. On a macro level, a broader trend develops with outcomes we may not yet have anticipated. Brands may have presence and prominence and power that, frankly, they may not deserve.
Check out another presentation that blew my mind back in 2011, Journalist Simon Marnie on why authenticity and diversity of opinion is so important in blogging (apologies for the picture quality of the video).
embedded by Embedded Video

YouTube
I for one am rewriting my editorial policy this week.
About a month ago, we got talking about unsolicited PR emails, specifically, badly written, poorly targeted ones and how bloggers react to them. I asked for your take- your experience, what irks you, what you like, and what could improve this process for you. What follows are my 5 tips for PR companies when approaching bloggers.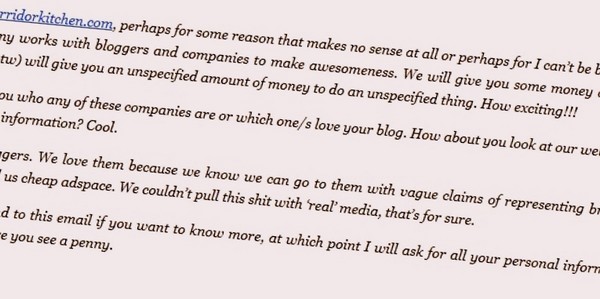 1. Read the about page
Or any other page that might tell you whether the blogger will be remotely interested in what you're pedalling. So many PR companies do not do this at all and it astounds me. There are many blogs that are ad free, don't do sponsored posts or giveaways and state this clearly, sometimes multiple times. There is not point contacting someone with a policy like this, for example.
2. Read the blog!
Before you even think about firing off an email, spend some time looking at the kind of posts the blogger writes. Are there sponsored posts or product reviews? Do they write about an area related to your product? For example, I write a lot about coffee so I was offered a coffee machine to review. This was hardly a surprising thing for me to review. Look at the sidebars. Are there any ads? Do you think this is deliberate? Try and see where your promotion might be a good fit. If the answer is resounding 'no', let it lie.
3. Write a real email
You wouldn't send the same cover letter out for every job, why would you send the same email to every blogger? You are pitching your product/promotion to the blogger, not he other way around. Don't expect them to be grateful (although they may be) and don't expect them to jump at the chance to run your promotion. Their blog is a project in which they are the writer, graphic designer, photographer, editor, account manager, etc etc. As such, may selective about the kind of promotions, if any, they run. They may also get tons of offers every day, so give them plenty of time to read and consider yours (no point emailing me about a promotion that needs to run next month, for example). And for god's sake, get the blogger's name, and the name of their blog, right. If I get one more PR email addressed to 'Laura', I'll scream!
4. Write a concrete, concise proposal
In other words, be clear. What are you offering? Spell it out. Even minor league bloggers will get a few PR emails a month, and they are not likely to bother replying if they have no idea what's on offer. Don't write to a blogger asking for all their stats, especially without giving them a clear picture of what they're signing up for. You know what your company's policy is/what promotion you're offering, put it in the very first email. It may be something like 'we pay $20 for each text-based ad you run for a month for any blogs with 1000+ pageviews/month' or 'we would like you to review our new flavour of chocolate and can send you 1kg of chocolate as payment'.
Having this information, the blogger immediately knows whether or not your promotion will be a good fit for them. And having read their blog, you'll know this too. There's no point in writing 'we offer text based ads to enhance your online profile and monetise your blog'. What in the hell does that even mean? How many emails will it take me to find out?

5. Be flexible
By approaching bloggers like a real person, you need to be prepared for a real answer. If there's any scope at all for you to be flexible with your proposal, do so. Sometimes a blogger might have another way of looking at what you're doing that may be of benefit. For example, you might offer to give them a free product, but they might prefer to give it away to their readers. You might ask for a review, they may prefer to use you product in a recipe.
Even with these tips in mind, you need to be prepared to be turned down. But hopefully you'll get a reply, perhaps even one that's speedy and polite, and you can cross that blog off your list.
What are your tips for PR reps when approaching bloggers?
So today I received yet another unsolicited email from a media/PR company. They love bloggers. They love my blog. So do the companies they represent. They would like to give me some money to do a/some sponsored posts/s.
I'm interested in what y'all think about unsolicited PR/media emails. I get a lot of these, and they all run along the same lines.
Generally it's a form email with your name and blog name inserted. It offers a vague proposal – sponsored posts or adspace at unspecified figures which will only be revealed once you've signed up/shown some interest…
Subject: we love you blog!
Dear (name),
We love (name of blog), perhaps for some reason that makes no sense at all or perhaps for I can't be bothered to think of an example. My company works with bloggers and companies to make awesomeness. We will give you some money and our client (who totes loves your blog btw) will give you an unspecified amount of money to do an unspecified thing. How exciting!!!
I can't tell you who any of these companies are or which one/s love your blog. How about you look at our website for testimonials and even more vague information? Cool.
We love bloggers. We love them because we know we can go to them with vague claims of representing brands and they'll jump at the chance to sell us cheap adspace. We couldn't pull this shit with 'real' media, that's for sure.
Please respond to this email if you want to know more, at which point I will ask for all your personal information and get you to sign a contract before you see a penny.
Best,
(company)
I'm interested in what bloggers think about this practice. To me, there's a spectrum of how these companies approach you. The relevance of their proposal is very much determined by how much time they've spent looking at your blog and whether they've considered your subject, audience, and so forth.
What do you think?
Are you interested in these kinds of promotions?
Have you had any good/bad experiences with these kind of promotions?
Do you have 'rates' as such?
And, most importantly:
What would improve this process for you?
Do you have any tips for bloggers?
Do you have any tips for PR/media companies?
I'd love to know what you think.
About me

Sharing easy recipes, hunting down the

best coffee

. Honest accounts, nothing too serious.

Read more...

Popular posts this month…

This work is licensed under a

Creative Commons Attribution-NonCommercial 2.5 Australia License

.

Disclaimer:

All opinions in this blog are mine, an everyday, real-life person. I do not accept payment for reviews and nor do I write sponsored posts. I do not endorse the content of the comments herein.