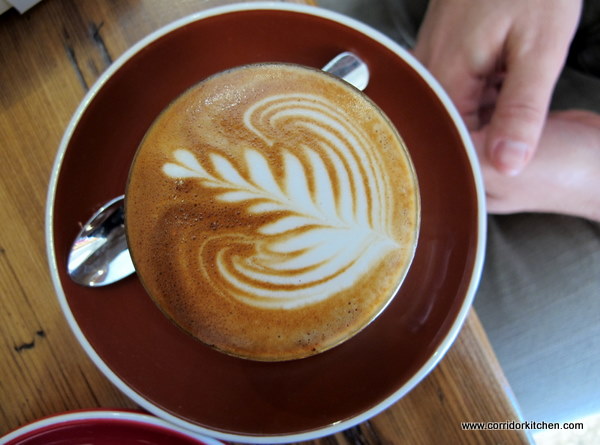 You may not know this about me, but I'm a sucker for a striped awning. Anyone clever enough to attach one to the outside of their cake shop/patisserie/boulangerie/espresso bar (because that's where you always seem to find them) has a good chance of piquing my interest. And if it's a sunny Saturday morning and I've 'forgotten' to have breakfast before Senhor R and I go out for coffee, your chances increase exponentially.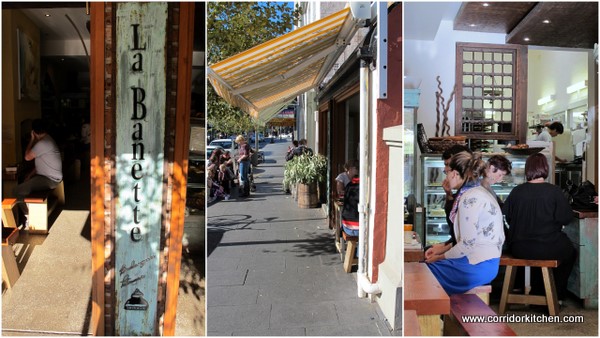 Thus 'La Banette' has always been referred to by me as 'the place in Glebe with the yellow striped awning'. I don't spend much time in Glebe because I find the coffee to be as it is in Newtown – a few brilliant places dotted here and there, but you gotta know where to look. And while in Newtown I have a fairly good idea (Campos, Vargabar Espresso, The Old Fish Cafe, Berkelouw Books), in Glebe I have no clue. And I'm usually too damned lazy to find out.
So I never realised it was a patisserie, boulangerie and café, let alone the second in a series (the other is in Avalon). After visiting, a quick Google reveals that the owners, Vince Luong and Uyen Le, have garnered acclaim all over for their interpretations of French classics. And it's no surprise.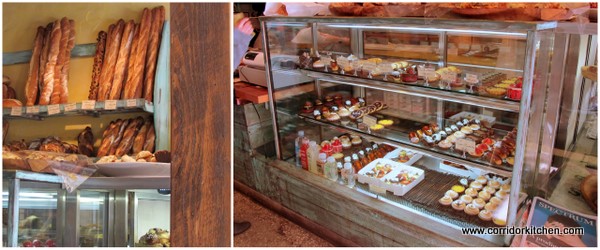 The interior is small but artfully arranged with bench seats and tables down one side and pastries, cakes and breads wherever they will fit. The selection is impressive and, to my mind, not at all on the expensive side. On our first visit we pick up a rustic sourdough baguette for something like $3 and grab our standard coffees to have in. The baguette isn't as sourdough-y as I like it, but it have terrific crunch factor. The coffee is good. Very good. Good, rich crema, latte art which I can take or leave in real life but can't get enough of for blogging. On our next visit we order croissant and a danish and they are divine; so buttery, rich and flaky I could eat ten.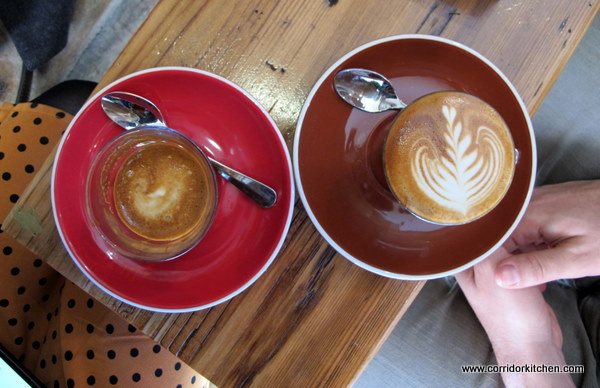 The procedure is to order and pay at the counter before you sit down and the staff will bring your order out to you, or you can get it to go. They purport to be a bakery, not a cafe and thus although all the coffee comes with real saucers, cups and spoons the food comes in bags, boxes and on doilies. They request that you dispose of them yourself (they have bins) and I take no issue with this but if I have one criticism it's that this policy seems wasteful. However, in the face of some of the best pastries I've had in my life and golden delicious coffee, this seems a small thing.
So, what less-than-subtle sign is guaranteed to pique you interest in a place?
La Banette
18 Glebe Point Road, Glebe 2037
(02) 8095 9688
7:00am – 6:00pm Monday – Friday
One of my favourite things to eat in Spain at the dingy tapas bars we frequented was the kind of aioli that tastes like plastic-y American mayo with some garlic thrown in for good measure. I could drink the stuff, in fact, I'm pretty sure I bought some in a Portuguese supermarket post-Spain and inhaled the whole tub. So any time I had a go at making aioli, I'd just mix mass-produced mayo and garlic. And now that aioli is trendy here, that's usually what's served in pubs all around Australia.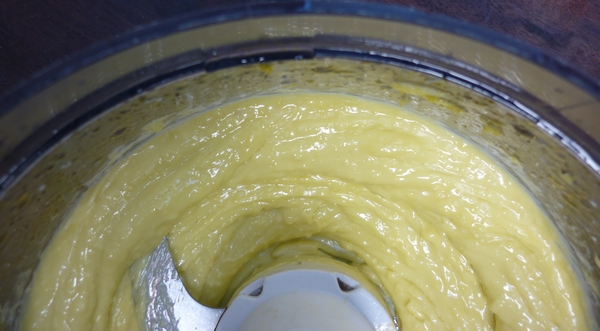 I have always shied away from scientific-sounding processes like 'emulsification' in cooking so you'll forgive me if I only got around to making 'proper' aioli from scratch about a month ago. I figured it wouldn't be worth the effort but boy, was I wrong. And what's more, it goes with pretty much anything savoury – fish, chicken, polenta-crusted potatoes, the list goes on.

To make an aioli you basically do what you would do for a mayonnaise, only using extra virgin olive oil. You blend or mix egg yolks with garlic or herbs until creamy and then, while still mixing, add a large amount of olive oil drop by drop, finishing with a touch of acid like lemon or vinegar. The result is a thick creamy emulsion that will have you licking your fingers with glee, I promise you.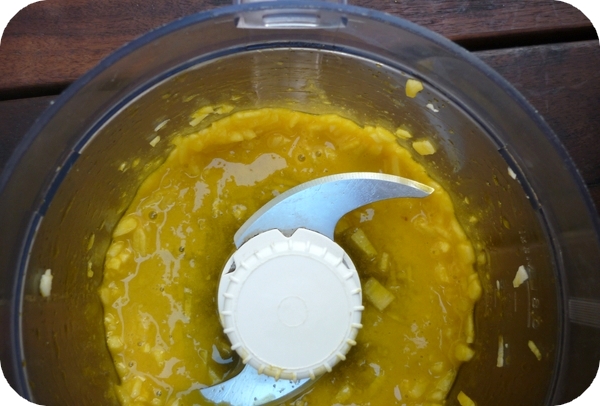 This is a recipe that lends itself to immersion blenders and food processors because the aioli must be constantly in motion or it won't emulsify. Other than that, it is damn near impossible to stuff it up. You could make it too thick but I'm pretty sure no one would complain if you did and anyway you could just add more lemon, vinegar or water.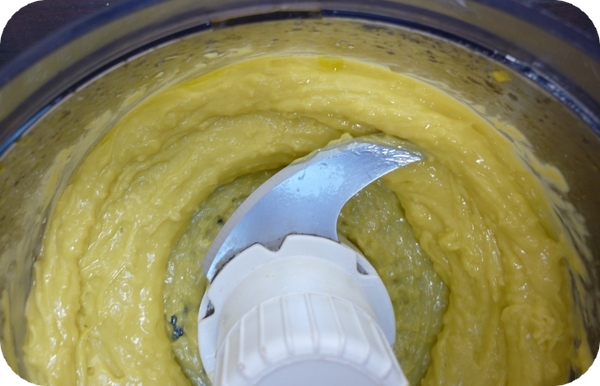 Classic Aioli
4 cloves garlic, chopped
2 egg yolks
2/3 cup extra virgin olive oil
½ teaspoon salt
1 Tablespoon of Lemon juice (more if desired)
Turn food processor on to medium. Add garlic and egg yolks and puree until garlic is extremely fine and egg yolks are very creamy.
Add salt and once dissolved, pour the oil, drop by drop or in a very slow stream into the still running food processor. You may want to use a measuring jug to pour from. It should take a full 5 minutes to add the 2/3 cup oil to the egg and garlic blend.
Add the lemon and blend some more. Transfer to a bowl, chill and serve.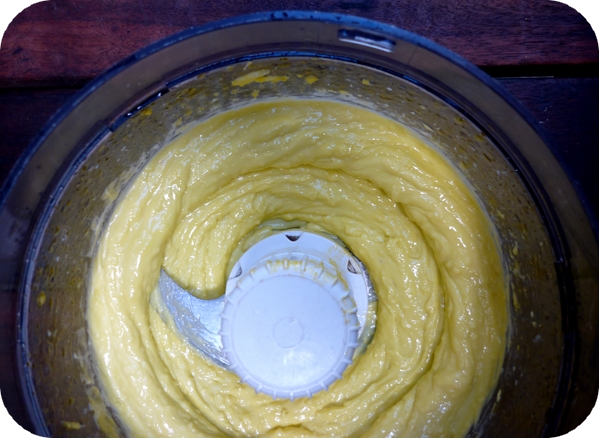 About me

Sharing easy recipes, hunting down the

best coffee

. Honest accounts, nothing too serious.

Read more...

Popular posts this month…

This work is licensed under a

Creative Commons Attribution-NonCommercial 2.5 Australia License

.

Disclaimer:

All opinions in this blog are mine, an everyday, real-life person. I do not accept payment for reviews and nor do I write sponsored posts. I do not endorse the content of the comments herein.