The early Sydney small bars were ultra-trendy, with high price tags on drinks. I won't name names, but their simple formula left me cold – fancy cocktails + retro furniture + no windows + overpriced bear and wine + overcrowding + nowhere to sit = not a great night out. How, I wondered, could anyone afford to go to these places and have more than one drink? Thus I became a smallbar cynic. I wouldn't have, for lack of a better pun, a bar of them. Until Freda's.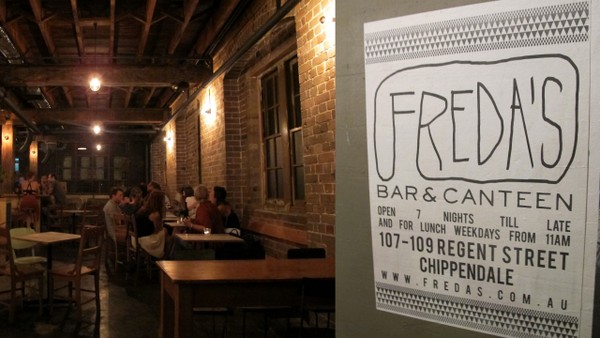 Freda's isn't small, it's large. But it doesn't feel large because it employs this revolutionary idea I like to call hospitality. That's what happens when the staff can be bothered to say hello. It's where there are chairs to sit on and music that ranges from a hum to upbeat background noise – on Saturday night, you're just short of shouting but you probably won't notice. It's where the food comes out quickly and the bread comes with it, where you can order at the bar or have table service, your choice. It's where every person that serves you treats you like a person, not a nuisance at the end of a woolworth's deli-style queue, and you treat them like a person right back.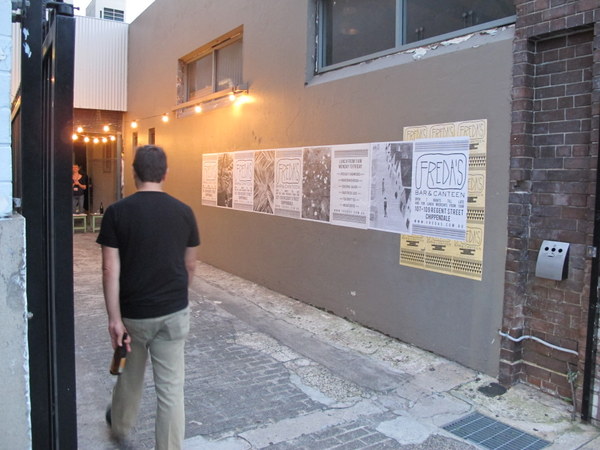 How to get there
Freda's is on Regent street, just north of Cleveland. Look out for a giant red tongue of the PR agency nearby. It's is in an alleyway, right by the dance studio, opposite the servo where all the taxis refuel. You know the place.
When you walk into Freda's, most likely someone will greet you. If it's early, maybe several people will. It's an exposed brick warehouse that has been sympathetically restored, with a pared-back aesthetic, bare light bulbs, a daily blackboard menu and wooden finishes.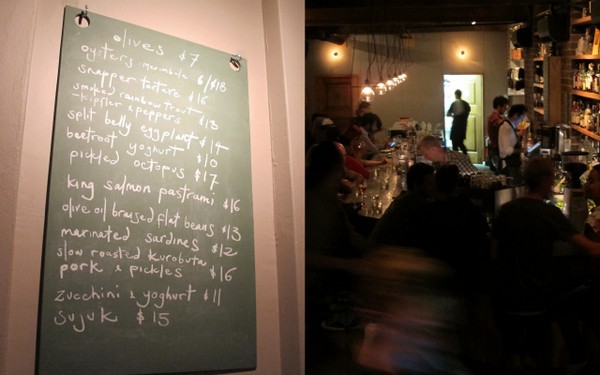 Food/Drink
I recommend Happy Hour if you're skint. They always have a $5 beer and a $5 wine and some crazy oyster deal. Around 5pm they put up their shareplate menu, it's mostly cold stuff, things that are pickled and braised and delicious. Everything seems to come with free bread and go well with drinking. The food menu changes daily and they are renowned for their pickled octopus- sounds weird but delicious. I've tried their eggplant and tahini (amazing), and one weekend I think we tried everything on the menu except the sujuk, beetroot yogurt and the oysters. Everything was smashing – vinegary, charred, complex, textural. The wine list is impressive as well, and of course there are cocktails. Also, they serve lunch sandwiches. And lunch coffee.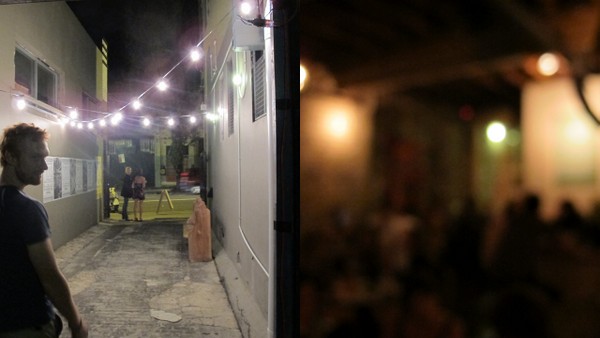 The Verdict
Freda's has its finger on the pulse, but the pulse of someone who's just had a leisurely latte and a pumpkin scone rather than a $20 glass of champagne and a handful of speed. And it shows. It's about to be blogged to death and recently received a favourable review in the SMH. It's the kind of place that's impossible not to like, like that kid in high school who was unrealistically good looking, got good marks, was great at sport and, to top it all off, nice as pie. But cooler. And with pickled octopus on the menu.
Freda's
109 Cleveland Street
Chippendale, NSW, 2008
(02) 8971 7336
www.freda's.com.au
Monday-Friday 11:00am – Midnight
Saturday 4:00pm – Midnight
Sunday 4:00pm-10:00pm
When I moved into my first sharehouse, it was advertised in the paper as 'Surry Hills'. I knew this wasn't true, because when I looked at a map, it was right by Redfern Station. However Redfern had a bad rep and Surry Hills was highly coveted, so over the years Surry Hills has been spreading like mould, at least in the real estate pages.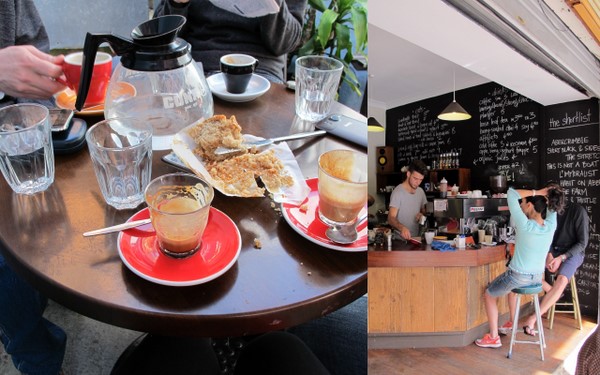 Then there are the suburbs that are completely made up – I'm looking at you, 'Redfern East'. No, I'm sorry, you just plain don't exist. And then there's Darlington, its 2008 postcode made up almost entirely of Sydney Uni (and invented specifically so Sydney Uni would enjoy, shall we say, less rigid planning laws than the surrounding suburbs). To me this is kind of a suburb. It's the one you say you live in when you're trying to sell your house but you really live in Chippendale.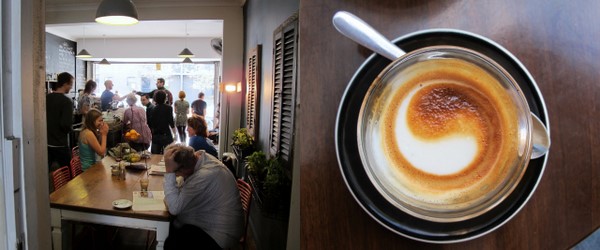 'The Shortlist' is in the semi-made-up suburb of Darlington on the lemming-walk to Sydney Uni stretch of Abercrombie St. There have been two pretty respectable café options on this drag for ages – the laid back Tripod, serving coffee roaster coffee and the incredibly popular but slightly grumpily staffed Café Ella which is never open Sundays.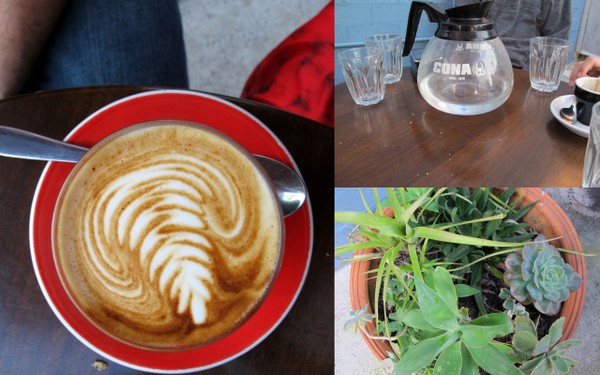 But for some reason, no one had a thing to say about this stretch of road until The Shortlist came to town. It's true that it's a lot busier on weekends now and the breakfast crowd seem to be getting younger. Many new businesses have opened up and, like all of Redfern, gentrification is full steam ahead.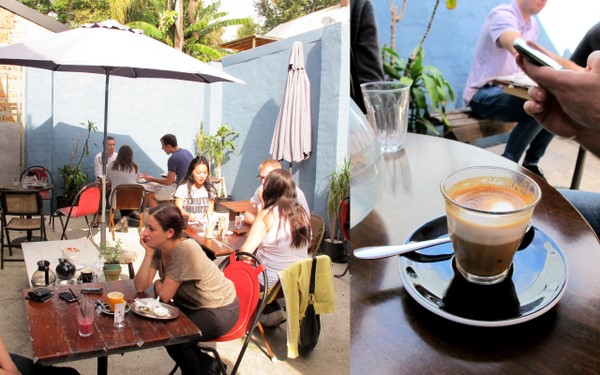 So while I would love to make a pun about The Shortlist having been on my shortlist for a while now, it sort of hasn't. True, it's always crowded and it serves Little Marrionette coffee, something that coffee guides seem to universally agree can only be a good thing. But I've always gone by and it's been packed out the front by people crouching uncomfortably on tiny stools, trying to be seen. It's a tad too Redfern East for Darlington, if you get my drift.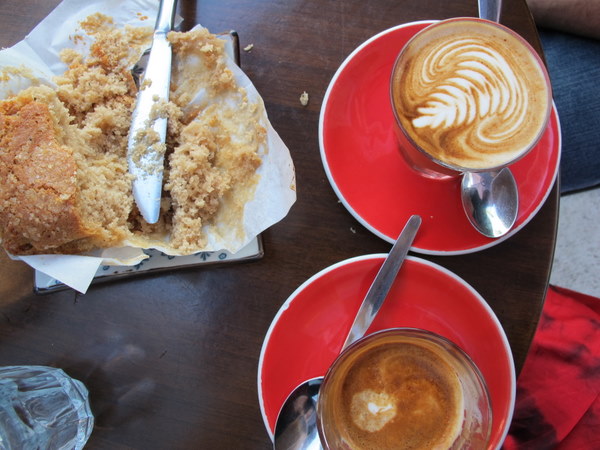 One thing I didn't know until I had a look at a place a day is that they have a courtyard out the back. Yes, I'm a dunderheaded fool, I thought that doorway was a mirror. That and its proximity to my house clinched it for me so one weekend we trecked on over. We ordered some coffees and an Earl Grey Tea muffin, which sounds like a load of wank but was absolutely scrummy. The coffee was rich and syrupy, short the way I like it. They serve standard cafe fare and the prices seem reasonable. I can't say for sure if I'll be back, but that's only because I'm so spoiled for choice. Overall I'd say give it a go, especially if you can grab a seat out the back, which is pretty easy to do as the seat out the front seem to be the favoured ones.

The Shortlist
258 Abercrombie Street
Darlington NSW 2008
www.theshortlistespresso.com
7:00am-4:00pm Monday-Friday
8:00am-4:00pm Saturday
9:00am-3:00pm Sunday
As far as I'm concerned, there are only two really worthwhile hangover cures: a sickly sweet Sydney Pad Thai or a huge fuck-off burger. A juicy beef patty, fresh, soft bun and a side of perfect fries just cannot be beaten. In fact, I don't even need the hangover as an excuse to chow down.
So when Peter and Marian from Beautiful Burgers contacted me and asked if I'd like to come and check out their cafe, I just couldn't say no.* The reason is that I've 'checked out' Beautiful Burgers on many a Saturday arvo, to soak up last night's alcohol or just because there's nothing in the fridge.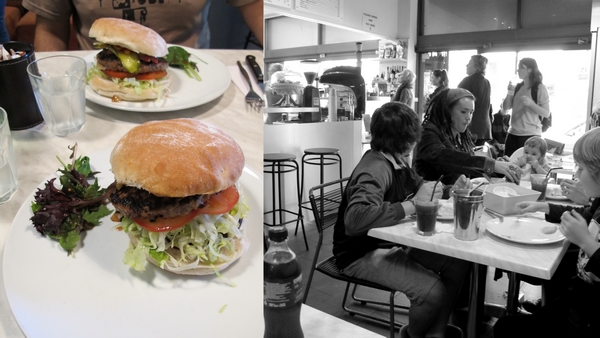 It seems like lately, Sydney has been all about the gourmet burgers (along with Latin American street food, go figure). Wagyu beef, chorizo, sourdough, duck, arugula, aioli, truffle fries, various kinds of relish…the whole thing makes my head spin. Too much choice, too much wank. And don't get me (well, Rui) started on why on earth you'd want to shove wagyu beef through a mincer. Maybe some people just have more money than sense.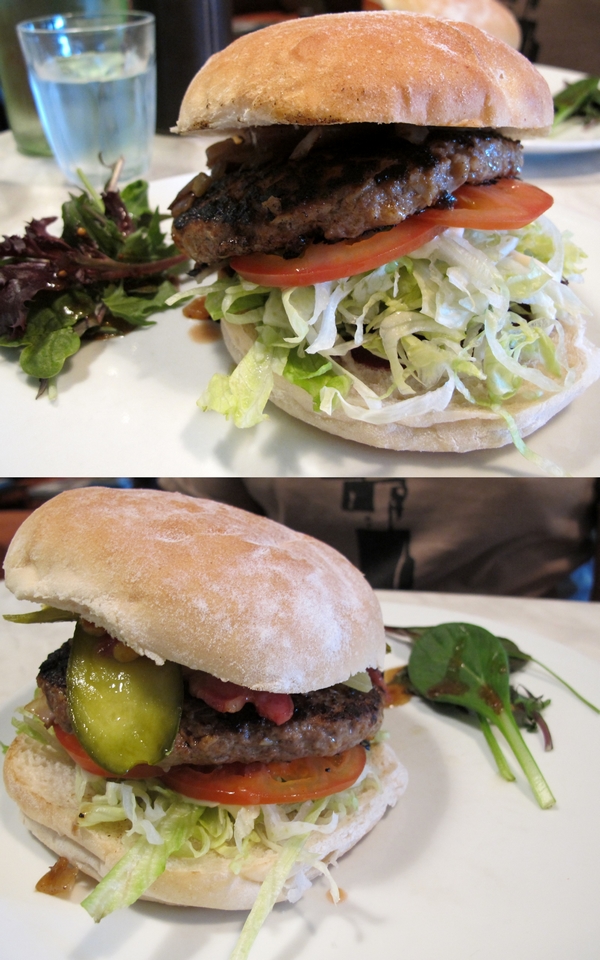 Ok, the rant ends here. Beautiful Burgers is getting more and more popular so when Rui and I arrive it's so crowded that we consider going somewhere else. The fact that all we want is burgers is what sways us. He orders the Yankee burger with iceberg lettuce, mayo, tomato, bacon, cheese, dill pickle, ketchup and American mustard. You get a choice of a beef or chicken patty and he elects beef. I go for the beef burger which I admit is slathered with a fancy onion and tomato basil relish but other than that it's just iceberg lettuce, mayo, tomato and caramelised onion. I add beetroot as always. 'Cause I'm Aussie like that.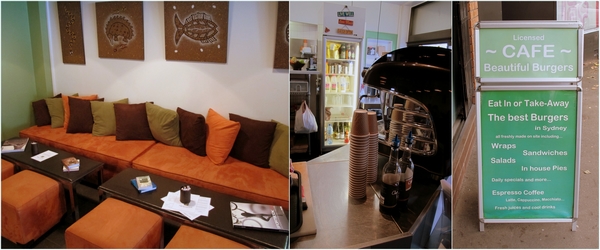 What I like about the menu is there's something for everyone. You can get your Moroccan-inspired Lamb, your Thai chicken, a couple of veggie burgers (one is tofu, the other eggplant) and enough condiments to open a deli. But you can also go for a basic burger and not be left wanting. There's the option of adding pretty much whatever you like at minimal charge and there's a feature burger each week. And although the burgers are definitely the focus, there are other options available such as wraps, sandwiches and pies. The burgers are huge but the fries are delicious too- fresh, crispy on the outside and soft on the inside, so we always face a dilemma when we come here. Should we order fries as well? This time we manage to forgo them.
This place just keeps getting better and better. The bread is always fresh, the patties are deliciously juicy, and the staff are incredibly friendly and always ready to suggest something if you're at a loss. The prices are good – more expensive than your dodgy local takeaway, cheaper than a burger at a café or pub (but fries cost extra). You order and pay at the counter, you can come in the back via Queen Street or the front via regent Street and they even serve beer. And did I mention their burgers are delicious?
What's your ultimate hangover cure?
Beautiful Burgers
5/87-97 Regent Street
Chippendale NSW 2008
(02) 9319 3132
http://www.beautifulburgers.com.au
7.00am-3.00pm Monday to Friday
8.00am-3.00pm Saturday
Closed Sundays
*All food and drink were paid for by us. Oh, ok fine, by Rui. You got me.
About me

Sharing easy recipes, hunting down the

best coffee

. Honest accounts, nothing too serious.

Read more...

Popular posts this month…

This work is licensed under a

Creative Commons Attribution-NonCommercial 2.5 Australia License

.

Disclaimer:

All opinions in this blog are mine, an everyday, real-life person. I do not accept payment for reviews and nor do I write sponsored posts. I do not endorse the content of the comments herein.