The early Sydney small bars were ultra-trendy, with high price tags on drinks. I won't name names, but their simple formula left me cold – fancy cocktails + retro furniture + no windows + overpriced bear and wine + overcrowding + nowhere to sit = not a great night out. How, I wondered, could anyone afford to go to these places and have more than one drink? Thus I became a smallbar cynic. I wouldn't have, for lack of a better pun, a bar of them. Until Freda's.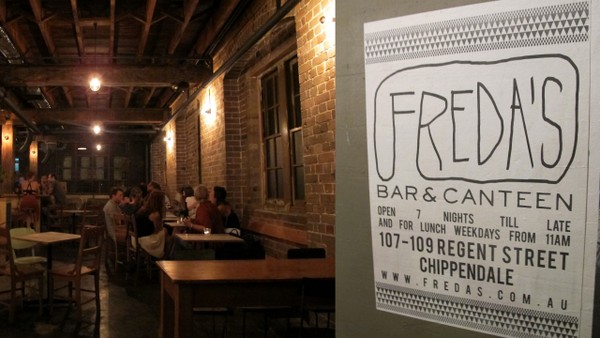 Freda's isn't small, it's large. But it doesn't feel large because it employs this revolutionary idea I like to call hospitality. That's what happens when the staff can be bothered to say hello. It's where there are chairs to sit on and music that ranges from a hum to upbeat background noise – on Saturday night, you're just short of shouting but you probably won't notice. It's where the food comes out quickly and the bread comes with it, where you can order at the bar or have table service, your choice. It's where every person that serves you treats you like a person, not a nuisance at the end of a woolworth's deli-style queue, and you treat them like a person right back.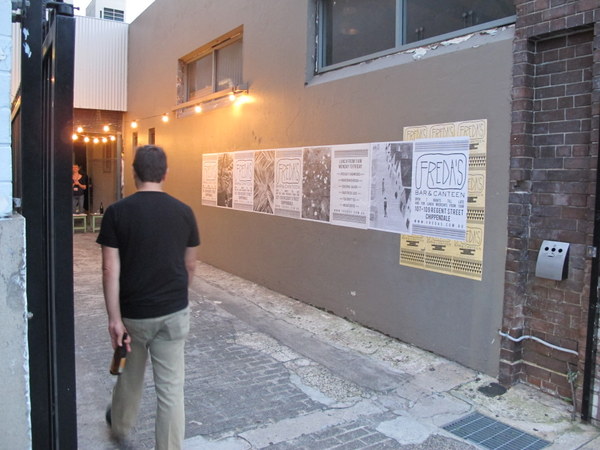 How to get there
Freda's is on Regent street, just north of Cleveland. Look out for a giant red tongue of the PR agency nearby. It's is in an alleyway, right by the dance studio, opposite the servo where all the taxis refuel. You know the place.
When you walk into Freda's, most likely someone will greet you. If it's early, maybe several people will. It's an exposed brick warehouse that has been sympathetically restored, with a pared-back aesthetic, bare light bulbs, a daily blackboard menu and wooden finishes.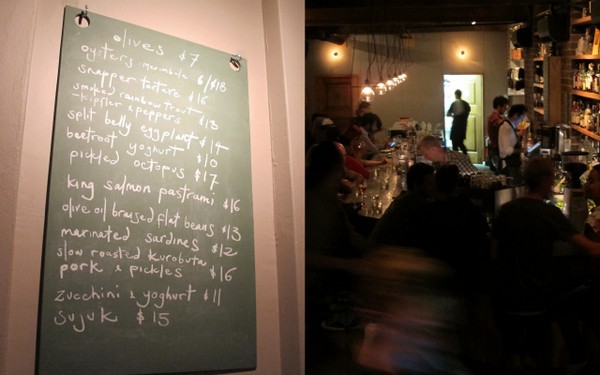 Food/Drink
I recommend Happy Hour if you're skint. They always have a $5 beer and a $5 wine and some crazy oyster deal. Around 5pm they put up their shareplate menu, it's mostly cold stuff, things that are pickled and braised and delicious. Everything seems to come with free bread and go well with drinking. The food menu changes daily and they are renowned for their pickled octopus- sounds weird but delicious. I've tried their eggplant and tahini (amazing), and one weekend I think we tried everything on the menu except the sujuk, beetroot yogurt and the oysters. Everything was smashing – vinegary, charred, complex, textural. The wine list is impressive as well, and of course there are cocktails. Also, they serve lunch sandwiches. And lunch coffee.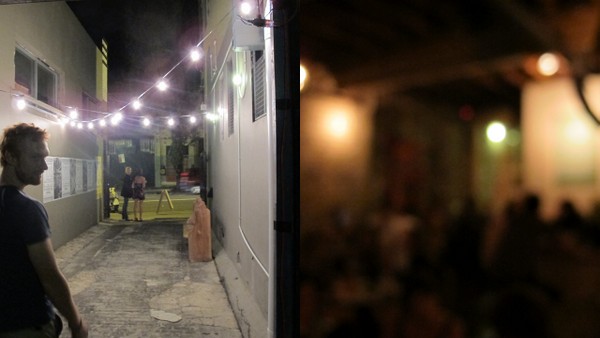 The Verdict
Freda's has its finger on the pulse, but the pulse of someone who's just had a leisurely latte and a pumpkin scone rather than a $20 glass of champagne and a handful of speed. And it shows. It's about to be blogged to death and recently received a favourable review in the SMH. It's the kind of place that's impossible not to like, like that kid in high school who was unrealistically good looking, got good marks, was great at sport and, to top it all off, nice as pie. But cooler. And with pickled octopus on the menu.
Freda's
109 Cleveland Street
Chippendale, NSW, 2008
(02) 8971 7336
www.freda's.com.au
Monday-Friday 11:00am – Midnight
Saturday 4:00pm – Midnight
Sunday 4:00pm-10:00pm
About me

Sharing easy recipes, hunting down the

best coffee

. Honest accounts, nothing too serious.

Read more...

Popular posts this month…

This work is licensed under a

Creative Commons Attribution-NonCommercial 2.5 Australia License

.

Disclaimer:

All opinions in this blog are mine, an everyday, real-life person. I do not accept payment for reviews and nor do I write sponsored posts. I do not endorse the content of the comments herein.