Recently, I was lucky enough to be invited to a preview for snack food pop up Bao Town, which is being held at Vella Nero in the Sydney CBD. Bao town is the brain child of Theresa Nguyen, 10 year graphic design maven, food blogger and all round dynamo.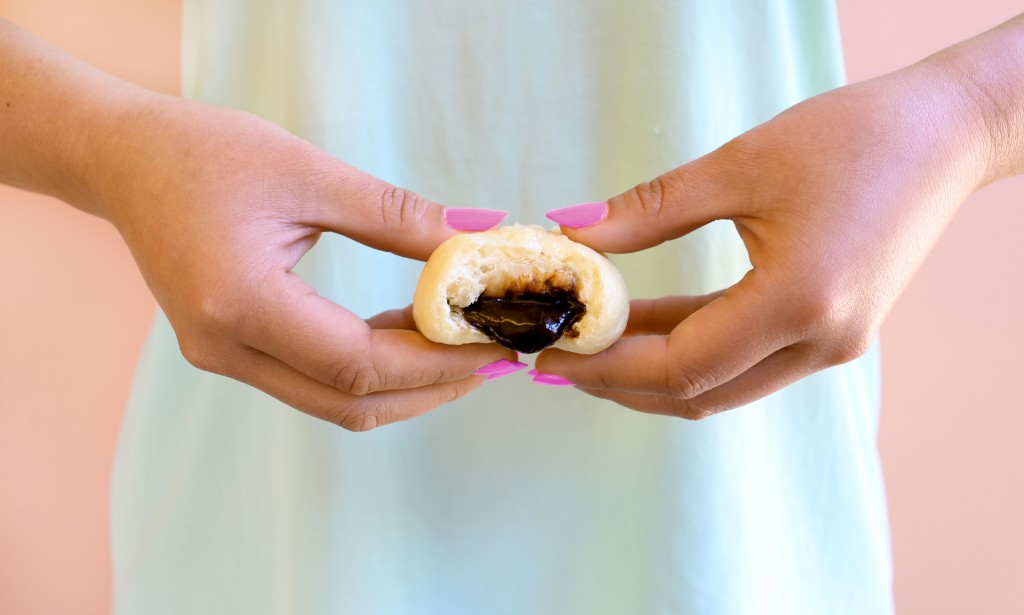 So WTF is a bao? You've probably had one of these filled, fluffy buns at some point in your life. They originated in china and are often filled with things like cha siu pork or red bean paste. At their best, they are fresh, fluffy and piping hot, filled with delectable insides. At their worst, they're a sad and starchy mess with over-processed goopy guts. I haven't scoffed down many baos in my day, so I was keen to learn more by doing so, and I'll admit I was lured by the promise of coffee.
Bao Town's baos are not the ultra-bleached buns you'll find on your local cut-price yum cha cart. The dough is dense, soft and yeasty, fluffy but substantial, and the fillings are worth heading into town for.
There are 6 of these bad boys on offer. 4 savouries; Coconutty Pork Belly, Beef Bo Kho, Miso Eggplant and Yellow Chicken Curry, and 2 for pudding; Lemon Polenta and Molten Chocolate. Bao Town is doing what you'd expect – filling the bao's with unexpected fillings. But don't worry, Theresa learned the rules before she broke 'em. The Beef Bo Kho is based on her family's recipe, and the pork belly is slow cooked for 4 hours in young coconut juice.
Savoury-wise, my money is on the silky, salty and smooth Miso Eggplant, topped with a zesty coriander puree, and the Yellow Chicken Curry, a satisfying and complex vibrant yellow stew. But the show stopper has to be the Molten Chocolate by Marou, which sounds simple and obvious and it is, but the 100% liquid chocolate marries so perfectly with the bready bao in all its messy gorgeousness, I couldn't stop at one.
The road from epiphany to action is one seldom tread, and often fraught with risk. It's one thing to be hit by a lightning-bolt idea for a super-popular street food cart, shop or restaurant; it's quite another to put in the capital, the hours and the work to take the massive risk that is setting up your own small business. Thus, a pop-up allows you to test the waters and take one step along the path from revelation to reality. Based on the preview, I'd say Theresa's dream is very much worth the risk.
Bao Town will be popping up at Vella Nero on the following dates:
Saturday 12th October, 10:00am – 5:00pm
Saturday 2nd November, 10:00am – 5:00pm
Saturday 7th December, 10:00am – 5:00pm

Vella Nero
Shop 3, 259 Clarence Street,
Sydney NSW 2000
http://baotown.com/
http://www.vellanero.com.au/
About me

Sharing easy recipes, hunting down the

best coffee

. Honest accounts, nothing too serious.

Read more...

Popular posts this month…

This work is licensed under a

Creative Commons Attribution-NonCommercial 2.5 Australia License

.

Disclaimer:

All opinions in this blog are mine, an everyday, real-life person. I do not accept payment for reviews and nor do I write sponsored posts. I do not endorse the content of the comments herein.