I'm not much for fancy dinners, perhaps because I'm a woman of the people, or, more likely, because I can't afford to eat them. Contrary to what some may have you believe, I'm not invited to eat for free in trendy restaurants on a regular basis. Or at all. Ever. Once, I was invited to review a burger joint I already frequented. And I paid. That's the sum total of my invitations to restaurants. When other food bloggers say if they didn't eat on the house, they'd never get to blog a high class place, I have literally no idea what they're talking about. Oh, for the luxury of agonising over the ethics of disclosure.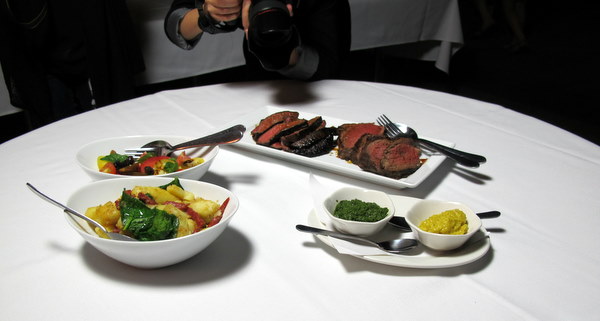 So when I heard that this year's Eat. Drink. Blog. food blogger's conference included a fancy dinner at a place I'd heard of, I was in. I'm not ashamed to say this was the fanciest dinner I'd ever had. I'm also not ashamed to admit I almost walked past the restaurant the first time around.
I arrived at 7:55pm as dinner was to start at 8, and was informed I'd missed the appetisers. No idea what they were but I'm sure they were delicious. I plonked myself down next to my lovely co-bloggers and we were given a rundown of the menu, which was impossible to hear over the general merriment that inevitably accompanies a $134.90 wagyu rib on the bone or a crustacean so large, it requires not so much a bib as a full length plastic apron.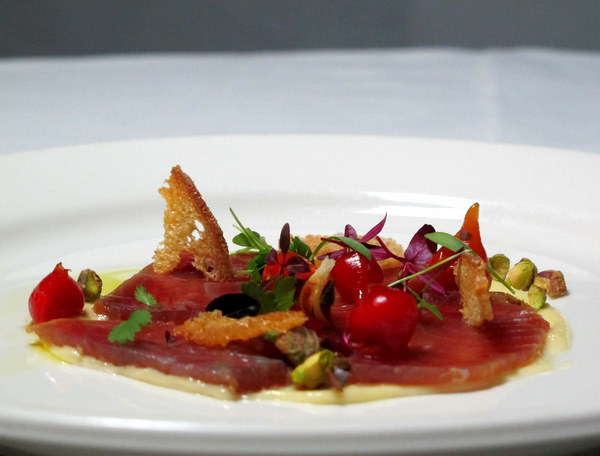 A glass of Reisling soon calmed my nerves and a spotlessly attired waiter informed us the entrees would be out soon. Servers laden with plates soon appeared and carefully placed our plates. What greeted us was not so much a meal as a landscape. Smoked yellow fin tuna carpaccio, swirled around some mayonnaise or equivalent, studded with micro herbs, pickled chillis and a smattering of pistachios. Cameras came out in a flash (pun completely intended) and a waitress appeared out of nowhere to inform us that a special, professionally lit table had been set up in the corner should we want to photograph each dish in a more flattering light.
Many of my co-bloggers kept on snapping away, even requesting used wine bottles to set up an enticing tablescape. I, however took my first bite of carpaccio and it was amazing – silky, smooth, not in any way fishy, and with a texture my mouth couldn't quite make sense of. The mayo-like-substance it sat on was slightly sharp and very creamy, and the pickled chillis, the most remarked upon feature of the dish, exploded in indescribable bursts of vinegary sweetness. As I finished the dish, all the flavours started to meld together and I became conscious only of the dishes textural contrasts. I loved it.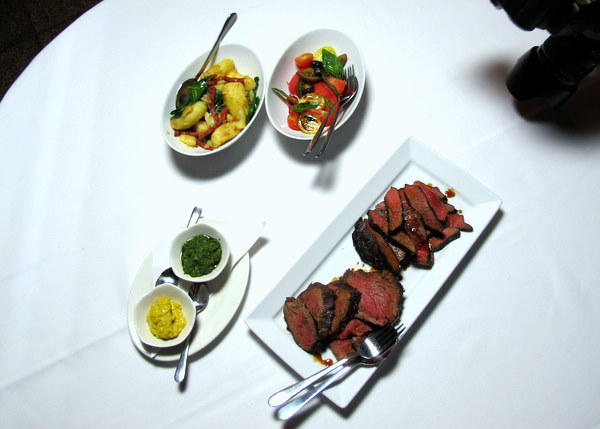 The second course of slow roasted beef tenderloin and wagyu flat iron steak was sliced up on platters to share. We also had kipfler potatos with chorizo and spinch (unexciting), grilled asparagus (tasty) heirloom tomato salad with basil and roast olives (to die for) and a cast of condiments. This was washed down with a nice glass of shiraz. I have to talk about the flat iron steak here. Sure, I slathered it with chimichurri but I needn't have done, it was amazing. It had a lovely charred crust on the outside, was tender and juicy on the inside. One of the best steaks I've had outside of Argentina, although that gives you no indication of quality whatsoever so I'll say this instead; it was quite good.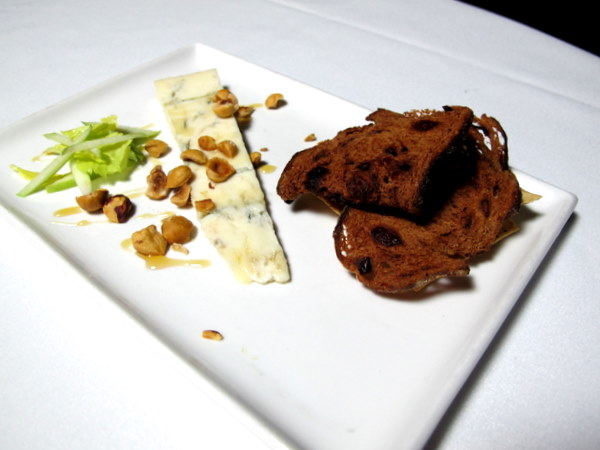 The final course was a cheese course of sweet gorgonzola, which was a welcome end to a day spent stuffing ourselves with pastries, chocolate and macarons. The mild blue cheese was sprinkled with toasted hazelnuts and drizzled with iron bark honey. This was perfectly offset with a glass of St Hallett Rose from the Barossa Valley.
I got into the habit of getting up each time a new plate we placed in front of me, ducking over to the 'display table' and snapping away. This seemed an efficient use of time as I was unable to begin eating until my dining companions had finished their photography. Every time I returned, my napkin was neatly folded by my plate and my water glass refilled. I can't fault the service, I can't fault the food, I can't fault the price (free). All in all, a great night.
What about you? Are you much of a fancy dinner person?
They let their food go cold. They rock fancy SLRs. They tweet up a storm, posting photos of their on-trend lunches and they always know where to get a good feed. Here are five facts about food bloggers you may not know.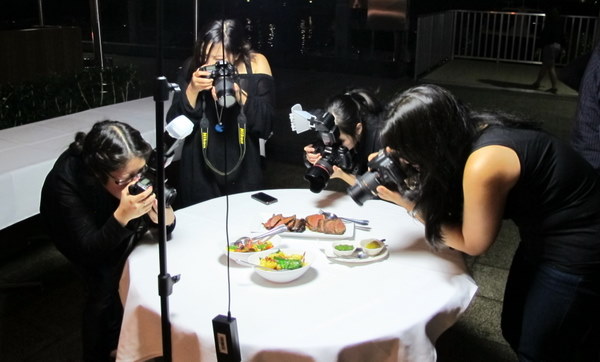 1. They hate food fads just as much as you do
Macarons. Masterchef. Those over-blogged 'it' restaurants. Food bloggers have been there, done that, or at least read it in their mile-long blogroll. At EatDrinkBlog, one food blogger admitted to me, in hushed tones 'I don't think macarons are that great, actually.' I had another prominent food blogger email me to agree that Sydney's recent night noodle markets were both overrated and lacking in noodles. Chances are your fave food blogger is as sick of hearing about Jamie's Italian as you are…or soon will be.
2. They're zeitgeisty, not trendy
Food bloggers will break the next big thing months before the more cautious mainstream media. By taking risks, readers feel they get the inside scoop and other bloggers can follow suit and put in their 2 cents. As a rule, food bloggers don't blog an experience they're not that enamoured with, unless it's macarons, possibly served at the night noodle markets by one of the contestants of masterchef, so the initial buzz bloggers create is often well-deserved.
3. They work extremely hard at what they do
Blogging requires consistent effort, especially for big name bloggers or those who have successfully monetised their blogs. Once readers regularly stop by or start paying for content, it becomes even more important to provide consistent, quality stuff. Food bloggers know they have to bring their readers something fresh and new that they can't find on their own. A full-time blogger may work around 15 hours a day, 6-7 days per week. I myself spend about 8-10 hours a week just to produce 1-2 posts.
4. They're often not as tech-savvy as you might think
Bloggers aren't all tech heads, nor are they all graphic designers. When figuring out how to do something tricky on their blogs, the default method? 'Google it'. I'm really glad I'm not alone in this, as along with visiting forums, it's the method I usually use. Another thing I'll do is to get in contact with bloggers who have a feature on their blog I particularly like, and ask them where they got it. Food bloggers are usually more than happy to share their knowledge and help you out.
5. They're not all trying to get published in mainstream media
It's often assumed by those outside the blogging community that bloggers are trying to get published in a 'real' medium. For some, this may be the case – they may be after freelance writing jobs or book deals. But for many, blogging can be a hobby, or it can be a business, it can be just plain fun. I know for myself the motivation is producing something, publishing something myself.
About me

Sharing easy recipes, hunting down the

best coffee

. Honest accounts, nothing too serious.

Read more...

Popular posts this month…

This work is licensed under a

Creative Commons Attribution-NonCommercial 2.5 Australia License

.

Disclaimer:

All opinions in this blog are mine, an everyday, real-life person. I do not accept payment for reviews and nor do I write sponsored posts. I do not endorse the content of the comments herein.