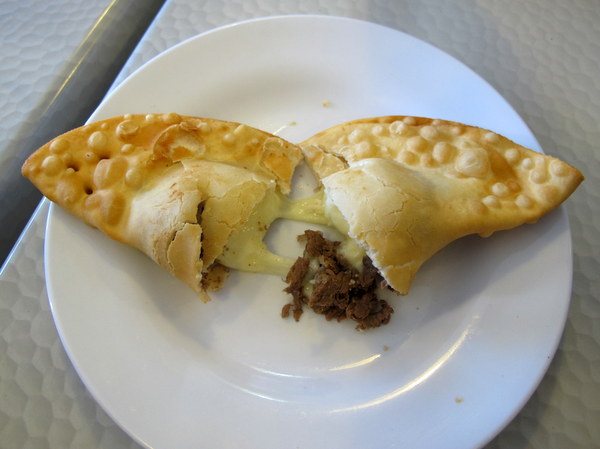 For me, the holy grail of westie food, elusive and delicious, has always been La Paula. I had heard nothing but good things and it had been on my wishlist for aaaaaaaaaages. I'd even visited their nearby branch in Kingsford with their more pared-back menu and had some delicious alfajores and empanadas, but I knew it wasn't the full experience. So I've been licking my lips in anticipation of Chilean sweets and fast food for some time now. A month ago, a group of us finally stopped in for a veritable feast of sweets, softly ensconced sandwiches and dulce de leche delights. No one left disappointed. Or hungry.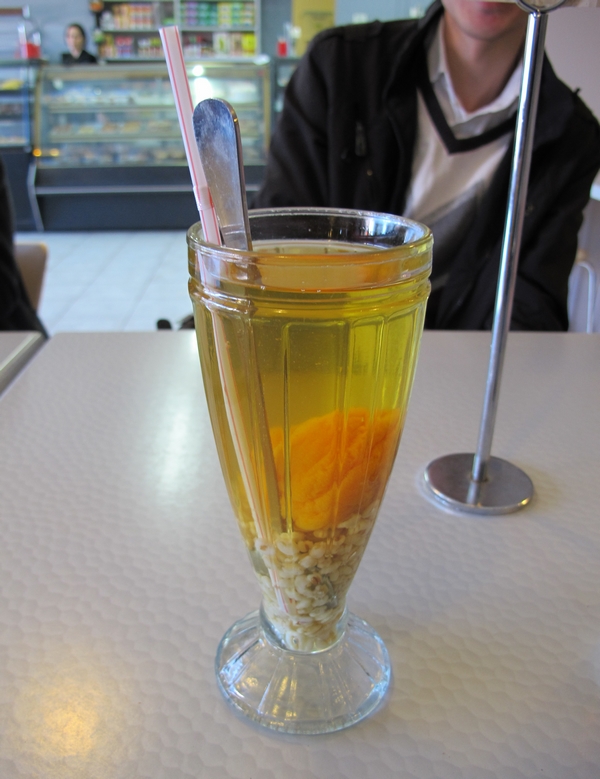 Someone ordered Mote con Huesillo while we ummed and aahhed over the menu. Mote con Huesillo is a chilean summertime drink consisting of dried peach, which is stewed with sugar and cinnamon, and then wheat (cooked and husked) is added. It had a pleasant cordial-like peachy taste which was not overly sweet. I can see why many Chilenos find it so addictive.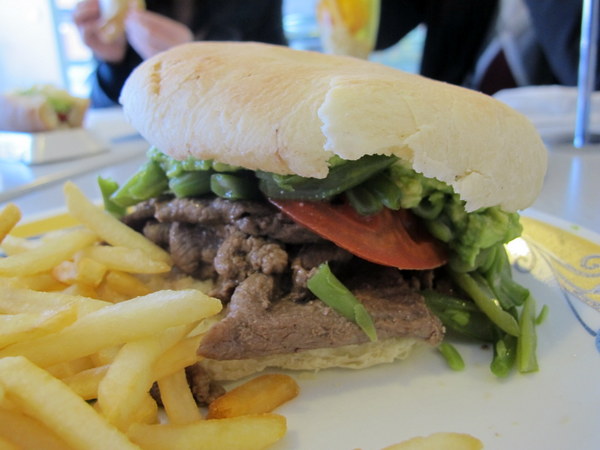 The Chacarero y Palta was calling my name. A softer-than-clouds bun housing tender beef strips, mayo, palta (avocado), tomato and pickled beans (go with it, it works). I never heard avocado referred to as 'palta' before, only 'aguacate', which is where the word 'avocado' originates ('aguacate', if you're interested, is from the Nahuatl word for testicle). Never mind that, was it delicious? Fuck yes. Sorry chums, but there is not more appropriate word for the delicousness of soft bread, rich mayo, fresh tomato, generous dollop of avocado and tender grilled beef strips that I practically inhaled. That's my excuse for the awful photo above; I just couldn't wait to chow down.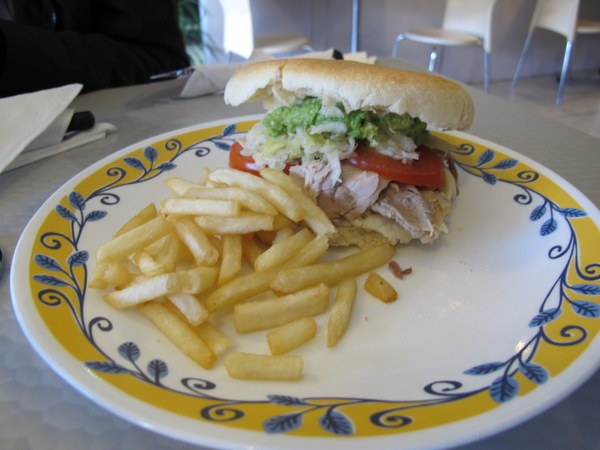 Lucky I was sharing with my man, because he ordered the Lomito Completo y Palta, a similar sambo, but with pork instead of beef as well as the addition of saurkraut. The saurkraut gave the lomito a nice vinegarry hit and the pork was even more tender than the beef. Interesting that a 'lomito' in Argentina was a massive steak sandwich, whereas at La Paula it was pork all the way. I'd love someone to shed some light on that. Let's go with the same excuse for my crappy photography for this shot.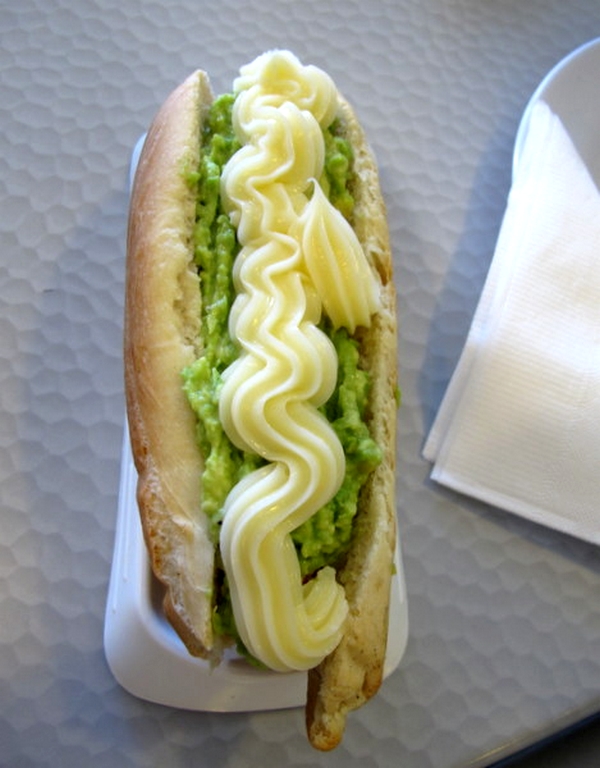 The Completo Especial Palta Mayo was delicious. The completo (hot dog) is an iconic Chilean junk/street food, although it is popular all over South America, and by all accounts, this one was no slouch. Avocado and mayo go great with the soft bun, as our first two dishes proved. But, you know, third time's a charm. Or something.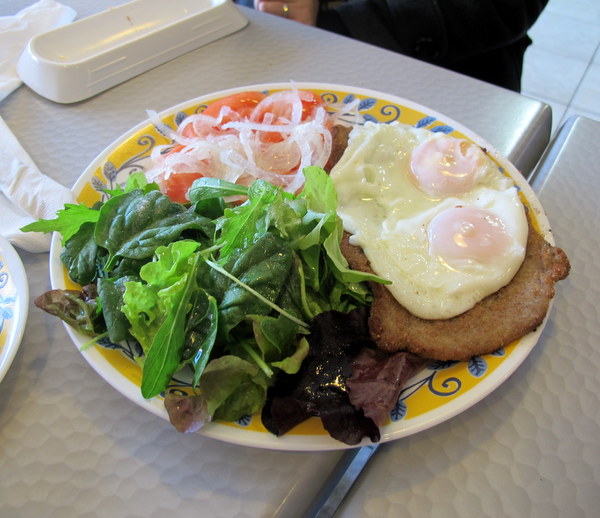 Another tasty treat was the Milanesa al Plato. Milanesa refers to breaded meat, in other words, schnitzel, and is usually beef. This one came with two fried eggs and the expected boring salad complete with white onion. We also tried a (baked) empanada de pino (boiled egg, spiced mince and olives) and an empanada de carne y queso (fried, top image) which was amazing, and the Barros Luco, a steak and cheese sandwich (below).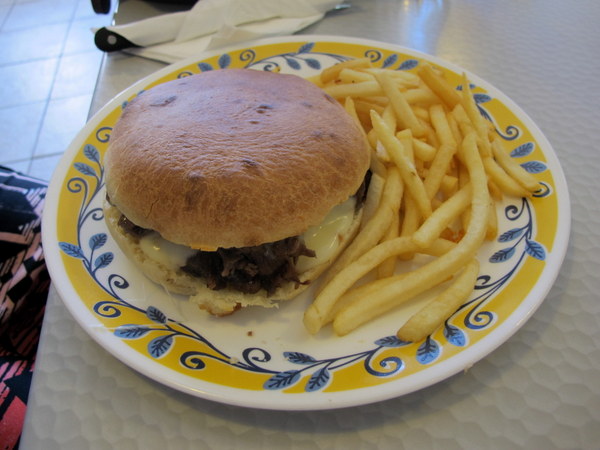 Oh, the sweets. My favourite, but I didn't get a shot of it because I took it home and scoffed it with my beau, was the pastel de tres leches (triple milk cake). It's a soft sponge with a skerrick of dulce de leche in the middle, soaked in evaporated milk, condensed milk and cream. This one was iced with meringue and was a *to die for* light-as-air sponge with just the right amount of sweetness, not soggy at all. Helen over at Grab Your Fork took a great picture of it for her Timeout Sydney writeup.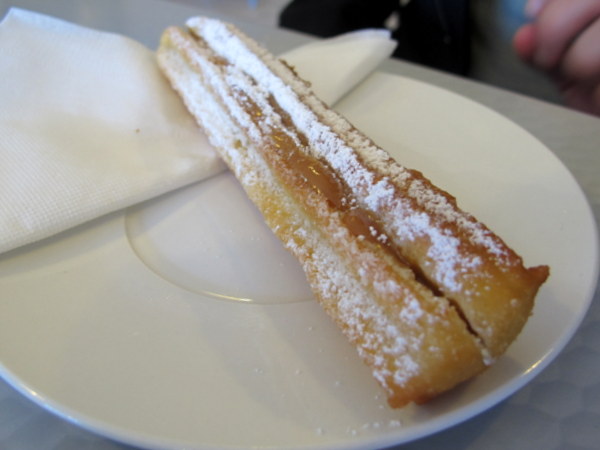 I keep saying dulce de leche, but I think I should be saying cajeta (ka-het-uh), it is a Chilean bakery after all, not Argentinian or Uruguayan. Whatever the name, it's highly addictive, and we ate it every which way. The pastry horn (below) filled to the brim is the stuff of legend, and the churro relleno (filled churro, above), still hot from the fryer, was scored with a knife and the groove filled with delicious cajeta. It's well worth the 45 minute train ride.
La Paula
9 Barbara Street
Fairfield NSW 2165
02 9726 2379
Open 7:00am to 5:00pm, 7 days
About me

Sharing easy recipes, hunting down the

best coffee

. Honest accounts, nothing too serious.

Read more...

Popular posts this month…

This work is licensed under a

Creative Commons Attribution-NonCommercial 2.5 Australia License

.

Disclaimer:

All opinions in this blog are mine, an everyday, real-life person. I do not accept payment for reviews and nor do I write sponsored posts. I do not endorse the content of the comments herein.