Café Review – The Kick Inside, Erskineville (now closed)
We all have those cafés we wander by on a regular basis and think to ourselves 'I really MUST remember to check that place out one day.' More often than not, 'one day' never comes as we continue in our established patterns and habits, hanging out in the same bars and cafés as we always have.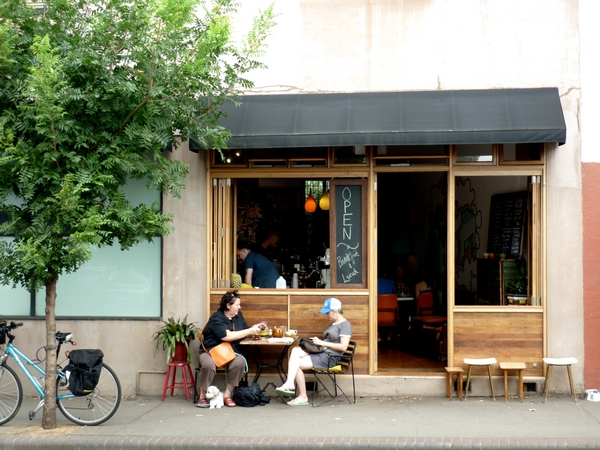 One of the reasons I started writing Corridor Kitchen was as a means of stemming the tide of oft-walked-by places. I hoped that the cafés I had always wanted to check out would also be of interest to others, and that perhaps they, in turn, could suggest places to me. I wanted to develop a list of places that, in my opinion, are worth checking out.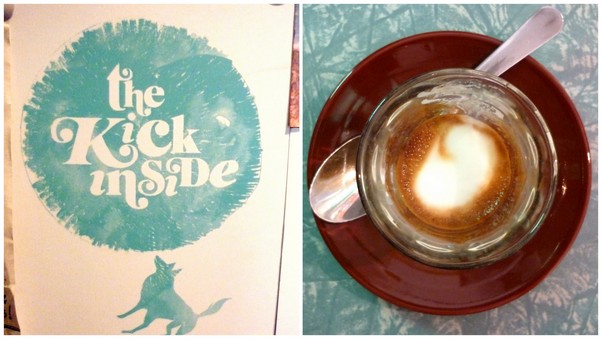 I had wanted to check out The Kick Inside in Erskineville for months, which in reality probably means about a year. I finally headed there a few weeks ago when I had run out of coffee at home. It was about 40 degrees that day and I felt sorry for the guys working there- big open front window, no air conditioning. It's not a great place to go in summer as you find yourself sliding down the retro vinyl furniture in a most unrefined matter.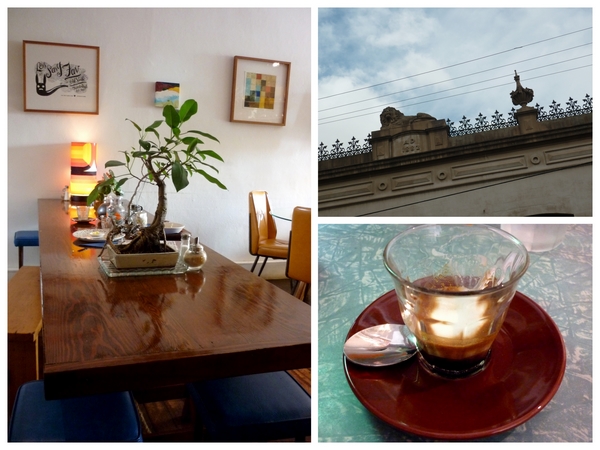 That said it was all worth it when the barista brought me over a little retro carafe of water and a glass as well as the macchiato I had ordered. The heat was a bonus in a way, as I usually have to skull my tiny coffees but this time case my mach held the heat and I read the food-wank section in the Sydney Morning Herald. I glanced around. Photogenic Interior? Check. Good coffee? Check. This place deserves a review.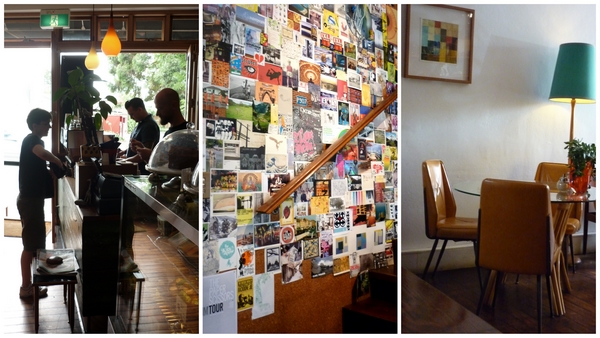 I arranged to meet my always-5-minutes-early friend there last Wednesday, and when she hadn't appeared by 5 past the hour I began to think she wasn't coming. This is not a reflection on my own impatience (although I am generally impatient), but rather her extreme punctuality. I received a panicked phone call a couple of minutes later. You see, the Kick Inside has no signage out the front, so she couldn't find it, and like most people, she had assumed Erskineville petered out around the former South Sydney Town Hall. The Kick Inside, however, is located up the Newtown end of Erskineville Road, near the petrol station.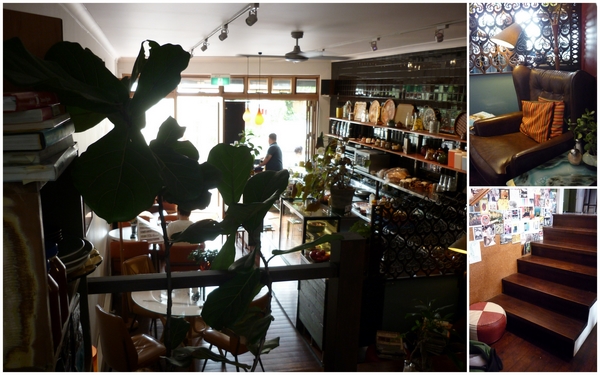 Out of breath and apologetic, my coffee companion joined me at my aqua-coloured side table surrounded by blue vinyl stools. The place describes itself as 'an old skool lounge room' and that's not far off the mark. The Kick Inside is a colour-coordinated mismatch of retro chairs, lamps and tables are thoughtfully placed throughout the hardwood-floored interior, the coffee machine and food prep area stretches along one wall, a decor-matching mural in aqua and orange on the wall opposite. There's a small courtyard and toilets out the back and a blackboard menu of reasonably priced cakes, breakfasts and Panini.
But coffee is what we came for and coffee is what we had. The Kick Inside uses Golden Cobra coffee, stocked by a limited number of cafés. I'm in a macchiato phase right now and my friend ordered a weak skim latte, but she wanted the same ratio of coffee to milk as you would get in a normal sized latte, so she ordered it with extra froth. This rarely works, as I know from my own unsuccessful attempts at ordering an extra frothy cappuccino only to receive a normal one. I gave up on caps years ago as latte-art obsessed baristas don't seem to understand the concept of froth. Cappuccinos are one third espresso, one third milk and one third froth. Thus, a frothy cappuccino will have more than one third froth, and thus be quite strong. In Australia, a cappuccino includes a dusting of chocolate powder, making latte art irrelevant as all it does is dissolve the chocolate the cap drinker has been hanging out for.
So how was the latte? Perfect. It was extra, extra frothy but there was no compromise on the texture of the milk. And the mach? No shortcuts here, my macchiato was full cream deliciousness, nice and short, strong and rich. This place definitely deserves another visit.
The Kick Inside
(02) 9517 2255
43 Erskineville Road
Erskineville, 2043
Tues-Fri: 7:00am – 3:00pm
Weekends: 8:00am – 4:00pm
Do you have an often-walked-by place you're just dying to try?
About me

Sharing easy recipes, hunting down the

best coffee

. Honest accounts, nothing too serious.

Read more...

Popular posts this month…

This work is licensed under a

Creative Commons Attribution-NonCommercial 2.5 Australia License

.

Disclaimer:

All opinions in this blog are mine, an everyday, real-life person. I do not accept payment for reviews and nor do I write sponsored posts. I do not endorse the content of the comments herein.