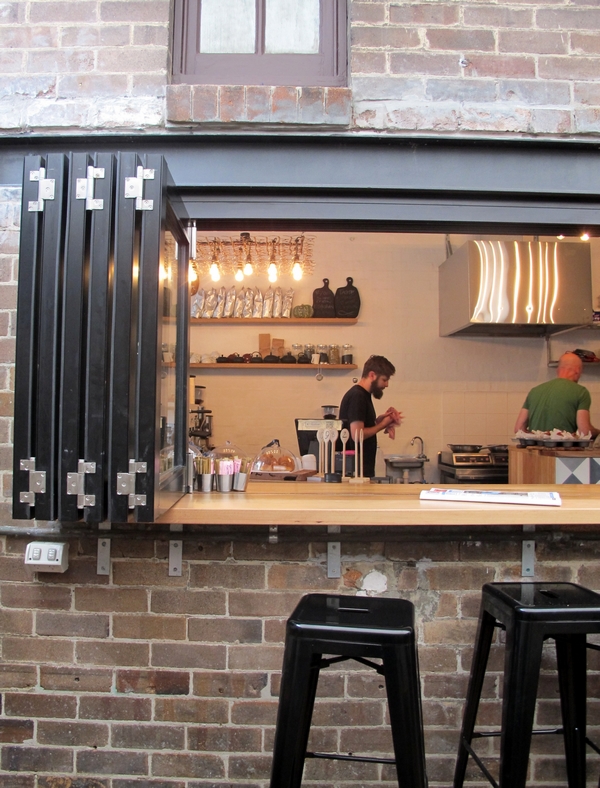 I'm really glad I've started taking daily walks. Ok, so I sound like a 65 year old woman, but it was on my very first such 'constitutional' that I spotted Sub-Station, a cute (but sadly closed that day) little cafe in Alexandria. I told my man-friend about the place and he beat me to it that very week, getting the inside scoop via his charming personality (note to self: get a charming personality).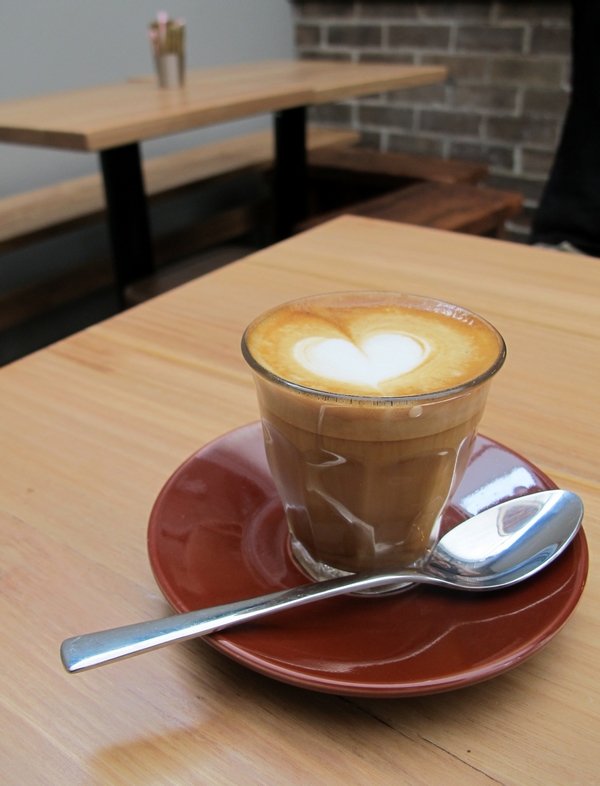 Sub-Station Cafe opened just over a month ago in, you guessed it, Alexandria. It is housed in a beautifully renovated electric substation (Substation 152), a long narrow space with a fantastic indoor/outdoor area, warmly minimalist with a homey touch. The attention to detail in the decor is to be admired, from the patina of the floor to the bare bulb light fittings crafted from bedsprings.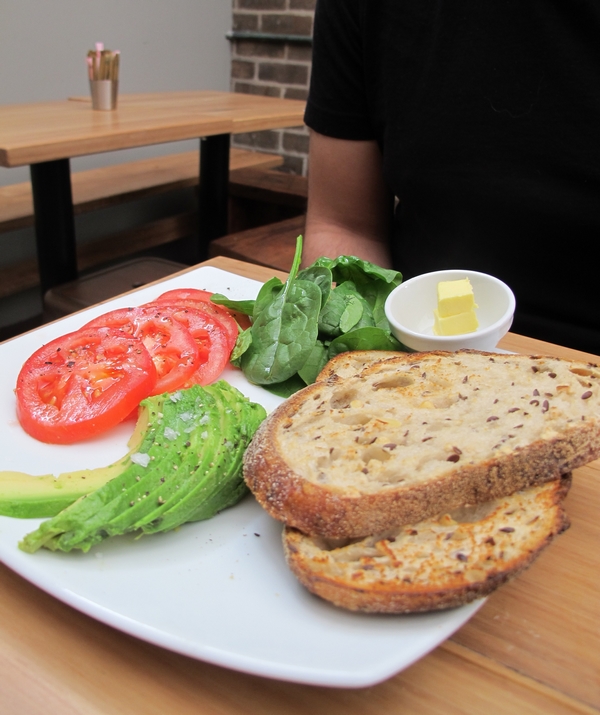 Sub-Station has a spotlight-on-the-ingredients kind of café menu. We ordered the Avocado Toast to share which was a generous plate of soy and linseed toast and seasoned fresh tomato and avocado. I like the diy approach, which is the same for their big breakky, a kind of platter of various toast toppings plus eggs. They also have a lunch menu of sambos and salads. It's all very simple, fresh food, assembled more than cooked, that seems to be all the rage right now in Sydney, especially at bakeries or coffee obsessed cafés. Personally I am a fan of this kind of menu as there's only so much candied bacon I can take.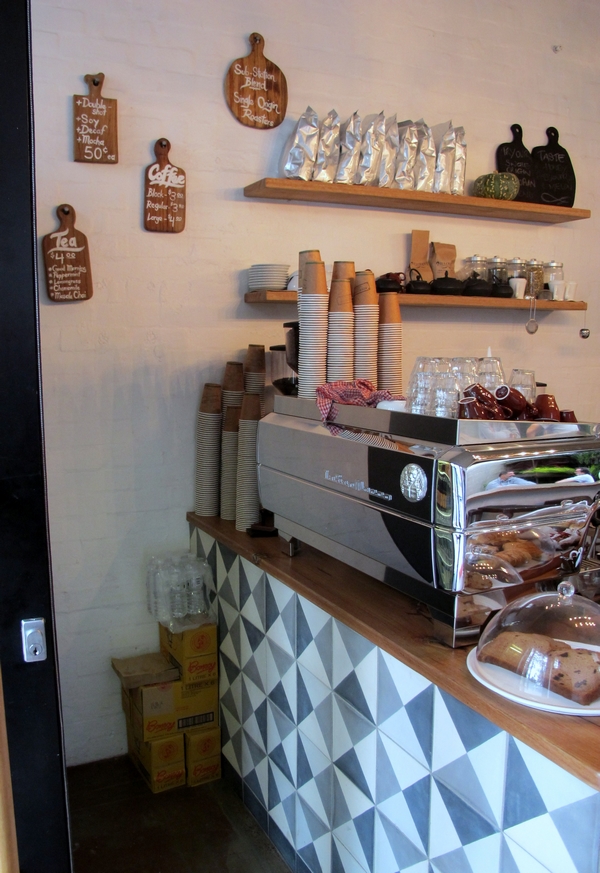 Either their single origin house blend is amazing or they have an amazingly skilled barista on staff (you never can tell). Case in point my man and me had not one criticism to make in terms of either flavour or form. After three visits, I can't fault them, and among our crew we've sampled macchs, picollos, caps and espressos- all black or full cream milk coffees, no sugar, an espresso nazi's dream. Maybe a soy (they use bonsoy) or skim drinker will have a different take on the place.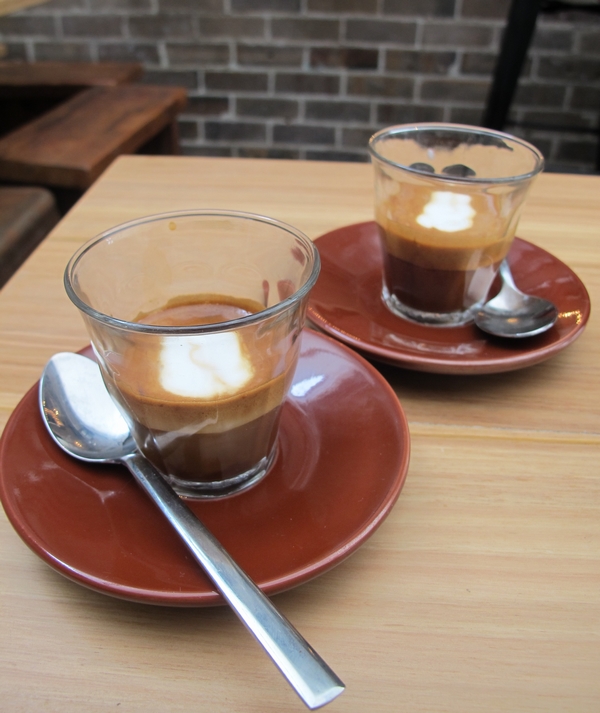 Any criticisms I have are not related to the coffee or the food. It's order and pay at the counter, but there's no real way of knowing that unless you ask. This can lead to awkwardness, like when a waitress comes to take away your empty cups and plates and you ask for another coffee… Do they want you to pay now? Oh no, that's ok. But wait, isn't it order and pay at the counter? Confusing. Also it's always easier to upsell and people are more likely to order more coffees when there's a bill at the end, that's just human nature, but at the very least it needs to be well signposted.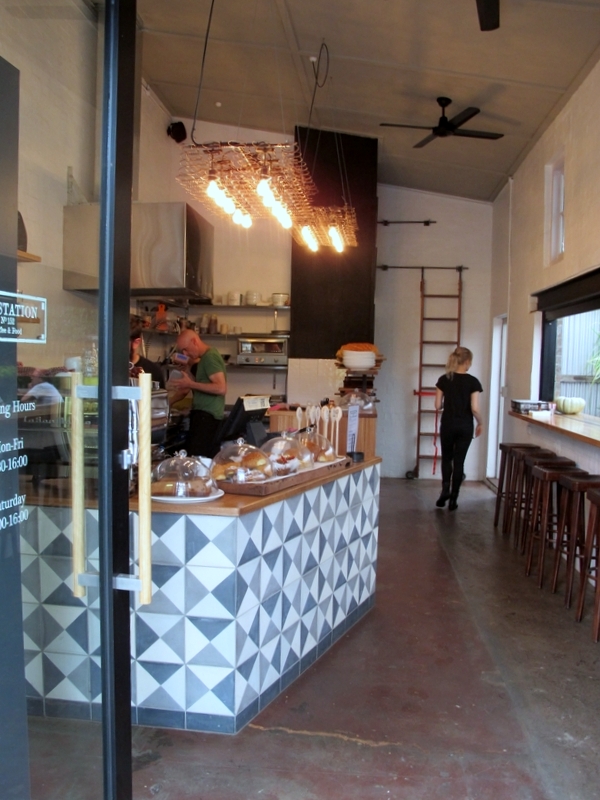 And on the subject of signposts, I think it's a good idea to have more than one copy of a printed menu available, or some kind of massive blackboard up. Basically, without food choices written up, people may not know you serve food, although I would say all the delectable loaves of bread stacked up everywhere, plus the food prep going on, would give you a clue. The first time I went, there was one menu for the whole place. The second time, no menus. Unfortunately, people need to be told what's what, e.g. 'Here's a list of what we serve. Please order and pay at the counter.'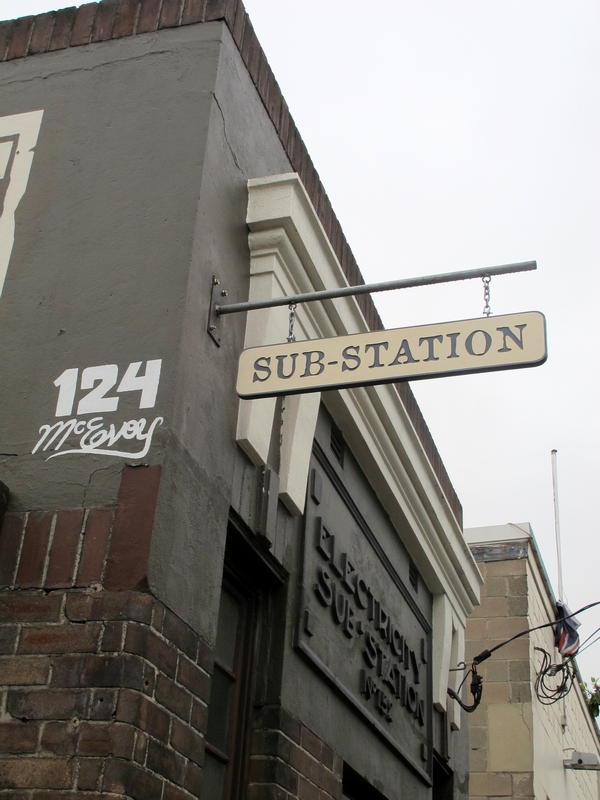 Those two criticisms aside, this is a brand new business which is still finding its feet and barely stumbling. It's run by really friendly people and housed in a gorgeous space, with a tempting but simple menu and excellent coffee. I am completely stoked to have these guys in my 'hood.


Sub-Station Cafe
124 Mcevoy Street Alexandria NSW 2015
Monday – Friday 6:30am – 4:00pm
Saturday 8:00am – 4:00pm
www.facebook.com/SubStationCafe
Closed Sundays (for now)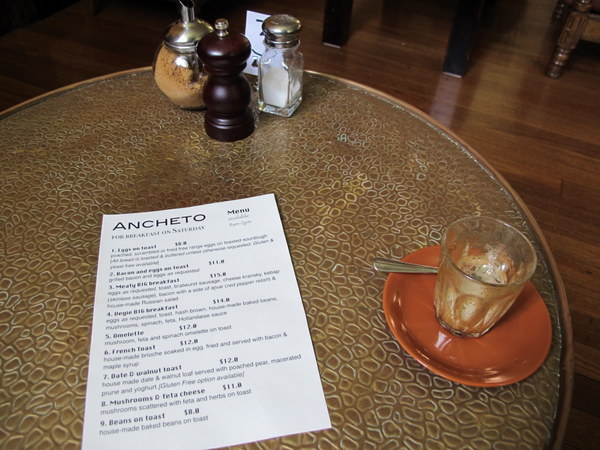 I've spent most of my working life in cafes, and the work ethic of the people who run them has always amazed me. I couldn't do it. If I could have a cafe that only opened one day a week, maybe I could make a go of it. But what kind of clientele would you build up with only one day a week of trade? Plenty, if you're cafe Ancheto.
I found out about cafe Ancheto through Footscray Food Blog, and I just knew I hod to check it out on my next visit to Melbourne. Cafe Ancheto runs on Saturdays at the Sunshine Masonic Hall in Melbourne's Western Suburbs.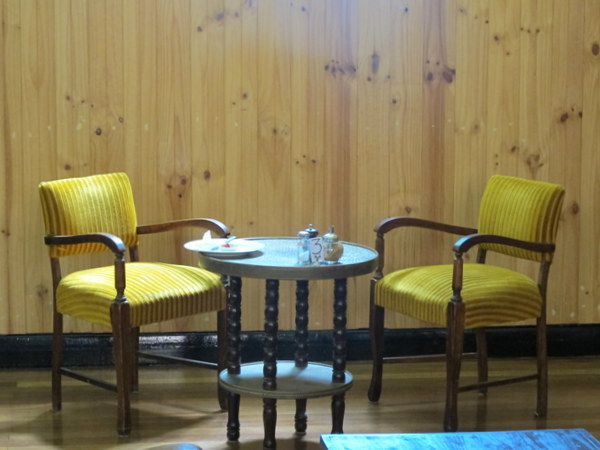 I arrive on a scorching dry Melbourne day and take a seat inside the cavernous (and thankfully, cool) space. The room is set out with vintage furniture, polished wood floors and toys to entertain the kids. It has a welcoming vibe and there's plenty of space to spread out.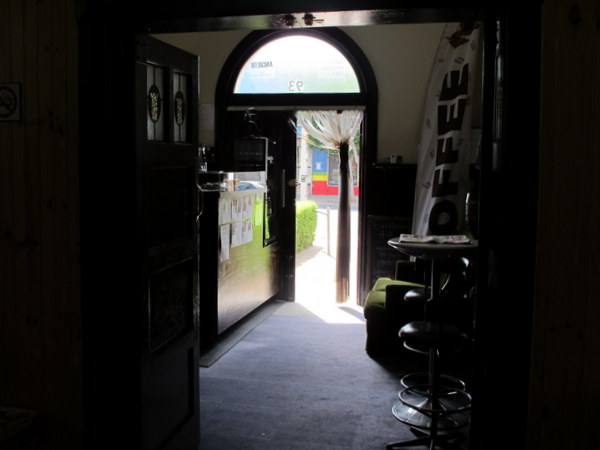 To say the staff are run off their feet is an understatement, but I'm in no hurry. Eventually a waitress rushes by and I order my macch. It doesn't take long to arrive. It's good, a bit on the frothy side but nice and short (you have the specify in Melbourne, otherwise you may end up with the feared long macch) and the vast old space is a nice change from the usual cramped coffee hole-in-the-wall I frequent.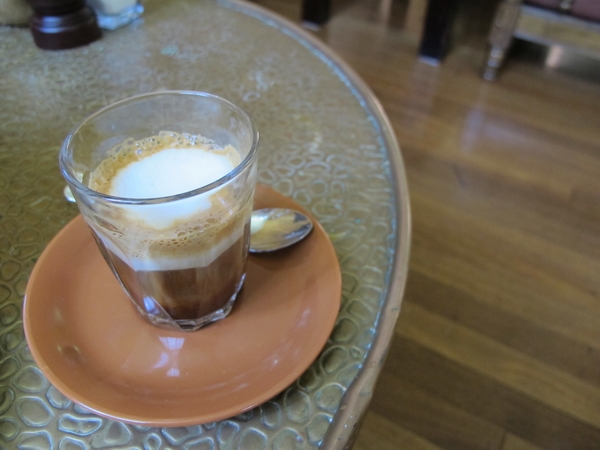 People around me are in no hurry either but the food is taking a while to arrive. Eventually I go up to the counter and order some toast with jam from the harried waitress who brought me my coffee.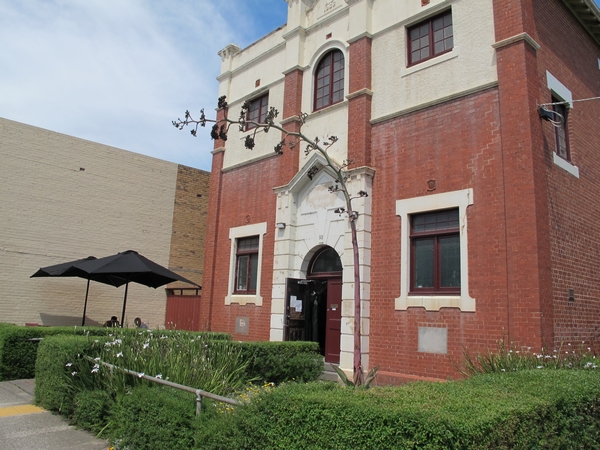 All in all, I would recommend cafe Ancheto, especially as there aren't many cafes in Sunshine. I think it would be a good place for a group of friends to meet for coffee and maybe cake. The staff were really lovely, they just had a lot on their plates. When I left, the girl that served me said 'You'll have to try the breakfast next time.' I told her everything looked delicious but I just didn't have the time.
Cafe Ancheto
93 Hampshire Road,
Sunshine, VIC, 3020
0419 015 072
Saturdays, 9:00am – 2:00pm
I kept thinking Cornersmith was called Cornerstone. I kept meaning to go there and never making it. But I finally made it the morning of the Sydney Food Bloggers Picnic last month, and I wasn't dissappointed.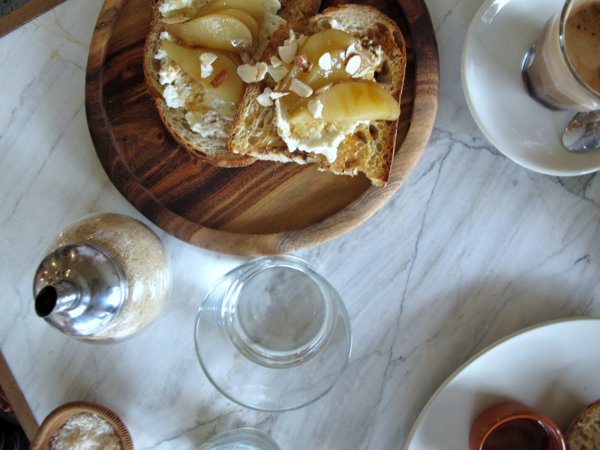 Cornersmith is the kind of joint that's closed for pickling on Mondays. Yes, really, I didn't get that from some kind of Hipster's Encyclopaedia of cafe descriptors (remind me to write that, if I ever get a chance). They do all kinds of locavore/DIY things like buying backyard produce and making their own jam. They have a beehive on their roof! Basically, they're the cafe equivalent of a Portlandia sketch.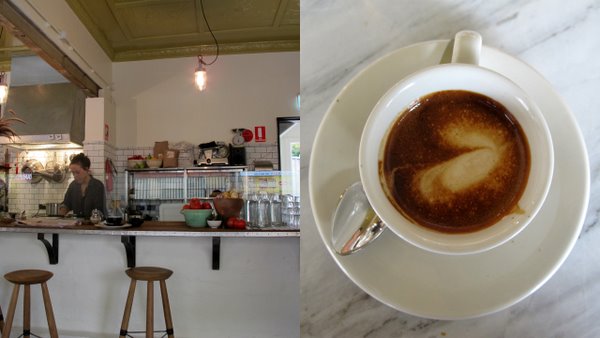 All this and more means that I was there with bells on at whatever time it was that Saturday. Cornersmith is right by Marrickville station, which is super convenient for someone like me who hates buses. It's got great decor, clean white walls, jars of pickles adorning the counter and a good mix of natural timber and understated vintage furniture.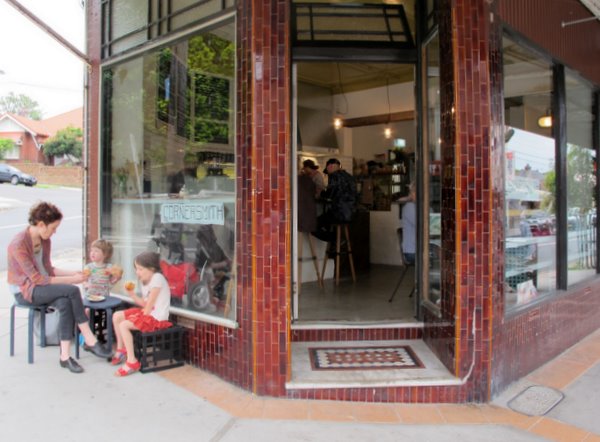 Me and my mate order and pay at the counter and nab the only free table. Our toast/coffee/toast/macch order comes out at $32, and I realise there must be a mistake. That's the problem with order-and-pay-at-the-counter with somewhere as busy as Cornersmith – mistakes are bound to be made. Our bill gets downgraded to a much more reasonable $19, phew!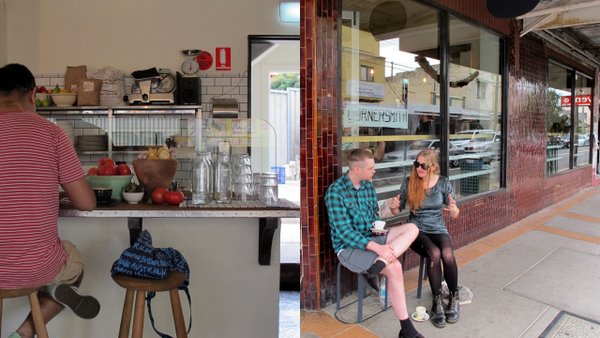 I'm a fan of the coffee and I'm a fan of the vibe, although Saturday morning is pretty hectic. I'm enjoying my Mecca macchiatto, apparently my friend's mocha is no slouch either. The menu is simple, a lot of toast-and-toppings on offer, with many tthings made on site – from honey, to pickles, chutneys and jams. Cornersmith strives to be self-sufficient. They also sell their products, and other peoples', instore.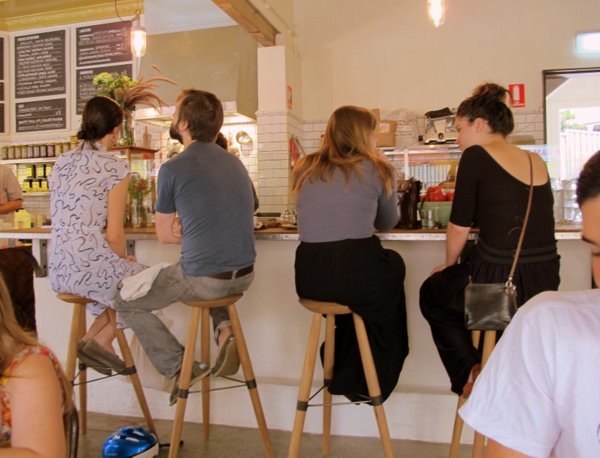 The reviews have generally been positive and I can see why, although they've also been victim of some pretty harsh graffitti, with 'yuppy scum' painted across the storefront and the windows bashed in. All in all I will definitely return if I'm ever in the hood.
Cornersmith
314 Illawarra Road
Marrickville NSW 2204
(02) 8065 0844
Tuesday to Friday 6.30am – 3.30pm
Saturday and Sunday 8:00am – 3:00pm
Monday – closed for pickling
Pin It
About me

Sharing easy recipes, hunting down the

best coffee

. Honest accounts, nothing too serious.

Read more...

Popular posts this month…

This work is licensed under a

Creative Commons Attribution-NonCommercial 2.5 Australia License

.

Disclaimer:

All opinions in this blog are mine, an everyday, real-life person. I do not accept payment for reviews and nor do I write sponsored posts. I do not endorse the content of the comments herein.