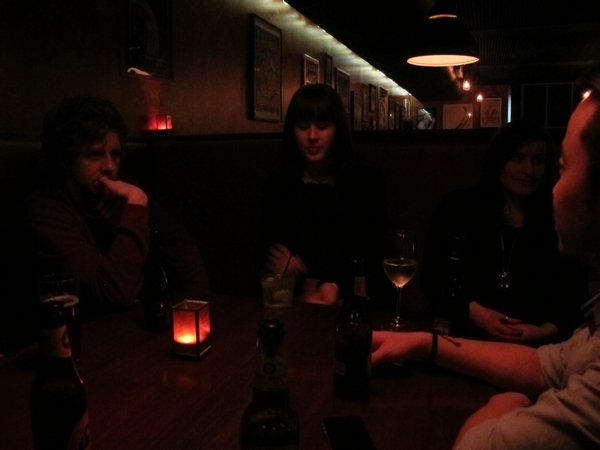 The idea of a small bar crawl has been brewing for a while, but it really came to be after a conversation with some food bloggers at a dinner I was at a few months ago. The conversation went sort of like this:
Me: "Ok, well what about a bar crawl, hashtag small bar crawl."
Other food bloggers: "Yes/yeah/ok/great/I'm in!"
And so it was that finally, on Monday August 6th a group of 8 food bloggers and drinkers assembled to crawl the bars of York St. Below is a sampling of the bars we crawled, with a bonus bar thrown in for good measure – 5 bars in total.
Thanks to the bloggers of Sydney Feed Me, Love Swah, CookSuck, Alanabread and I Can't Believe it's not a Food blog, as well as the two non-blogger chums who shall not be named (unless they want to be) for making my #smallbarcrawl dreams a reality. Read on!
1. York Lane, York Lane (behind Wynyard Station)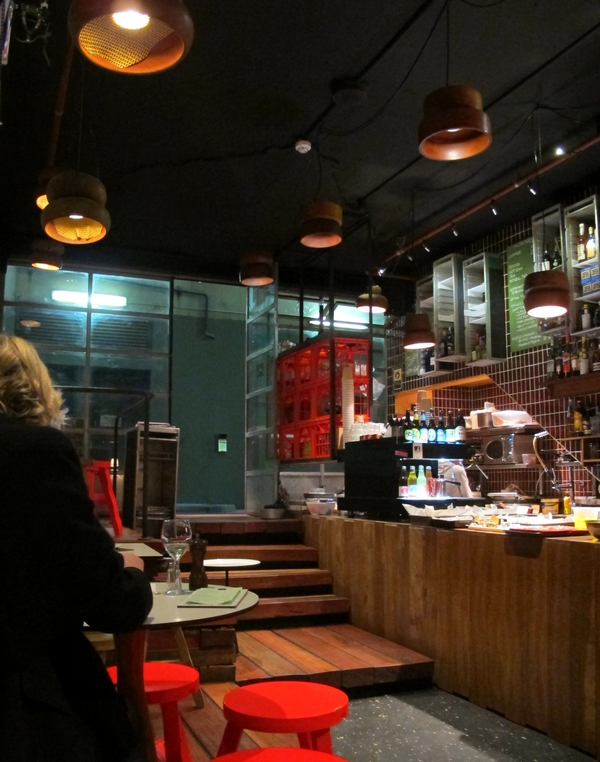 This teensy recycled and upcycled laneway hidey-hole is such a well designed space, you wouldn't think it, but it can fit 30 people. Even better, these guys are open Monday to Saturday from 6:00am serving coffee, breakfast, lunch and snacks all day for the nine to fivers, and share plates, boutique beers and wine by the glass at night. York Lane makes almost everything on site; case in point, when we arrive they're whipping up tomorrow's brownies. They even let us lick the beaters.
The highlight for me is the complete lack of attitude; friendly, attentive staff with a sense of humour to boot. The prices are more than reasonable and I enjoy my first taste of Pink Lady apple cider. We nibble on some yummy dips and muffin-shaped portions of baked polenta- everything here is cooked and assembled in their teensy milk-crate-framed kitchen. The decor is right, the mood is right, the essence of the place is right – can't lose.
Opening hours:
Monday to Wednesday 6:00am – 10:00pm
Thursday to Friday 6:00am – midnight
Saturday 6:00pm – midnight
Closed Sundays
2. Uncle Ming's, LG 49 York St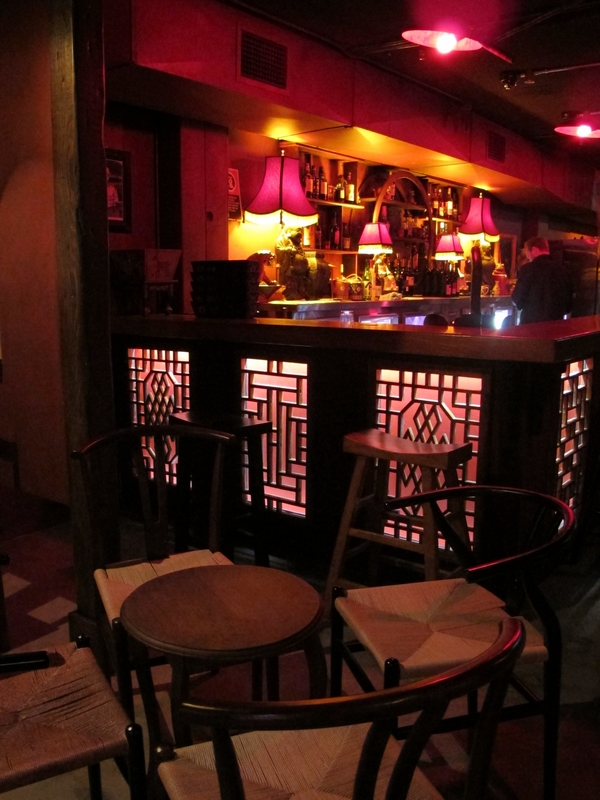 Formerly a community hall for Chinese expats, Uncle Ming's is a small bar so new you can still smell the lacquer on their mid-century armchairs. Chinese pinups adorn the walls and the space is large, warmly and dimly lit.
If you can find this place, treat yourself to a beer as a reward. Friendly staff are eager to make recommendations from their large selection of asian beers. There's also a cocktail list and some dumplings. They opened their doors on August 7th and word is spreading fast. Hint: look for the Roman Daniels sign.
Opening Hours:
Monday –Saturday 4:00pm – Midnight
3. Stitch, 61 York Street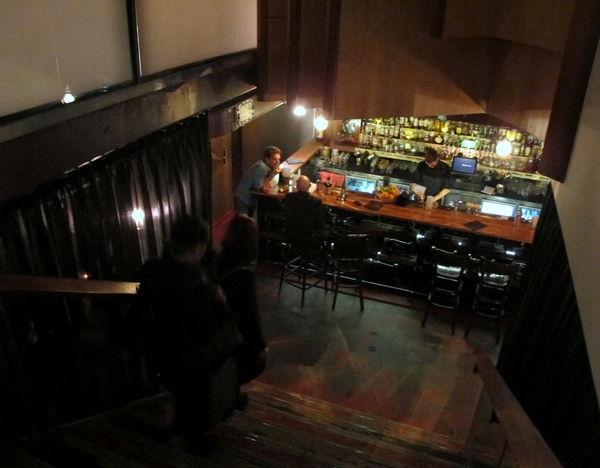 One of the earliest small bars in the area, Stitch is pretty small, pretty popular and can be tricky to get in to. As such it's run like a restaurant, with table service and shared bills. Cocktails are the drink du jour and they're renowned for their hotdogs. Everything is sewing themed, from the vintage singer sewing machines to the spools of thread and fabric patterns lining the walls.
I order a boring glass of prosecco, figuring it'll come fast, but everything comes out at once so I have to wait like the rest of the fancy-pants cocktail crowd I'm with. The food looks good and in between bites, my chums attest that this is indeed the case.
This was my third visit to Stitch and my opinion remains unchanged. The staff are perfectly nice but not overly friendly, there is something a bit awkward about the service. Drinks take a long time and the fact that you're seated, as in a restaurant, makes it feel sort of…not like a bar, in contrast to somewhere like Freda's, which also has table service but feels natural and friendly.
Opening Hours:
Monday to Wednesday 4pm – 12am
Thurs – Fri 12pm til 2am
Saturday 4pm til 2am
4. Mojo Record Bar, 73 York Street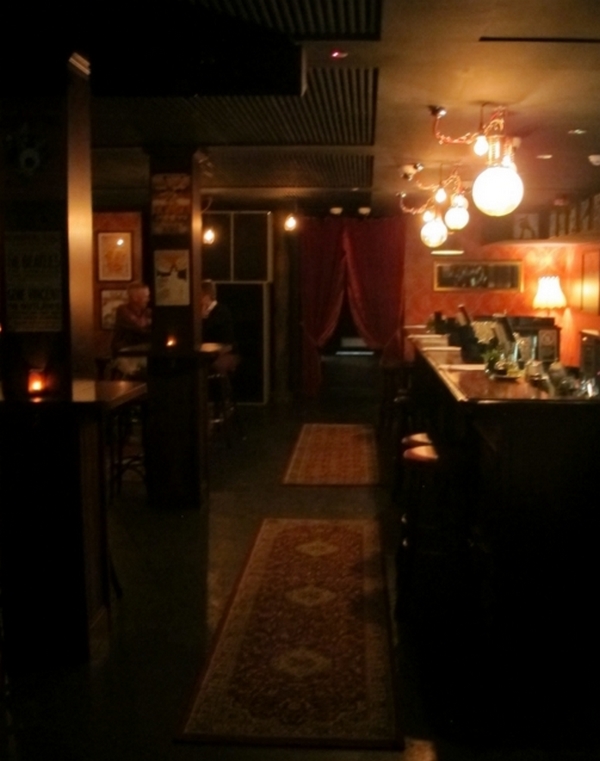 The story goes that after a day's work, a bunch of music addicts would meet at Mojo's and then go for a beer. Eventually a bar was built behind the record store so now they need never leave. Music is obviously a feature but it's not so loud that you can't hear yourself think. These guys specialise in Australian Craft Beers, with a few music-inspired, masculine cocktails thrown in for good measure, names like 'smells like gin spirit' and 'lemon cohen'. They've been out of 4 pines Kolsch two of the three times I've been in, which is kind of annoying as I always prefer a tap beer to a bottle.
Mojo feels like a place where everybody should be smoking. Grab a beer, a coveted red vinyl booth, or, second prize, a bar stool and sit mesmerised by the Edison bulbs while you munch on free pork rinds. This is the bar Nick Hornby's characters wish they were cool enough to dream up.
Opening Hours:
Monday – Friday 4:00pm – Midnight
Saturdays 6:00pm – midnight
5. The SG (formerly Spooning Goats), 32 York Street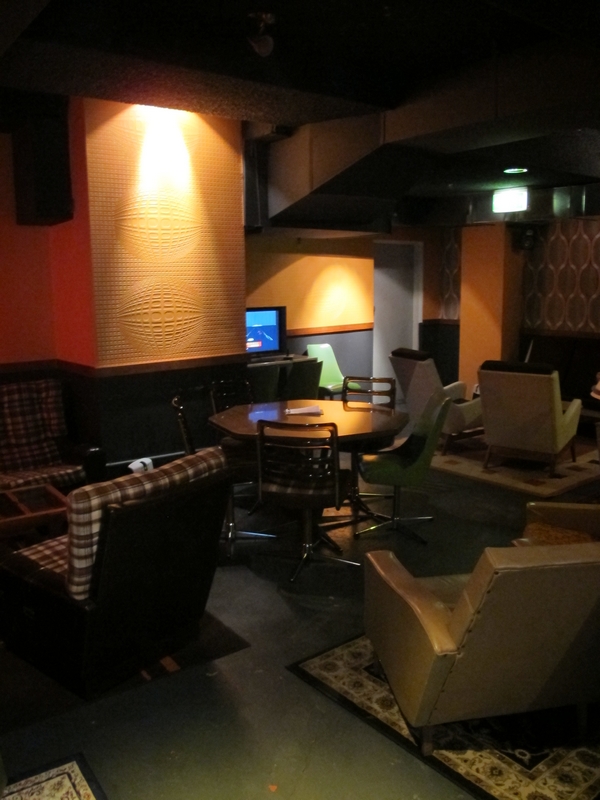 Spooning Goats has had to change its name to The SG as it has been deemed 'too suggestive' by the liquor board. Fair enough, I may be missing some double entendre but I never got the name anyway – they have a massive collection of spoons, but where are the goats?
The SG is different from most other small bars in that it is visible from the street. It has a uni-sharehouse-retro-furniture vibe, but strangely bare walls. The lighting's a bit brighter than most other basement level bars as well. They seems to do a bit of everything – cocktails, beers and wine. You can get a cheese plate or one of their famous house made pies, which I'm yet to try. It's actually a tad uncomfortable to sit around what feels like someone's drafty living room on a cold winter's night, but the staff are friendly and there's plenty of space to hang out. I feel like this place is still finding its feet.
Opening Hours:
Monday –Saturday 4:00pm – Midnight
Corridor Kitchen will continue #smallbarcrawl-ing in the months to come. Which is your fave small bar?
About me

Sharing easy recipes, hunting down the

best coffee

. Honest accounts, nothing too serious.

Read more...

Popular posts this month…

This work is licensed under a

Creative Commons Attribution-NonCommercial 2.5 Australia License

.

Disclaimer:

All opinions in this blog are mine, an everyday, real-life person. I do not accept payment for reviews and nor do I write sponsored posts. I do not endorse the content of the comments herein.