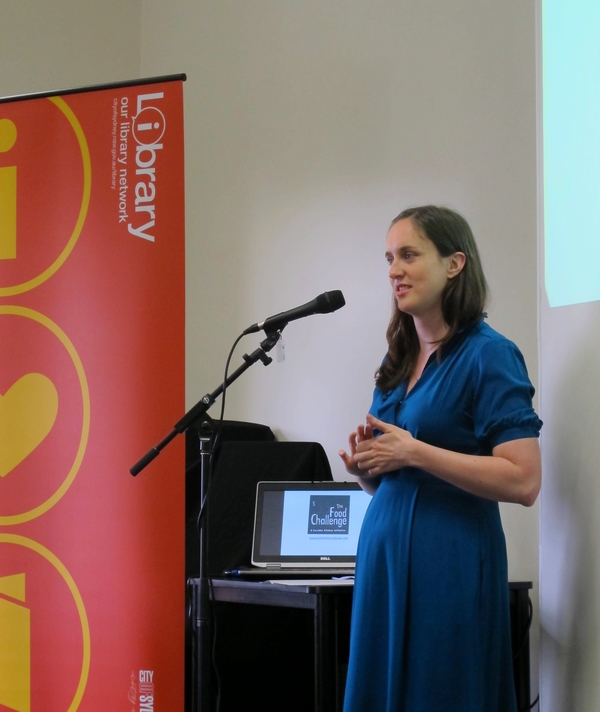 This week I had the nerve racking but ultimately rewarding experience of presenting a talk (twice) on The $35 Food Challenge as part of the City of Sydney Library's 'Lunches with Bite'. It would be an understatement to say it was a fantastic experience. Once I started talking I found I just couldn't shut my mouth. And the reason is this.
It is estimated that 2.2 million Australians live in poverty. That's 11% of us, and that percentage has been increasing over the years. Well may we say that Australia, as a whole, has weathered the global financial crisis and its aftershocks. Well may we say that as a population, we are objectively materially better off than at any time in our history, and yet convinced we're all hard done by. But for that 11% of us for whom something like meeting a friend for coffee, going to a restaurant, catching a bus, ordering a pizza, recharging their mobile phone credit or even using their heating in winter is something they really have to weigh up, that kind of information brings little comfort, if any.
In fact, it is a slap in the face to every person living in poverty, because if we are so well off, why are those people not being taken care of? Why are Australians in poverty not being given to opportunities the rest of us have? In fact, why is there ONE SINGLE AUSTRALIAN LIVING IN POVERTY AT ALL? Why is there any one of us for whom a visit to the doctor, or the dentist, or an interstate relative is a complete financial impossibility? And WHY the FUCK are there children in this country, IN THIS CITY who don't have access to the coloured pencils they need to do their homework, or enough food for their school lunch? AND WHAT ARE WE GOING TO DO ABOUT IT??
*Ahem*. You can consider that rant as bonus content. They certainly didn't get that at lunches with bite.
I can't thank Ellen Lowry and the rest of the folks at the library enough for having me, I really appreciate having an opportunity to speak on this subject. A huge thank you also to everyone who came out to hear about the Challenge, especially those of you who asked questions, made comments and generally got angry about poverty in Australia and creative about how to navigate your way through the process of going without. When this was just a kernel of an idea, I never imagined it would get anywhere near the kind of attention and uptake it has so far, and it is only growing.
Resources
And on the subject of thank yous, did I tell you there's a $35 Food Challenge Food Spending Tracking App? You can find it at spending.the35dollarchallenge.com, it is free (you just need a name and password to use it). The app was designed, completely unprompted and at no cost whatsoever, by Jacky Lo of the blog Food Rules, who had the idea, emailed me to ask if it was ok (to which I replied OH MY GOD YES THAT WOULD BE AMAZING SORRY TO YELL AT YOU IN CAPS, or words to that effect) and the rest is history.
I also had a few requests for the powerpoint slides I used, you can download them here. The reports I referred to in the presentation are here and here, however ACOSS (The Australian Council of Social Services) will release their most comprehensive survey of poverty in Australia to date tomorrow, to mark the beginning of Anti-Poverty Week. You should also check out Four Corners' 'Growing up poor' if you get a chance.
*Phew*. So, The $35 Food Challenge starts tomorrow. Are you ready?
It's not too late to support The $35 Challenge. During Anti-Poverty Week, from October 14-20, you have $5 a day to spend on food. By experiencing poverty for just 7 days, we come to a better understanding of the realities and stresses of living in poverty. By blogging or tweeting this experience, we can raise awareness of an issue so often swept under the rug. And by donating the remainder of the money we would usually spend on food to Foodbank, we can make a real difference. For more info, click here.
About me

Sharing easy recipes, hunting down the

best coffee

. Honest accounts, nothing too serious.

Read more...

Popular posts this month…

This work is licensed under a

Creative Commons Attribution-NonCommercial 2.5 Australia License

.

Disclaimer:

All opinions in this blog are mine, an everyday, real-life person. I do not accept payment for reviews and nor do I write sponsored posts. I do not endorse the content of the comments herein.