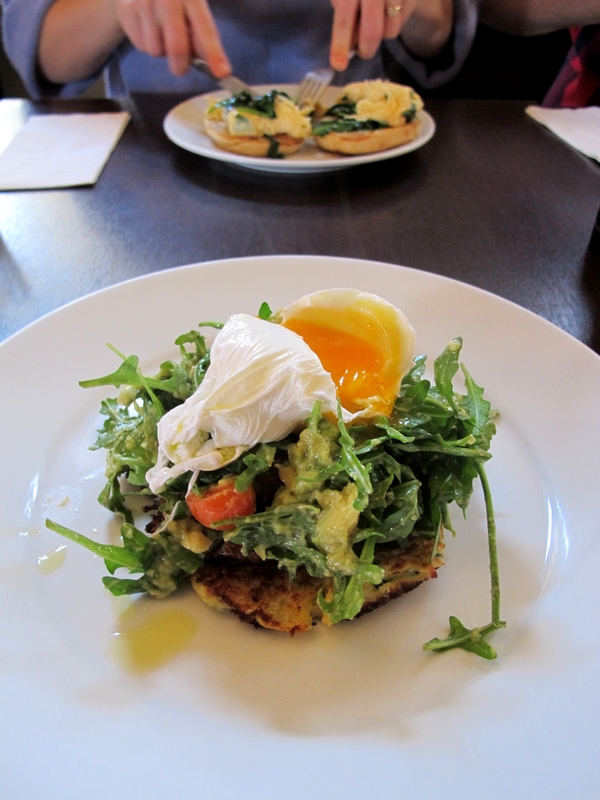 We don't often have house guests as we live in a 1 bedder, but I always enjoy it when people come to stay. Last weekend I had the pleasure of hosting little bro 1 and his wife, up from Melbourne for a few days, and since little bro 2 lives in my hood now, it's a weekend I'm dubbing 'Sydney Quinns'. My mum made an appearance as well, although she's no Quinn. It's nice to be surrounded by family, I'm always surprised by how much I miss them. Guess you never grow out of that.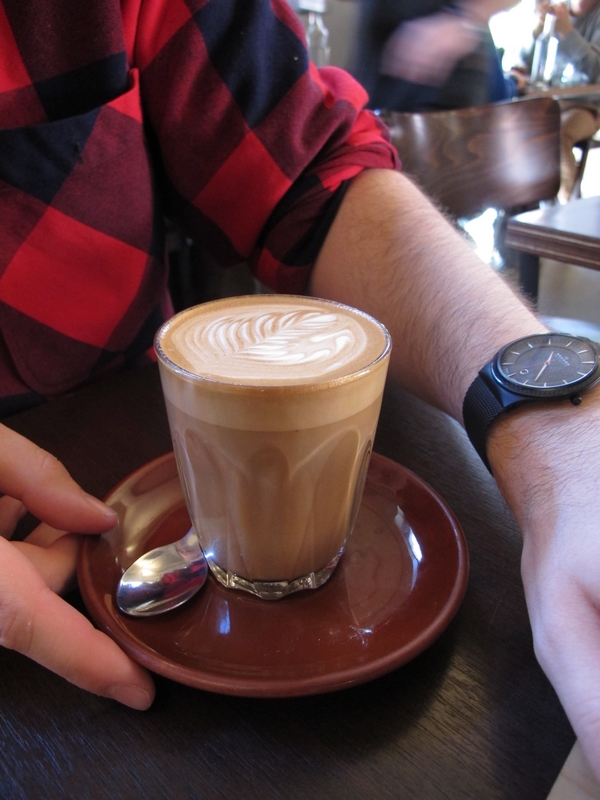 The only thing requested by little bro 1 (besides a trip to the dip, which I thought was open Mondays but was very much mistaken) was a decent breakky. We decided on a Monday morning breakfast and I was thinking Bang Bang, but Le Monde was on the way and had been on my neverending to-try list for almost a year. I'm freaking out a bit now not only at the size of the list but at the number of places that close down before I get to try them. The menu looked good and I'd heard tell of excellent coffee so in we went. Cross that one of the list and add ten more…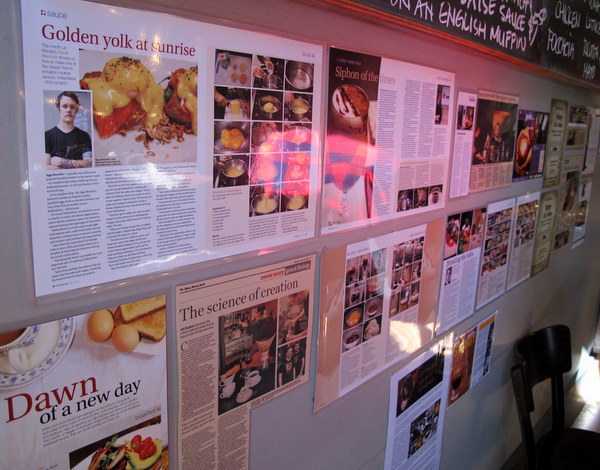 We ordered coffee and got perusing. There's a paper menu and a blackboard specials menu, with plenty to choose from all round. Le Monde have been serving 5 Senses coffee since 2008 and we were all impressed with the depth of flavour our various brews imparted – from my macch to bro's strong latte to SIL's skim latte, we couldn't fault the coffee, and it was pretty busy too. These guys have a well-deserved rep- this coffee is much more than solid – well-rounded flavour, smooth texture, perfect temperature- it wasn't a cup of coffee your taste buds needed to consider. The flavour just makes sense to your mouth.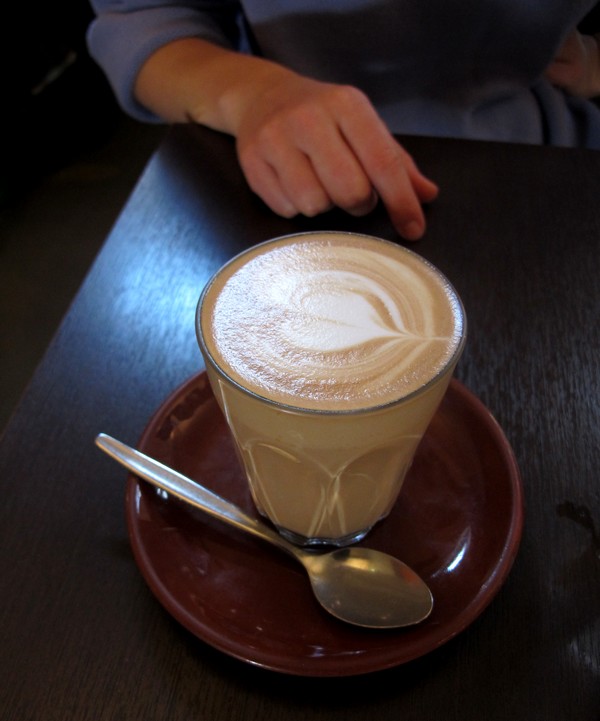 There's a little bench with magazines and bar stools if you're waiting for a takeaway or a table, and although it's dimly lit, it's cleverly lit, resulting in the kind of lazy afternoon light (at 10:00am?) where you can see the little dust particles flit through the air and every meal and drink miraculously becomes photogenic. It's all warm, dark wood and sophisticated touches, classic rather than trendy or kitch- you can tell this place has been here a while (in Sydney/Surry Hills café time) and will continue to do so.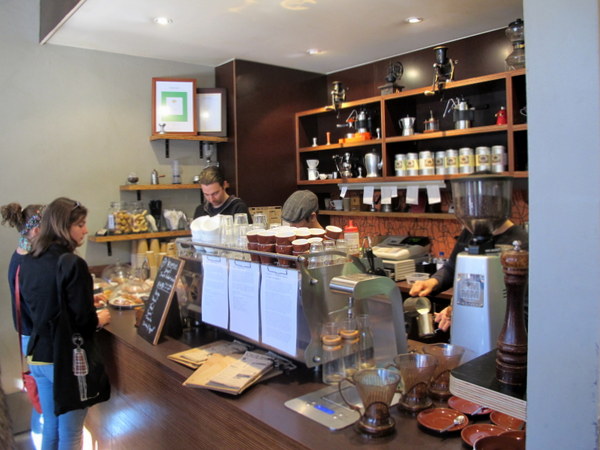 Little bro gets the bacon an egg sambo, which is generous, and SIL goes for the english muffin with basil scrambled eggs and adds spinach. I go all out and grab the haloumi and zucchini fritters, which are gorgeously soft but not undercooked, with a slightly overdone poached egg, rocket and avocado salsa. Everything is tasty and no one leaves feeling like they can't face the walk into the city for fear of tripping over their full stomach. But its the coffee that's really the star here.
Le Monde Café
83 Foveaux Street
Surry Hills NSW 2012
02 9211 3568
www.lemondecafe.com.au
Monday to Friday 6:30am – 4pm
Saturday 7:30am – 2pm
Closed Sundays
I have my Mum's family to thank for my love of coffee. When I was a little kid, I loved eating a spoonful of froth off my mum's once-a-week cappuccino after the grocery shopping. Then later, one by one, everyone bought espresso machines. When I was 16 I started drinking coffee in earnest, careful not to overdo it. Never more than one a fortnight, I vowed. Then I got my first job of any consequence at a coffee shop and became fascinated with the process of coffee making. How could I get my cappuccinos as good as Milan, my Serbian boss? That was it; I was hooked on coffee. And now I'm traipsing all over, looking for the best coffee I can find.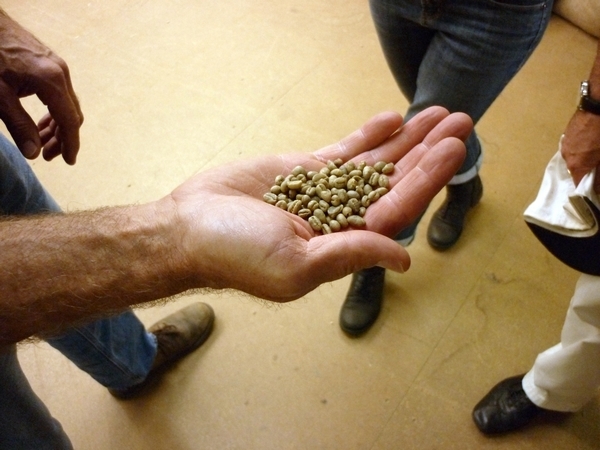 So when my aunt suggested the coffee roaster for a family get-together, I was more than happy to oblige. And when the owner Dan Fitzsimmons (a friend of my aunt's) offered us a tour of the roasterie, I was excited. Another step in the coffee-making process revealed.
The Coffee Roaster was one of the first of its kind in Sydney, pretty obvious when you see their web address, www.coffee.com.au (don't worry; the website is going to be updated soon). We go upstairs where the unroasted beans are stored and poured into the roaster. Dan starts by explaining how the coffee is stored in hessian sacks but says that there's an increasing trend towards plastic liners and  that it's important to get as much of the dust and dirt out of the coffee as possible prior to roasting.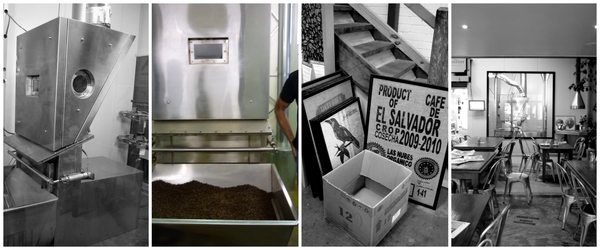 The coffee roaster uses a computer-run Chinook air flow coffee roaster which basically means the beans are roasted on a cushion of air. The system is computerised, and each roast is saved as a file which has been optimised in terms of a variety of variables (temperature, length of roast etc.) for the individual blend or even the individual coffee shop they are supplying. He contrasts this with other roasters who roast each batch more by sight, saying that he prefers about his method as once each coffee profile has been established it makes no difference who is in charge of the roast, they will just download the correct file and thus the result will be consistent.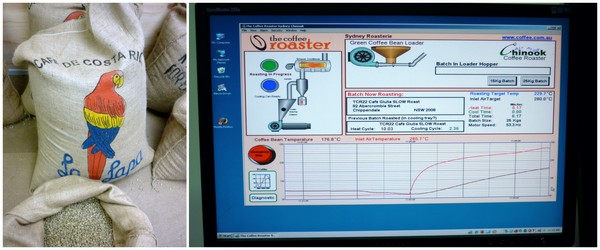 Dan pours some beans into the roaster and selects a profile, the TCR22 for Café Giulia in Chippendale, a long, slow roast. Dan explains that this will cut out the acid or caramel notes and lead to a darker finish where a faster, hotter roast would leave you with a lighter, more caramel finish.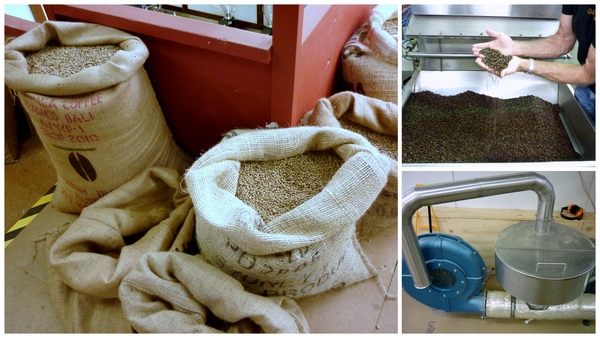 We move downstairs to watch the roasting process, and Dan contrasts The Coffee Roaster's method with that often employed by roasters. Usually they'll have around 6 blends roasted 6 different ways, and will have one person roast, store and top-up as needed while another person fills orders with them. He, on the other hand is storing the unroasted beans until orders are placed. Customers like café Giulia call up the day before they need a fresh supply and Dan and the team will roast the batch the next morning and deliver it immediately. The whole process is surprisingly quick; they can roast about 4 batches an hour. As the coffee cools he shows us the dust removed via the roasting process – a whole bin full!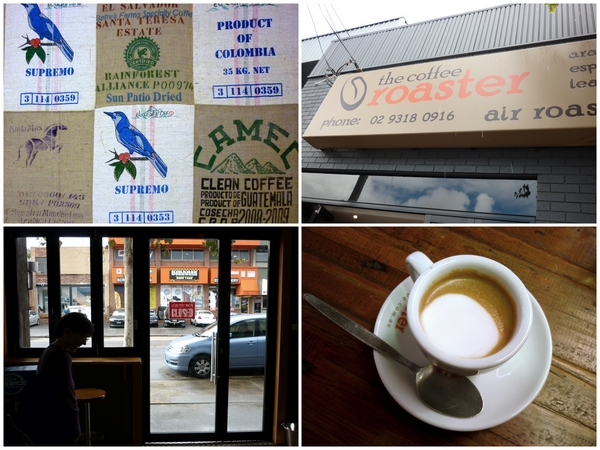 On storing coffee – a hotly contested topic in barista/roaster circles – Dan says that they package their beans as soon as they have cooled in a bag which lets excess gas out but does not let oxygen in.  Every time you open it you are letting in microbes and yeasts which feed on the coffee and quicken its expiry, so he recommends storing coffee in a vacuum seal container where you can suck all the air out, or in the same kind of bags they use, so you can squeeze it out.  Keep your coffee out of the light and don't worry about putting it in the fridge or freezer – you will just be refrigerating/freezing stale air. And his number one storage tip? Use your coffee up as fast as possible because as soon as it's roasted it begins to deteriorate.
What obsessions run in your family?
The Coffee Roaster
380 Botany Road,
Alexandria NSW 2015
1800 806 200
www.coffee.com.au
About me

Sharing easy recipes, hunting down the

best coffee

. Honest accounts, nothing too serious.

Read more...

Popular posts this month…

This work is licensed under a

Creative Commons Attribution-NonCommercial 2.5 Australia License

.

Disclaimer:

All opinions in this blog are mine, an everyday, real-life person. I do not accept payment for reviews and nor do I write sponsored posts. I do not endorse the content of the comments herein.