I don't often go out for breakfast these days, but when I do, I'm a sucker for a fritter and a good poached egg. Recently, I started trying to replicate the flavour and texture of café-style inch-thick, fluffy fritters in my own kitchen, and the results have been pretty amazing. Here are the 4 'fritter truths' I discovered on my journey to corn fritter heaven.
1. Corn fritters aren't just pancakes with a tin of corn chucked in. Not to say a batch of pancakes or pikelets studded with super sweet, fiberless corn kernels ain't a delight to the palate, but there's just so much more they COULD be. So I've discarded the pikelet + tinned corn method I've used since adolescence (served with a liberal slosh of sweet chilli sauce on the side).
2. Good corn fritters are mostly corn, not batter; the main ingredient is given away in the title. The batter loosely bindes together the corn and other flavourful ingredients. It is light and fluffy and whipped-egg-white heavy (easy on the SR flour), and thus maleable. This means the fritters can be shallow or pan fried (even deep fried should the mood take you), in lumps or thick, flat saucer shapes.
3. Fresh corn is better! I'm told there are places in the world where the corn is so fresh and sweet you can gnaw is raw from the cob, but I don't live in such a place so I find the corn needs to be sauteed a little pre-fritter. So saw those kernels off the cob, cook 'em up, let 'em cool and fold them into your feather-light batter, ready to dollop.
4. There are other things in there besides corn. This was a revelation to me, but of course it makes sense. Garlic. Zucchini. Onions. Chilli. Fresh herbs. Salt and pepper. Spices. Mushrooms. Bacon. There are so many amazing tidbits you can toss into your sauteeing corn. Hell, there are so many ingredients you can use in PLACE of corn, I just really like corn.
Lau's Ultimate Corn Fritters
serves 4 as a side
I've served these fritters many a way – with guac and crispy bacon, with tomato salsa and cumin yogurt, with asparagus and fried eggs. They are the perfect breakfast, brunch or breakfast for dinner.
For the guts of it
olive oil for pan frying (I prefer extra virgin)
1 single clove garlic bulb or 4 normal sized cloves
pinch salt
6-8 rashes bacon or similar, chopped
2 spring onions, chopped
1-2 Tbsp paprika
The kernels from 2 -3 small cobs of corn
½ bunch coriander, leaves finely chopped
For the batter itself
2 eggs, separated
¼ cup milk
½-¾ cup self-raising flour
To Serve
Crispy bacon
Guac
Heat the oil in a medium frying pan, sautee garlic with salt until soft. Add in bacon and cook until beginning to brown. Add spring onions, paprika and corn and cook until corn kernels are soft but still have some bite to them. Remove pan from heat and stir through coriander. Transfer to a large bowl to cool (perhaps in the fridge).
Beat the egg whites to stiff peaks.
Whisk milk and egg yolks together.
Once cooled, add enough flour to the corn mix so that everything is well coated. Fold through the yolk and milk mixture completely, then gently fold in the egg whites.
Dollop 8 dollops on a medium low grill or pan (oiled), flip when golden brown. Cook until cooked through.
Serve as you like. Suggestions include: crispy bacon, non-crispy bacon, guac, salsa, hot sauce, sour cream, poached eggs, fried eggs, hummus, greek yogurt, rocket, basil… the possibilities are endless.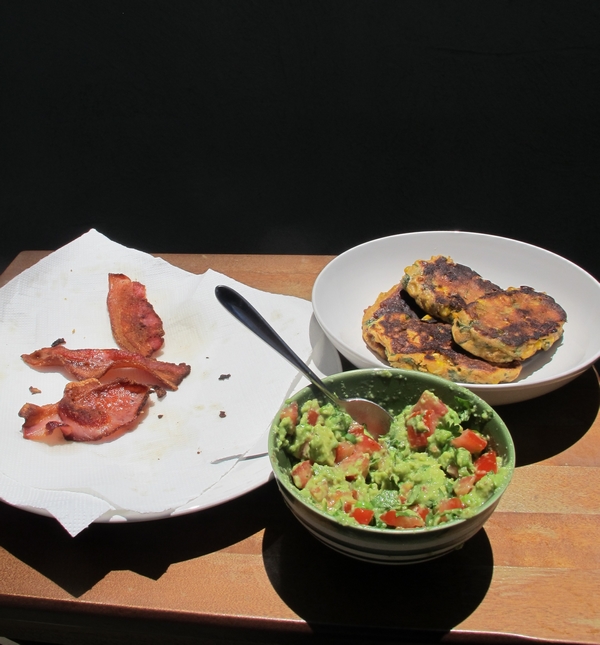 What's your go-to café breakfast?
If food blogging means you can fly the length of this great brown land to spend the weekend eating and drinking  yourself stupid with kindred foodie spirits you've met once, then I don't see a downside.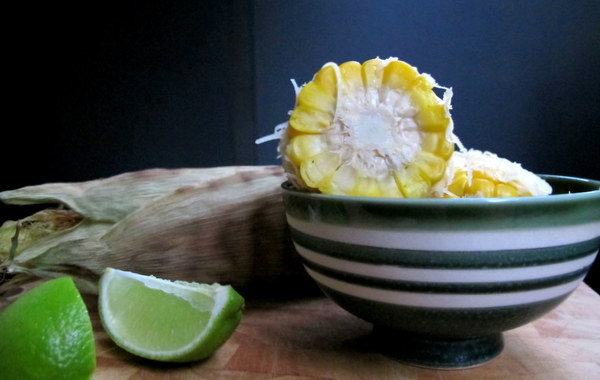 I spent last weekend in Perth with two awesome food bloggers, hosts, tour guides and, dare I say it, friends Heather and Ai-Ling, who showed me all 'the good Perth'  has to offer. We did cafes, small bars, markets, breakfast, the list goes on. They planned out every minute of my trip but somehow it was a laid back weekend. Seriously guys, get your foodie tours of Perth business going soon. You'd make an absolute mint.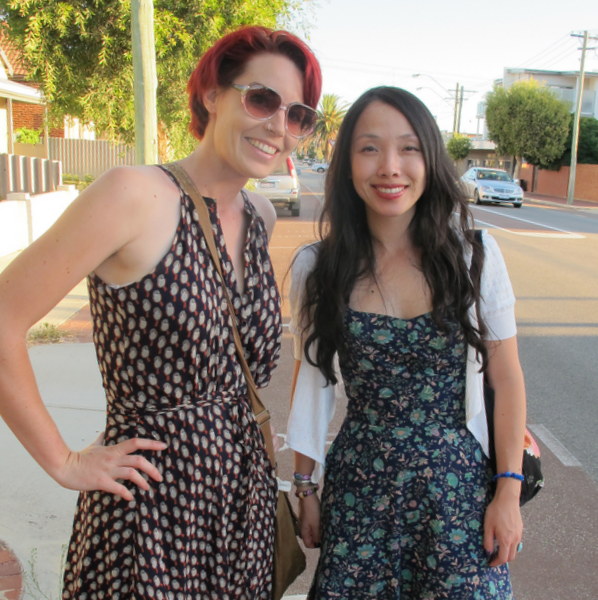 At the Subiaco farmers' markets, I picked up a swag of corn cobs and limes. I had no plans for them, other than perhaps to grill them on the BBQ. After a night stumbling through small bars and drinking out a of jam jars we found ourselves in a bookshop and I found myself thumbing through Lonely Planet's 'The World's Best Street Food', where a recipe for elote (corn cobs) caught my eye.
This Mexican/US recipe is the kind gracing the menus of many an up-to-the-minute dive bar or slider-serving eatery in urban Australia these days. Now you can start your own Americana/Mexicana shack right in your own living room with the surprising flavour combo of corn, lime, mayo and cheese.  Elote goes great with any virtually flavourless cerveza such as Mexico's Corona or Korea's Hite (but for God's sake, not Quilmes, NEVER EVER drink that), just stuff a lime wedge down the bottle's gullet for a bit of zing. We ate these on the beach in Perth at the end of a long hot day, watching the gorgeous sunset  over the sea.

Elote asado
Grilled corn cobs
(Adapted from Lonely Planet's The World's Best Street Food)
Makes 12 mini cobs
You will need:
4 large corn cobs, husks on (each whole cob should make 3-4 mini cobs)
4 juicy limes, cut into quarters – ¼ of a juicy lime per 'mini cob'
About 8 teaspoons of mayo – about ½ teaspoon per cob find out how many cups this is!
100g freshly grated parmesan or romano cheese – I used pecorino
Heat up your grill or BBQ until it is quite hot. Place the cobs, in their husks, on the grill, turning every few minutes or so. They will take a long time to cook, probably 30 or 40 minutes depending on the heat of your grill, but trust me, it is well worth the wait to have those gorgeous charred morsels popping in your mouth. You will know when they are ready when the husks are blackened and burnt to a crisp.
The cobs will be quite hot so you will may need to wear oven gloves to remove their husks. You could also wait a while and let them cool slightly, but the joy of eating the corn hot is kind of the point and anyway, after waiting so long for them to be ready, you're probably starving. De-husk them ASAP and cut them into thirds or quarters.
The rest is simple – rub each mini cob well with a lime wedge, smear on some mayo and then roll it in grated cheese. Serve immediately and with beer.
As this is a street food  there are many variations. Most commonly lime, sour cream and chilli powder are used. You can also use salt instead of cheese. Go nuts!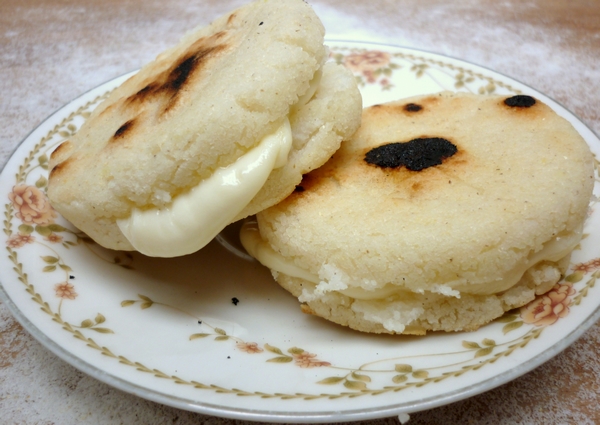 When I was a vego, I cooked heavy on the cheese. Although I didn't eat a lot of it by itself, it was in or on anything it could be. I remember when I was 13 or so cooking up a pot of thick tomato pasta sauce and thinking to myself 'What if I added tonnes of cheese to this?' It was, in the words of Maeve O'Meara, a revelation.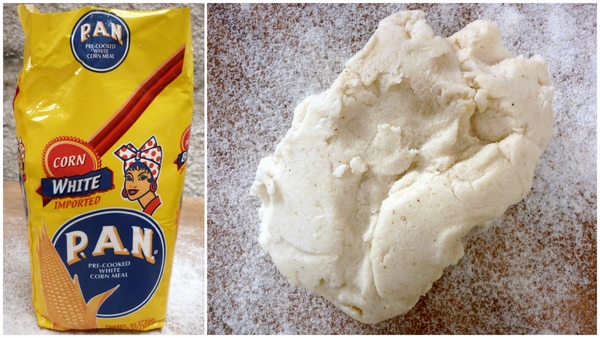 It was a habit I had break when I moved in with my boyfriend, who was aghast at how much cheese I put in everything. Very early on in our relationship I made him Pizzoccheri, a dish from of Grandfather's family made of buckwheat pasta, potatos, cabbage, garlic, and lashings of melted butter, cubed fontina and grated parmesan. And when I say lashings, I really mean lashings. My biggest mistake was letting him watch me make it. Although he said it was lovely, I could see him shudder as I poured about half a cup of melted butter over the dish. Not exactly heart smart.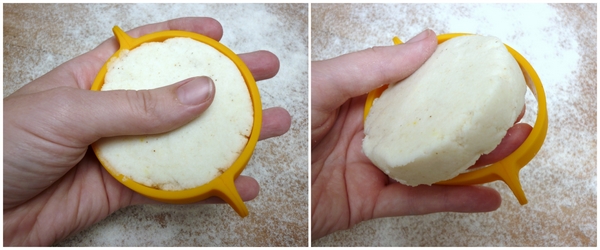 These days my main cheesy outlet is romano or parmesan on pasta – I just can't help myself. I love how cheese can take a plain, usually carb-based dish and turn it into something special. And this is definitely the case with arepas.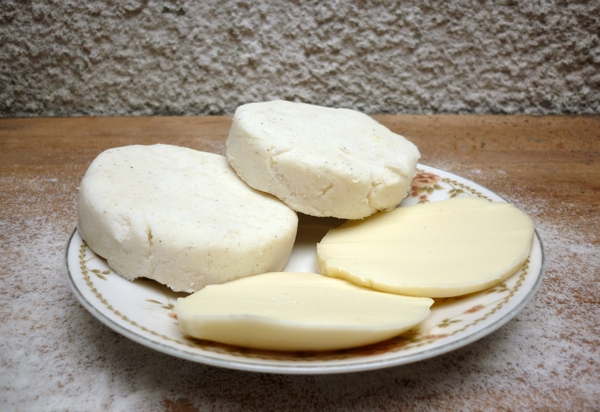 Arepas are made all over Colombia and Venezuela and often contain cheese, either mixed through the dough or stuffed in afterwards. They can also be stuffed with a variety of other fillings such as avocado, meat, black beans or fried eggs. They are commonly eaten as snacks or for breakfast but also can form part of a meal. They can be pan fried or deep fried and are both a street food and made at home as they are very easy to make and, in counties with corn as a staple, incredibly cheap. They are also mass produced, in fact, there is even a company in Brisbane that makes them, Grandma ¡Arepas!.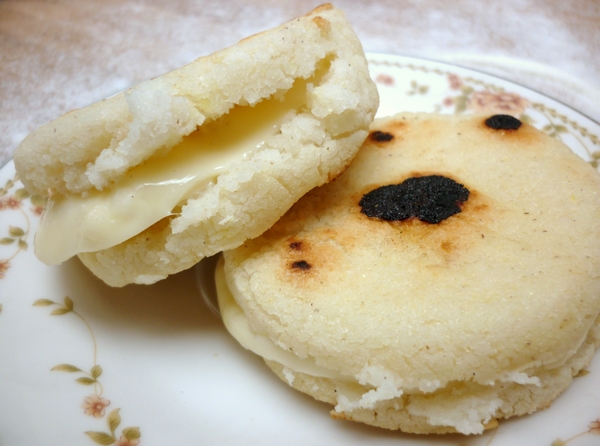 Arepas rellenas de queso (Arepas stuffed with cheese)
2 cups of Harina P.A.N. (pre-cooked white cornmeal)
2 ½ cups lukewarm water
1 teaspoon salt
8 slices of cheese (just smaller than the palm of your hand. I used provalone because it is round and also a bit 'stringy')
Pour the water into a large bowl and stir in the salt. Slowly pour in the white cornmeal. I assume this is to avoid lumps, but I've done it in reverse order and there was no discernible difference.
Knead the dough until smooth. It will be a bit sticky, so let it sit for a few minutes if you like.
Preheat a frypan to a medium high heat. You could also use a bbq if you want to do them all at once.
Meanwhile, divide the mixture into 8 balls and shape them by hand into flat patties. They should be the same thickness all the way through, about 1-2 centimetres thick and perfectly round. An easier method is to line an egg ring (for frying eggs) with cling wrap and push the balls of dough into shape using that.
When the pan is hot enough, place the arepas in. When they start to 'pop' or dance, flip them. They should be browned and have a thick crust, like 'giraffe skin'. Continue in batches until all are cooked
Allow the arepas to cool slightly, cut open and fill with cheese. You can return them to the heat briefly if you want the cheese to melt.
What's your favourite cheesy indulgence?
About me

Sharing easy recipes, hunting down the

best coffee

. Honest accounts, nothing too serious.

Read more...

Popular posts this month…

This work is licensed under a

Creative Commons Attribution-NonCommercial 2.5 Australia License

.

Disclaimer:

All opinions in this blog are mine, an everyday, real-life person. I do not accept payment for reviews and nor do I write sponsored posts. I do not endorse the content of the comments herein.