It's interesting to watch the buzz around a new cafe build over time. The first few times I popped in to Three Williams in Redfern, it was pretty empty, but then again, it's a fair bit larger than your average Redfern haunt. Locals and cafe addicts were coming and going and I could see that interest was building. Last week, my instagram feed was littered with brekky porn shots from the soon-to-be Redfern fixture, street press had written them up, and last Sunday arvo I walked past and there was not a table to spare.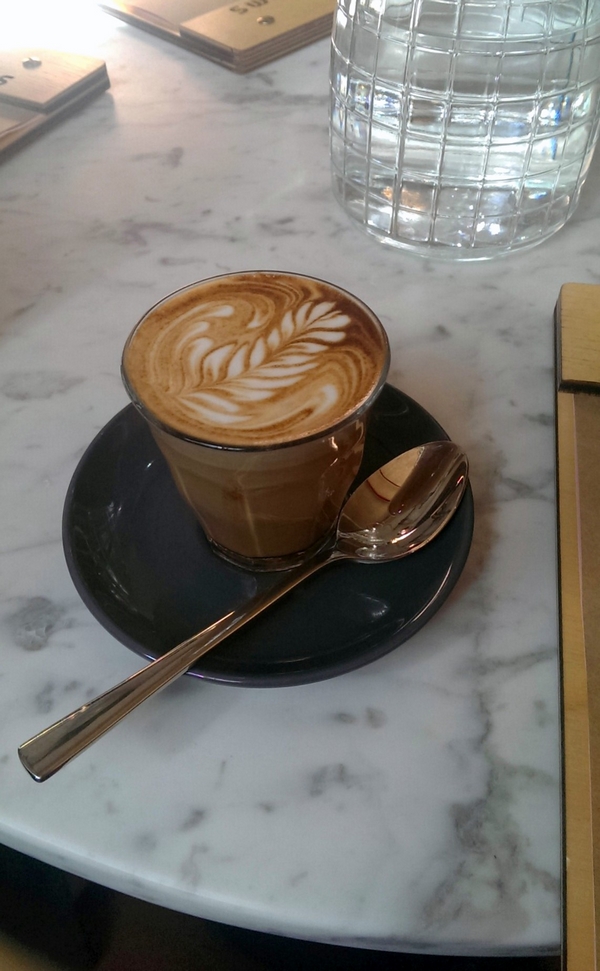 A few days after they openend, I found myself sipping a Single Origin 'Paradox' blend macch in the former mid-century furniture storeroom, bathed in morning sunlight and attended to by eager staff in snazzy aprons. The space is vast, with tables well placed, the floors are concrete and there's a lot of wood panelling, which makes for a noisy atmosphere at times.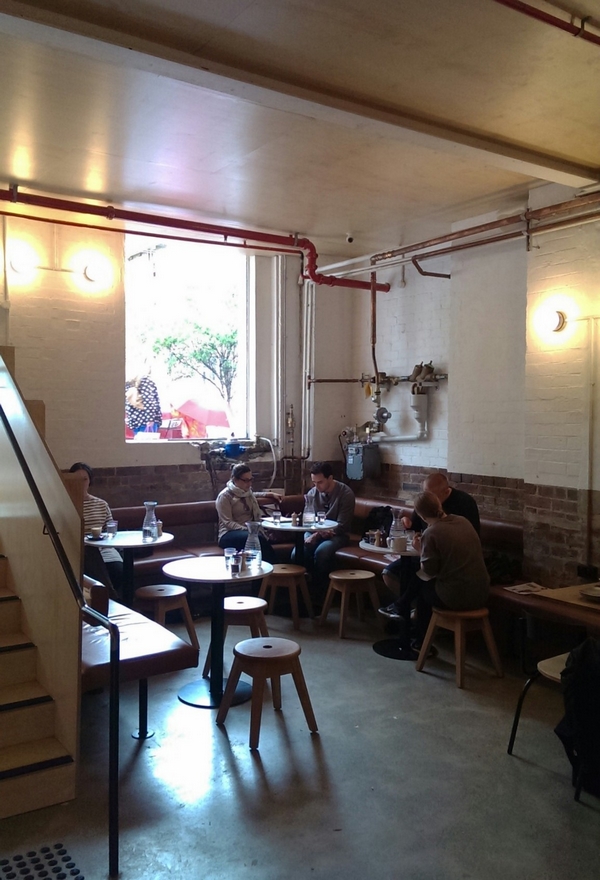 My first visit, I found it odd that brekky finished at 11:45 am – all day brekky is very much standard in Sydney cafes, and I tweeted as much. I just had a couple of coffees and I was more than happy with them. My second visit, I had the smashed beans an avo on toast. It was basically mashed avo and baked beans on toast, but it was damn tasty and damn filling to boot, a serving so generous that I actually couldn't finish it (and this was immediately after a 1km swim).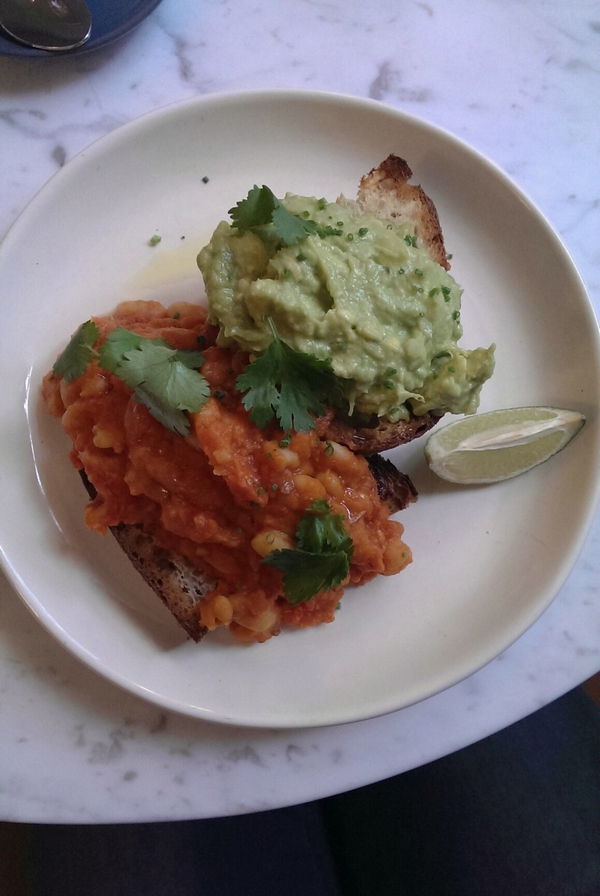 By my third visit, the menu had been updated to all day lunch and all day brekky, so I nabbed a chicken salad at the ungodly lunch hour of 9am. I enjoyed it, but it was quite salty; I don't think the salad itself needed seasoning as the chicken was already salty. To be fair, I didn't pass this info on to the staff because I was too hungry to care. My dining companions each ordered the poached egg special, which comes with jamon and bullhorn peppers. They subbed in tomatoes for jamon for my mum, who's vego, which was nice of them, and the eggs provided the requisite liquid yolks for optimal egg porn.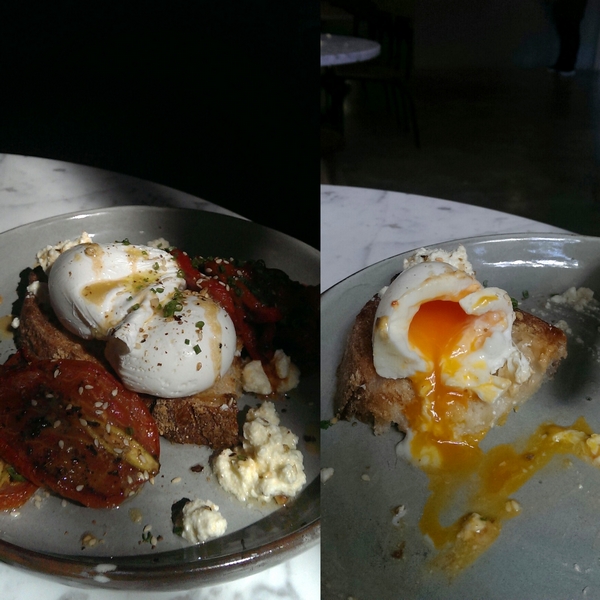 The kinks are still being ironed out here, but overall I would say it is a friendly place, they're receptive to feedback, the space is lovely, the food and coffee are solid, there isn't anything quite like it in the area, and they're open 7 days, which doesn't hurt either. There is a liquor licence pending so I'm excited to see whether these guys delve into dinner as well.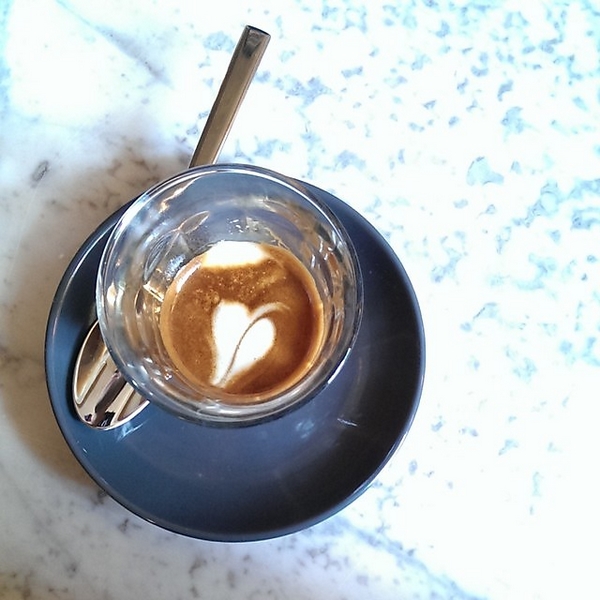 I still want to go back and try their 'narnies' (sandwiches made of naan bread), the fries, which look incredible, and the cute little fish croquettes, arranged in little egg cartons and served with lemon and aioli. Three Williams is a good brunch/lunch option in this hood, but get in quick before this place is completely packed out.
Three Williams
613a Elizabeth St
Redfern, NSW 2016
(02) 9698 1111
Monday – Sunday 7:00am – 4:00pm
Sometimes you wake up, maybe a touch under the weather, and you want a bit of brunch, but leaving your house seems like an impossible task. You drag yourself to the kitchen and find the cupboards and fridge are more or less bare – sure, you've got eggs, some random veggies, and all the oils and spices you could ever need, but these ingredients do not brunch make. Or do they?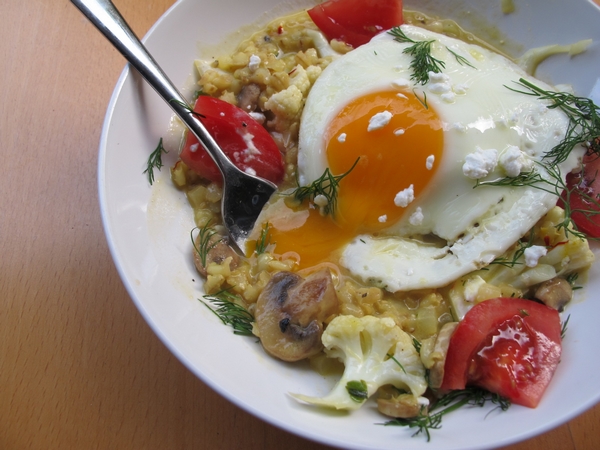 Orzotto is a risotto made from barley and it's damn tasty. I've made it from scratch (using raw barley) but you can also do it with leftover cooked barley, which is how this recipe came about. And I see no reason why you can't eat it for brunch.
I've even made it extra flexible with ingredient options so that you don't have to leave the house tomorrow morning. You're welcome.
Bits-and-bobs Orzotto for one
A splash of oil and a smidge of butter
A pinch of salt
A spoonful of diced onion – you could also use fennel, capsicum, celery or garlic
A pinch of chopped parsley
A pinch saffron threads, soaked in ¼ c white wine
1 cup stock/water
4-5 tablespoons leftover cooked barley, or other whole grains/equivalent – eg, brown rice, farrow, quinoa, couscous, risoni…
3-4 florets of cauliflower – you could sub in brocolli, kale, brocolini, bok choy, asparagus.
1/2 a tomato, cut into wedges. You could also use beetroot, pickled onions or other pickles.
One egg
pepper and salt
fresh herbs, to garnish
butter, to add at the end
goats cheese/feta/other cheese, to serve.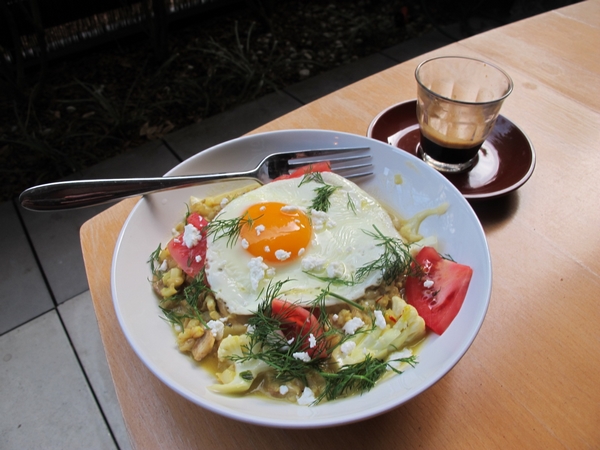 Add the cauliflower florets (or whtever you're using) to a bowl of salted warm water.
Heat oil and butter. Add a spoonful diced onion and a pinch of salt. Cook until translucent.
Boil a jug of water.
Add the cooked grains to the pan, heat through.
Add wine mix and parsley, freshly ground salt and pepper, simmer
Add water/stock, spoonful by spoonful, stirring as it is absorbed.
In a small frypan, put an egg on to fry.
Add the cauliflower into the orzotto.
Once egg is nearly done, cover, turn off heat on both pans. Add butter to the orzotto.
Assemble- orzotto, egg on top, tomato around, fresh herbs, sprinkle goats cheese.
What's your fave homemade brunch?
About me

Sharing easy recipes, hunting down the

best coffee

. Honest accounts, nothing too serious.

Read more...

Popular posts this month…

This work is licensed under a

Creative Commons Attribution-NonCommercial 2.5 Australia License

.

Disclaimer:

All opinions in this blog are mine, an everyday, real-life person. I do not accept payment for reviews and nor do I write sponsored posts. I do not endorse the content of the comments herein.