Smokey O's Popup, The Rag Land, 13-14 May 2013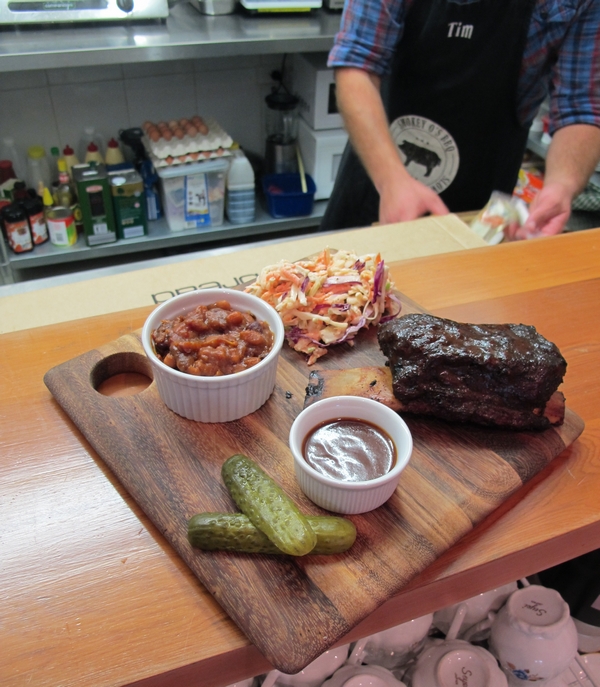 From home supper clubs to warehouse dinners, popups are all the rage these days, and the hype isn't always warranted. But in the case of Smokey O's slow southern style bbq, it certainly is, and a staunch band of devotees flock to their pork in the park lunches and regular appearances at north of the bridge market stalls to fill their bellies with bee bee cue goodness. So when I found out they were popping up at my local cafe, The Rag Land, I knew I had to go and get a taste of whatever Americana-inspired breakfast/brunch/lunch treats they'd have on offer.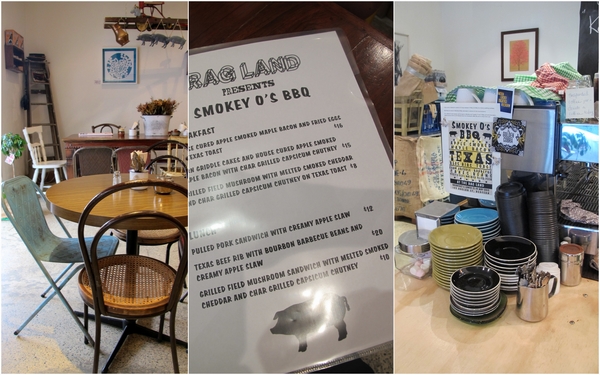 Monday 13th and Tuesday 14th of May,The Rag Land menu was chucked out the window (not literally) as they took a break from their usually bacon-less fare to fill the place with Tim's apple smoked maple bacon. Four of us made the trek down to Dave's to get Tim's spin on cafe food, washed down with Dave's Golden Cobra coffee.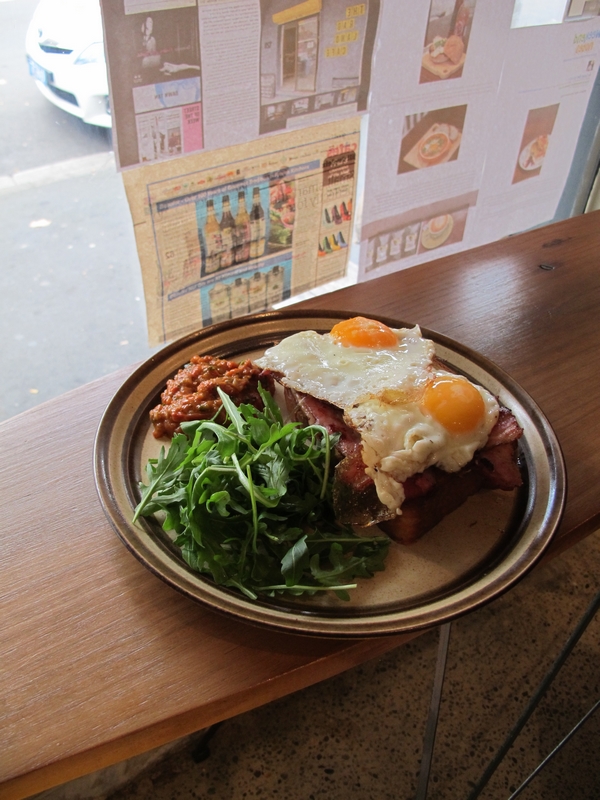 Reading the menu, it was hard to choose, partly because everything sounded similar-ish and partly because we weren't 100% sure what each thing involved. Texas toast, for example – it just sounds like you placed the word 'Texas' in front of toast to make it sound more American-y. But it turns out Texas toast is thick cut toast fried on both sides. I'm not a huge toast person, but I'm massively into all things fritter, so I went for the corn griddle cakes served with apple smoked maple bacon and capsicum relish. That sounds good, right? I think you need a proper description to really sell this dish though.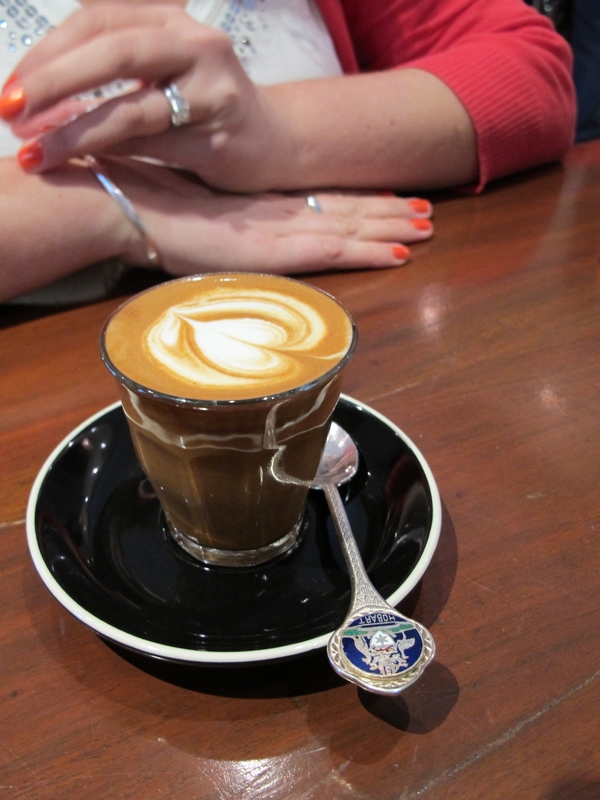 Ok, so you you know bacon? I think we can all agree that bacon is excellent, and that the smell of it cooking is up there with baking bread and freshly-ground and brewed coffee. But take a homemade piece of bacon smoked over apple wood chips, and cook it until it is both crisp and soft. How does this heavenly piece of fat-bound protein even exist? Now imagine a pikelet-like fritter of polenta-y goodness, soft and pillowy, yet charred on the outside, studded with sweet bursts of corn kernels and somehow not gritty in the least. Drape the bacon over it. Now for the relish. Sweet and smokey, chunky yet strangely creamy, so delicious you take your plate back to the kitchen for a second massive dollop, you just can't help yourself.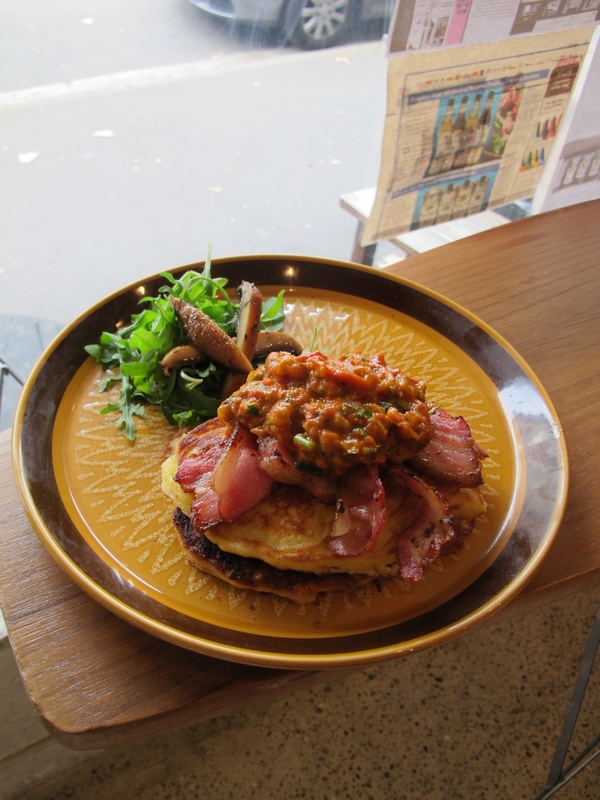 This was my breakfast on Monday May 13th at approximately 9:00am. And in the interest of full disclosure, 2 hours later I swam a kilometre. So.
As far as I'm concerned, most things go with coffee. But Golden Cobra's signature punch-in-the-mouth was particularly good with the sweet 'n smoky bacon. I went my standard macch for starters while perusing the menu, but then I wanted a black coffee, still espresso, but something a little bit different, because I'm a high maintainance broad.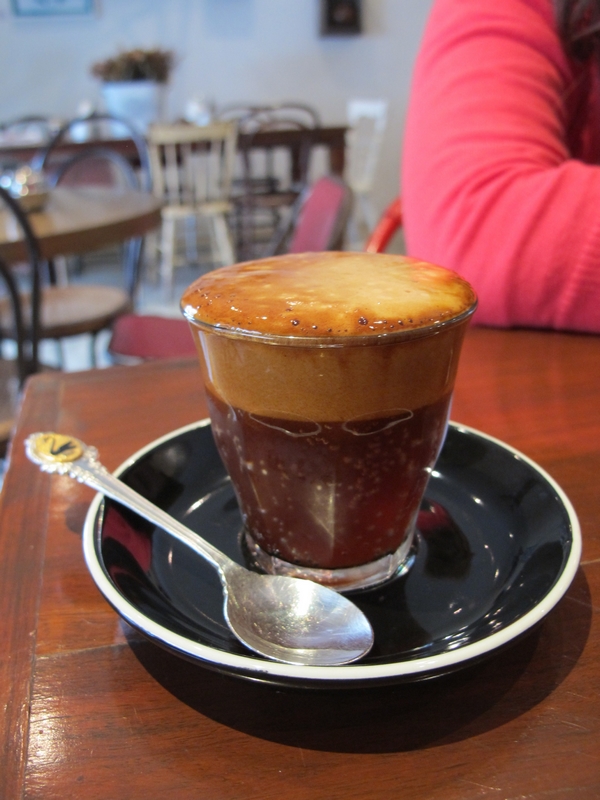 I went for a sparkling double ris, it's not on the menu but Dave's always happy to whip one up if you ask – basically, it's mineral water with a double ristretto shot over it, which creates a crazy volcano-like foaming (mine almost overflowed). You get this amazing temperature contrast, with the chilled mineral water on the bottom and the hot crema on the top. You can find a recipe for something similar here, or go try it for yourself at the Rag Land.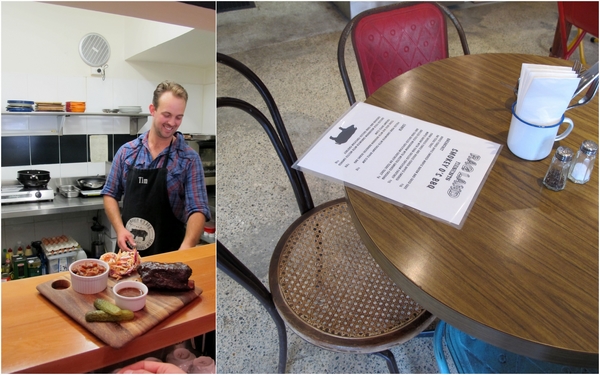 You can find Tim's menu from the popup here. If Smokey-O's has you salivating, you can find them at The Beaches "Welcome to Winter" Market on Sunday 23rd June at the Pittwater Rugby Park, Warriewood, on facebook and *possibly* at a Rag Land-meets-Smokey O's stall at the Naidoc Family and Sports Day on Friday July 12 at the NCIE, Redfern. As for The Rag Land? You can find the deets here.
About me

Sharing easy recipes, hunting down the

best coffee

. Honest accounts, nothing too serious.

Read more...

Popular posts this month…

This work is licensed under a

Creative Commons Attribution-NonCommercial 2.5 Australia License

.

Disclaimer:

All opinions in this blog are mine, an everyday, real-life person. I do not accept payment for reviews and nor do I write sponsored posts. I do not endorse the content of the comments herein.