Café Review – Klink Handmade Espresso, Sydney CBD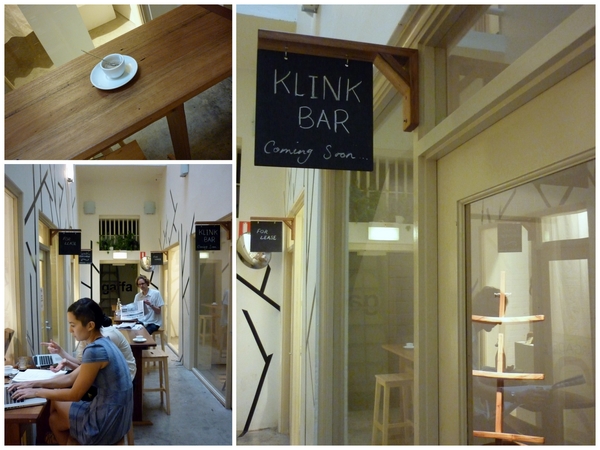 Something you will never, ever hear me say about a café, bar or any other place is that it is 'so Melbourne.' I know what people mean when they say that. I can even see what they're talking about in my mind's eye. It's some kind of kitch, bentwood chaired, astro-turfed, bicycle-wheels-dangling-from-the-ceiling, exposed-vintage-lighbulb-studded hole-in-the-wall with hipster clientele and fashionably–mussed student waiters. It's zany. It's ironic. It's 'more european'. But I refuse to use this term.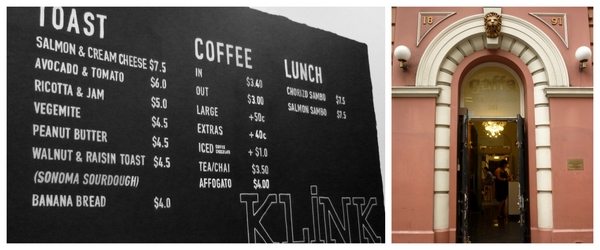 I've never understood the Melbourne/Sydney rivalry, mostly because it is so one-sided. People from Melbourne will always try and sell it to you, as if Melbourne invented any or all of the following things: coffee, hipsters, black clothes, laneways, graffiti. They'll give you one million reasons why it's better than Sydney. But Sydneysiders don't give a damn, and I in particular don't give a damn as long as the coffee's good. We all like upcycled vintage sideboards, we just don't talk about them all the time. Oh and p.s.- there ain't no such thing as a long macchiato.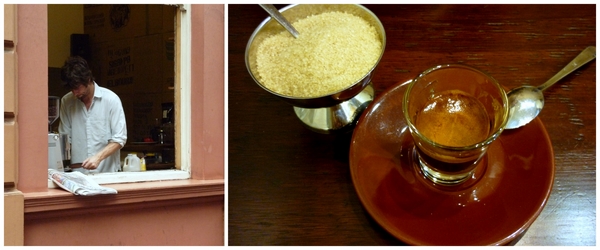 Klink Handmade espresso is the kind of café that would be right at home in Degraves street or equivalent, but I won't hold that against them. You'll find it in the foyer of the Gaffa gallery, housed in a strawberry ice cream coloured heritage building. It's on Clarence street, near the astro-turfed Grandma's Bar and a couple of other coffee places with good reps. There's not a lot of room to sit, so if you'd prefer takeaway you can order through the window.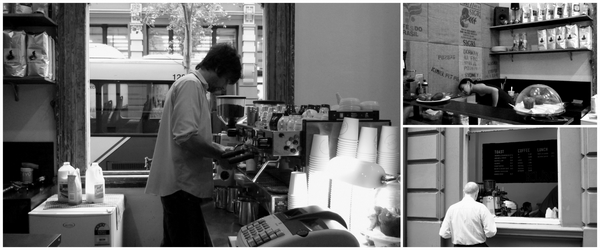 Klink, like The Kick Inside uses Golden Cobra espresso. I wasn't disappointed with my macchiato as it came complete with a jug of frothed milk, just to be on the safe side. That was helpful as my coffee companion found her espresso a tad bitter and so ended up with a macchiato after all. Sit down coffee is expensive here- $3.40 for a macchiato. But it's a good place for a quick coffee and a chat.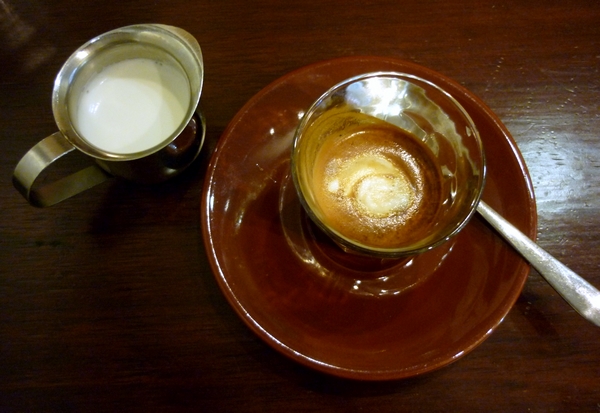 So, what's an expression that drives you mad?
Klink Handmade Espresso
281 Clarence Street, Sydney 2000
(04) 1511 8505
Monday-Friday 7:00am – 3:00pm
About me

Sharing easy recipes, hunting down the

best coffee

. Honest accounts, nothing too serious.

Read more...

Popular posts this month…

This work is licensed under a

Creative Commons Attribution-NonCommercial 2.5 Australia License

.

Disclaimer:

All opinions in this blog are mine, an everyday, real-life person. I do not accept payment for reviews and nor do I write sponsored posts. I do not endorse the content of the comments herein.