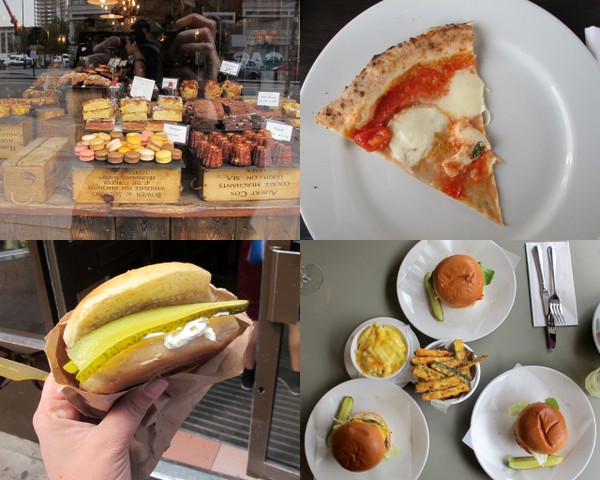 1. Fish and Chips
I ordered fish and chips at a random pub (The Draft House Westbridge, to be exact) in Battersea and was not disappointed. A large plate was soon placed in front of me holding a generous portion of hake coated with a crisp, golden batter. This was balanced on a heap of hand-cut chips with sides of tartar and mushy peas and a juicy wedge of lemon. As I bit into the hake, the outer coating literally shattered and the flesh of the fish melted in my mouth. Worth. Every. Calorie.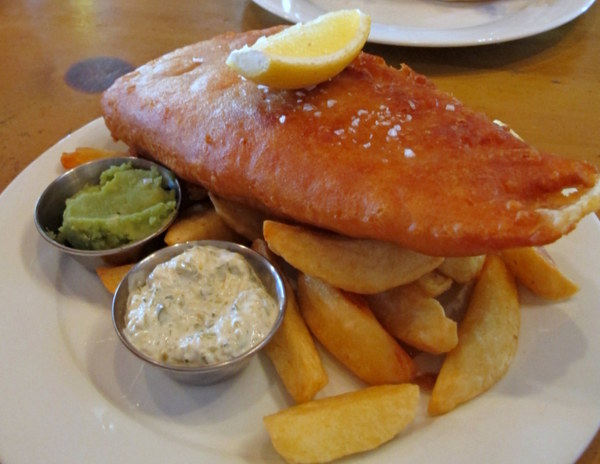 2. Beigels with pickles and anything else
We tried them with bacon. We tried them with chive cream cheese. We tried them with the famed 'salt beef'. But whatever these chewy beigels (pronounced 'bee-guhls') from Beigel shop were slathered with, a pickle (or as the Brits say, gherkin) was a must. In fact, I'd be tempted to go a gherkin-only beigel next time around. The tart, sweet firmness is all you need to offset the bouncy, starchy goodness of a real bagel.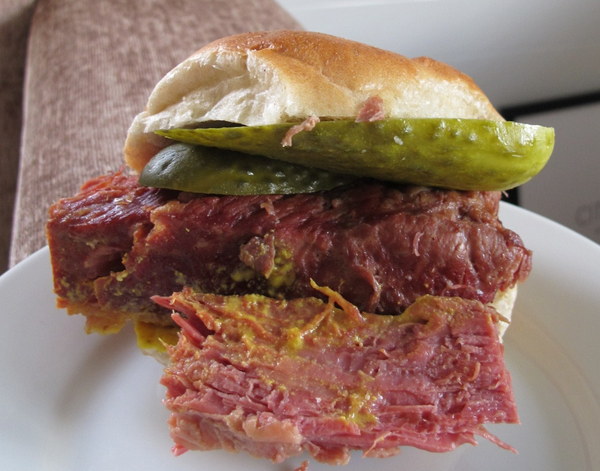 3. Prosecco everywhere!
I'm counting all liquids other than water as 'foods' for the purpose of this post. I've been a fan of this Italian sparkling wine (apparently soon to go the way of champagne and port in terms of naming rights) since it was first deemed an acceptable breakfast drink. There didn't seem to be a bar or restaurant we stumbled into during our two weeks in London that didn't serve Prosecco, and it was the perfect summer (if you can call it that) arvo drink for when you just can't face another room-temp British ale or lager. Not that I don't like the aforementioned tipples, but they can be a meal unto themselves, and then you don't have room for scones.
4. 'Proper scones'
I was hell-bent on having high tea but in the end, Vegetaraian and I settled on scones for lunch one day at Canteen, Spitalfields market. I thought I knew scones. I did not know scones. I find it difficult to describe the sublime texture of these beauties, so incredibly crunchy on the outside yet flaky and buttery within, all at once shortbread-like yet soft. Served with clotted cream and house-made strawberry jam, it is no exaggeration to say they had our waitress salivating. She told us that every order of scones is baked fresh. And all this from a franchise!
5. A Sunday Roast, complete with Yorskshire pudding
This was my last big feed in LDN- roast lamb with steamed veggies, potatoes roasted in duck fat (!), Yorkshire pudding and a liberal ladling of gravy. This meal was a hearty, textural delight from start to finish. The meat was juicy, the pud crunchy, the edges soggy where they met with the gravy, and the potatoes, those starchy dream 'vegetables', perfectly decadent. I stopped short (just) of licking my plate clean.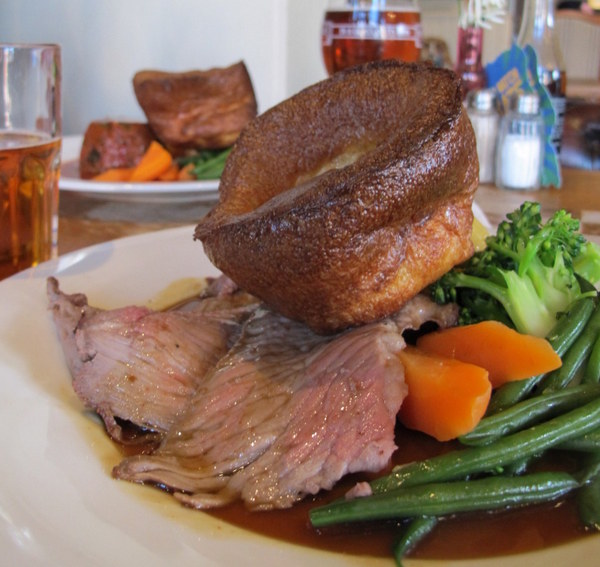 I'd love to know your fave London eats for my next visit! Let me know in the comments below…
About me

Sharing easy recipes, hunting down the

best coffee

. Honest accounts, nothing too serious.

Read more...

Popular posts this month…

This work is licensed under a

Creative Commons Attribution-NonCommercial 2.5 Australia License

.

Disclaimer:

All opinions in this blog are mine, an everyday, real-life person. I do not accept payment for reviews and nor do I write sponsored posts. I do not endorse the content of the comments herein.