ANZAC crispies – that's what my mum always calls them so that's what I call them. That's because they should be crisp (but not burnt). We ate these a lot when we were kids as they're super easy and only contain only one non-pantry ingredient – butter.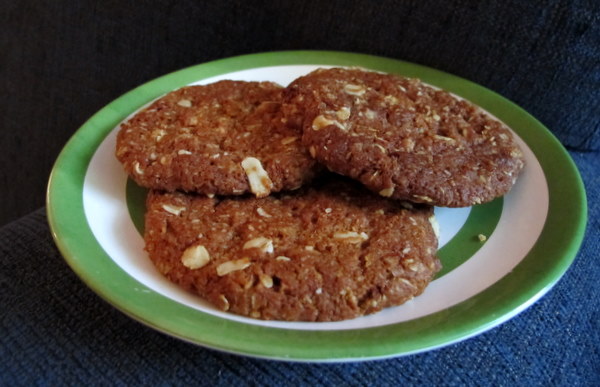 The story goes that these bikkies were often sent as part of care packages to the men of the Australian and New Zealand Army Corps during World War I. The recipe came to be because something high energy, solid and transportable was needed, and the ingredients in the biscuit were basic and plentiful at the time. Eggs were scarce, so a recipe without eggs yet was developed. The recipe itself is only allowed to bear the Anzac name if it adheres to the original, as the Department Of Veteran's Affairs owns the term 'Anzac'.
A quick tip: These bikkies are made to spread while baking but sometimes, inexplicably, they don't. I usually put this down to stale bi-carb soda, so be sure to keep yours in an airtight container.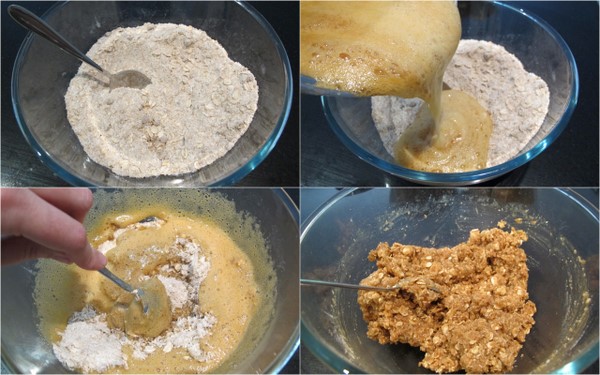 Anzac Crispies
1 cup rolled oats
1 cup brown sugar
1 cup desiccated coconut
1 cup plain flour
125g butter
2 Tablespoons golden syrup
1 ½ Tablespoons teaspoons bi-carb soda
2 Tablespoons boiling water
Preheat the oven to 160°c (140°c fan forced). Line two biscuit trays with baking paper.
Mix the rolled oats, sugar, coconut and flour in a large bowl. In a small pan, melt the butter and golden syrup together. Boil the jug.
When the butter and golden syrup are melted to liquid, take the pan off the heat. In a small bowl, place the bi-carb soda, followed by the boiling water. Once the bi-carb is dissolved, add it to the butter mixture. The whole mix will foam up, pour is immediately into the dry ingredients and stir through.
Form heaped soup spoons of mixture and place them on the trays. Leave plenty of room for the biscuits to spread, I only fit about 5 per tray.
Cook the biscuits for 16 minutes, swapping the trays after 8 minutes. They should be golden brown and very flat. If not, they may need a little longer.
Leave the ANZAC crispies to cool on the tray until mostly cool and then transfer to a cooling rack to cool completely. Serve with a cup of sweet tea or a glass of milk.
Makes about 18 biscuits.
Did you eat a lot of homemade treats when you were a kid?
About me

Sharing easy recipes, hunting down the

best coffee

. Honest accounts, nothing too serious.

Read more...

Popular posts this month…

This work is licensed under a

Creative Commons Attribution-NonCommercial 2.5 Australia License

.

Disclaimer:

All opinions in this blog are mine, an everyday, real-life person. I do not accept payment for reviews and nor do I write sponsored posts. I do not endorse the content of the comments herein.