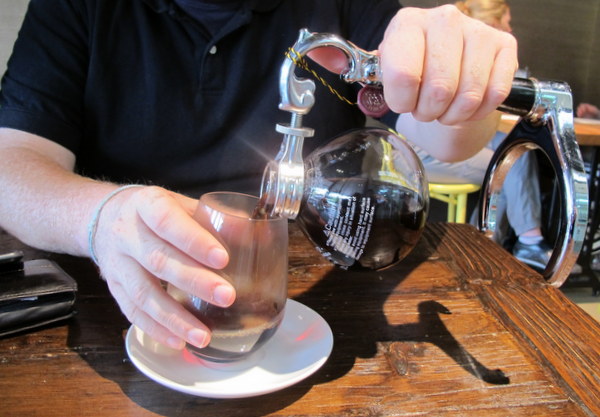 If you follow the cyclists, you'll find a good cafe. Turns out those fixies mounted on the wall in your local trendy coffee house aren't always just for decoration. I challenge you to find somewhere in this wide brown land more cycle friendly than our Nation's Capital. Canberra has almost as many bike paths as there are roads and so it stands to reason there has to be more than one place to find a good macch. And so early one Canberra morning we rose with the cyclists and followed them to Farmer's Daughter.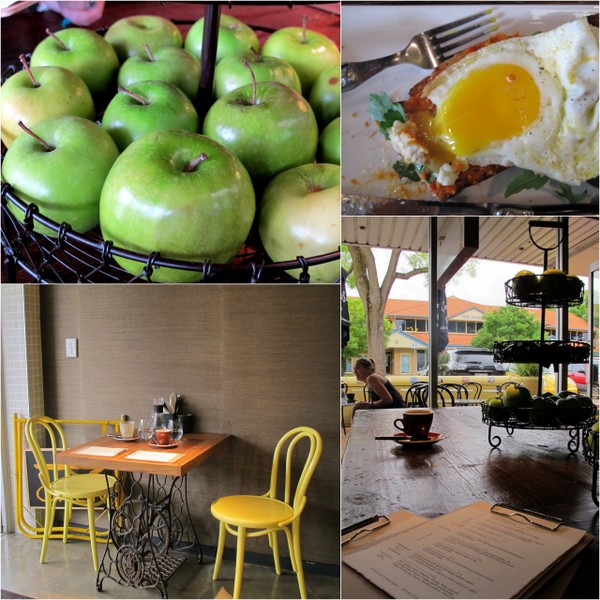 Farmer's Daughter is at the Yarralumla shops, an old and well-off suburb 5 minutes west of Parliament house. Yeah, like that's how Canberrans give directions. Anyway, It's just after 9:00am when we arrive, so we have our pick of tables. By 9:45 the place is pretty much full and the wait is long for those who want a 10:00 or 11:00 am breakky.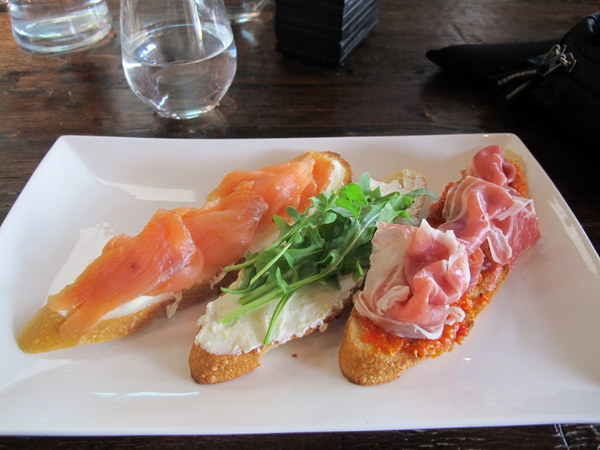 The menus are on cute little clipboards and it's one of those occasions where everything sounds enticing; enough adjectives to intrigue but not so many as to overwhelm. I consider the french toast, described as 'soft toasted brioche slices served with fresh summer berries and lavender cream', but I can never quite go past a savoury brunch and so I choose the fried egg bruschetta with romesco. Breakfast dishes hover around the $16 mark, so you know if it's less than perfect I'll be sending it back.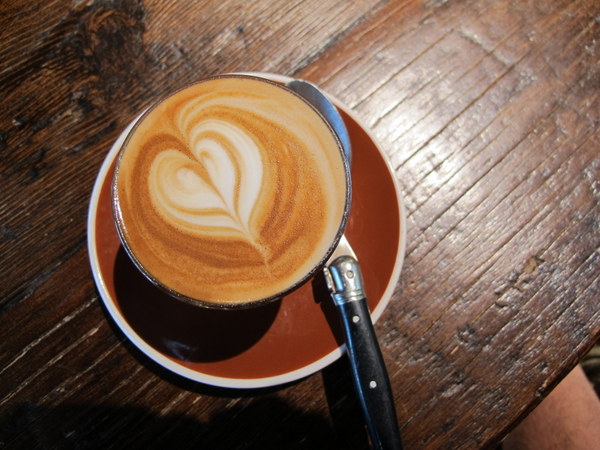 The coffee menu is why we're really here, as farmer's Daughter serve cold drip and syphon as well as espresso. What I like about their specialty coffee menu is that it's all written down as part of the normal menu, not on a blackboard or just as something you have to know to ask for. I like that they've described what each method involves and tastes like on their menu, leaving you to order the drink, ask questions about it, or not. I know most people drink espresso but I'm sure many are curious to have a go at siphon or cold drip or pourover, but aren't quite sure where to begin. All too often specialty, back-to-basics coffee can be quite intimidating for the unnanitiated coffee drinker, but not so at Farmer's Daughter, so assuming that hipster coffee places actually *want* a bigger uptake of these alternacoffees, this is a smart move.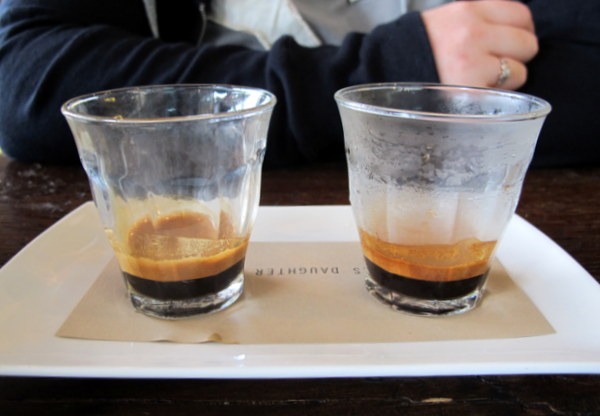 Between the four of us we order a macchiatto (guess who?), a picollo latte, a siphon coffee and a fire and ice espresso shot, which is two shots of a single origin espresso, one in a frozen glass and one in a room temperature glass. This is to show of the differing flavours at different temperatures, as is the Siphon, which you drink cup by cup from hot to lukewarm to appreciate its subtle, tea-like flavour, but also how that flavour changes as the temperature drops. It's actually quite fun try both of these coffee methods, and there's nothing patronising or pretentious about the way they've each been presented.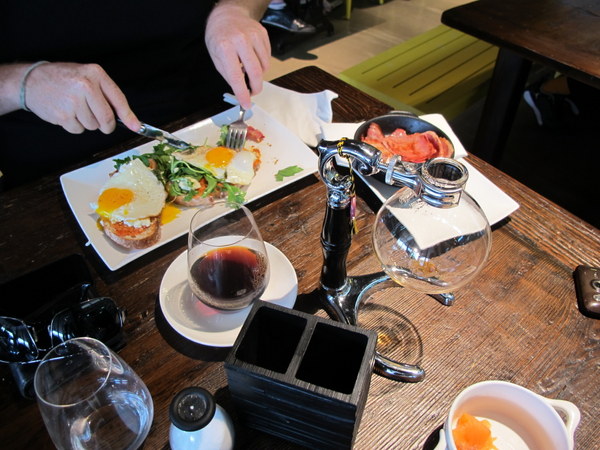 The fried egg bruschetta is great, with runny yolks and firm-enough whites, although the romesco has the quality of those cashew and capsicum deli dips – it tastes store bought, although I can't say for sure. Who cares, it's delish. The other dishes on our table are equally tasty, from the poached eggs with 'finishing touches' to the the 'no ordinary soldiers', three toasts with a different topping for each: smoked salmon and crème fraîche on one, parmesan and rocket on another and the third with prosciutto and romesco.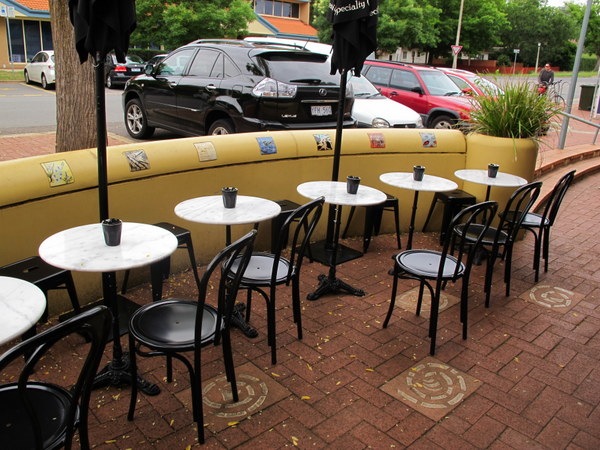 Overall I'd say I enjoyed breakfast at Farmer's Daughter, I even went back for a second macch (naughty), this time a single origin, the Rwanda Maraba III Sovu Cup of Excellence which is indeed both velvety and fusgy as the Campos website decrees. I will return, bright and early, to sip a syphon and investigate their menu further.
Farmer's Daughter
27B Bentham St, Yarralumla
Yarralumla, ACT 2600
02 6281 2233
Monday- Saturday 7:00am – 3:00pm
About me

Sharing easy recipes, hunting down the

best coffee

. Honest accounts, nothing too serious.

Read more...

Popular posts this month…

This work is licensed under a

Creative Commons Attribution-NonCommercial 2.5 Australia License

.

Disclaimer:

All opinions in this blog are mine, an everyday, real-life person. I do not accept payment for reviews and nor do I write sponsored posts. I do not endorse the content of the comments herein.