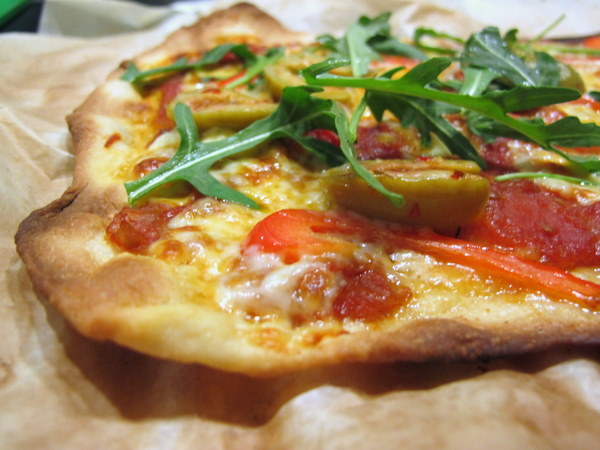 Day 5 of The $35 Challenge sees me a tad tired of coming home from work and having no choice but to make dinner (and tomorrow's lunch) from scratch. Don't get me wrong, I cook dinner at least 5 days a week but sometimes that could be just grilling a steak or making a salad. I haven't chopped this many veggies on a regular basis since I was vegetarian.
I've been saving a treat for later in the week, knowing that we were going to get sick of veg-heavy meals. Maybe it wasn't a great idea as piza is a bit labour intensive, but I sucked it up and got on with it. This meal is the ultimate in frugality- it takes one portion of pizza dough (care of The Australian Women's Weekly) and divides it into three so-thin-you-can-cut-them-with-scissors pizzas.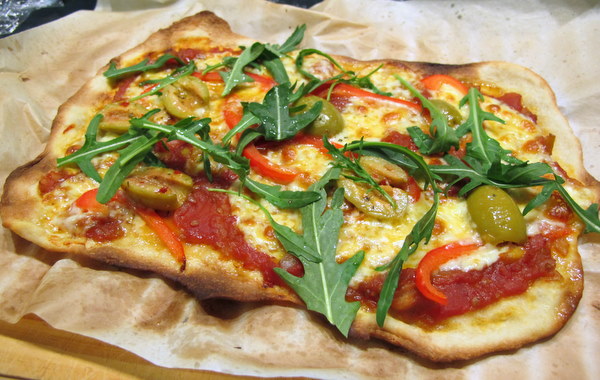 Fancy Pants Pizza
(makes 3 pizzas, serves 4)
2 teaspoons (7g) dry yeast
1 teaspoon sugar
¾ cup (180ml) warm water
2 cups (300g) plain flour
1 teaspoon salt
2 tablespoons olive oil
Combine yeast, sugar and water in a small bowl. Cover, stand in a warm place for about 10 minutes or until very frothy. I usually have to put it in my oven on its lowest setting.
Put flour and salt into a large bowl; stir in all other ingredients with your hands. Mix to a soft, sticky dough.
Knead dough for 10 minutes/until smooth and elastic. Oil the bowl you mixed the dough in and place the dough in. Cover with cling wrap, stand in a warm place for about 1 hour or until doubled in size.
Preheat the oven to 250◦c/220◦c fan forced (I have a pizza stone in mine). Punch down the dough, knead until smooth and then separate into three even balls. Let sit for 10-15 minutes.
Roll out one of the balls, place on greeaseproof paper and top as desired. Don't go nuts on the toppings or you'll weigh your pizza down. Place the pizza, on the paper either on the bottom of your oven, the baking rack in the oven or on a pizza stone if you have one.
Tip: Each pizza should take less than 15 minutes to cook. Keep an eye on it or it will burn! Be sure to leave about 10 minutes between pizzas to reheat the oven properly.
What's you fave homemade treat?
About me

Sharing easy recipes, hunting down the

best coffee

. Honest accounts, nothing too serious.

Read more...

Popular posts this month…

This work is licensed under a

Creative Commons Attribution-NonCommercial 2.5 Australia License

.

Disclaimer:

All opinions in this blog are mine, an everyday, real-life person. I do not accept payment for reviews and nor do I write sponsored posts. I do not endorse the content of the comments herein.