So around a month ago I was offered the chance to try out the new fully automatic espresso machine from Philips Saeco – the Intelia, which was handy as my ever faithful Sunbeam had been playing up. I'm skeptical when it comes to automatic coffee machines, not least because I'm a control freak bus also because I just can't see an automatic machine living up to a hand-tamped coffee.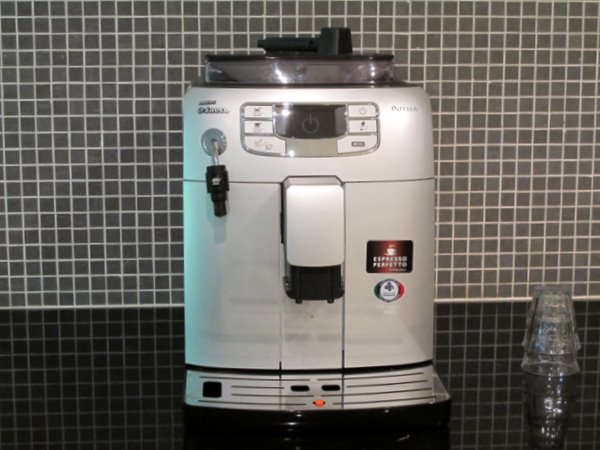 After three weeks of using this machine daily, I now feel qualified to review it. I thought the best way was to show you the machine in a kind of how-to video of about 12 minutes. I've followed that up with a summary of what I like/don't like about the Philips Saeco Intelia, skip straight to that if you're after my final verdict.
The Philips Saeco Intelia
embedded by Embedded Video

YouTube
What's to like?
The convenience – once you've got it all set up, it's just a matter of pressing a couple of buttons, especially if you drink black coffee.
It cleans itself (although you still need to clean it periodically)
You can use beans or ground coffee
Everything is adjustable and programmable
It's quiet!!
There is almost zero mess.
Usually the coffee grounds receptical is full at the same time as the water reservoir is empty
The milk frother – remove the 'cappucinatore' for velvety-smooth foam
What's not to like?
The price – RRP $999
The small water tank/coffee ground receptacle – they always need to be filled/emptied (in fact, the water tank seems to need to be filled BEFORE it's empty…)
There's no substitute for human tamping – even at the finest grind and largest dose, the shots run a tad too fast for me*
The plastic casing feels cheap and flimsy – nespresso-esque.
The steam wand (used manually especially) makes a mess.
The drip tray is too small
Quibbling/Suggestions
It'd be super cool if you could use the internal grinder just to grind coffee (not for use in the machine).
This product is for…
Office kitchens, people who want something better than nespresso but with even less fuss, those who drink milk coffee (it doesn't quite stand up to espressos/ristrettos), someone with more money than sense.
The Final Verdict
I was skeptical about the ability of a fully automatic machine to produce a decent coffee, however I have to admit that the Phillips Saeco Intelia has grown on me.
It gets massive points for convenience and usability- it's very intuitive to use and quite straightforward.
However, to get a decent coffee out of it, it really needs to be properly adjusted. That said, I use it on its finest grind setting and maximum dose, and the shots just aren't coming out as slow as I'd like.
Using freshly roasted beans gets the best result. If you can't get them, I seriously wouldn't bother with this machine.
Finally, like a lot of kitchen gadgets, it is priced that little bit too high. That said, I have the Sunbeam EM6910, which retails for around $700 and I would never, ever pay that – I got it at a factory outlet half price.
This is product I would never purchase for myself, but I can understand why someone who didn't want any fuss or mess and wasn't addicted to espressos or macchiattos would.
*(for those who don't know – higher dose of coffee = slower shot pour and thus more concentrated shot, as does a finer grind. Coarse ground coffee will pour slower, which makes sense if you think about water running through a sieve full of rocks vs a sieve full of sand).
Keep an eye out over the coming weeks for an exciting competition on Corridor Kitchen. You'll never (as in always) guess the prize!
Killing two, three or possibly even 10 birds with one stone has always been my bag. Thus I'm always on the lookout for good coffee and, simultaneously, good cafés to feature on Corridor Kitchen. So when I noticed a partially constructed hole-in-the-wall coffee bar on Redfern Street about a month ago, I have to admit I started stalking it.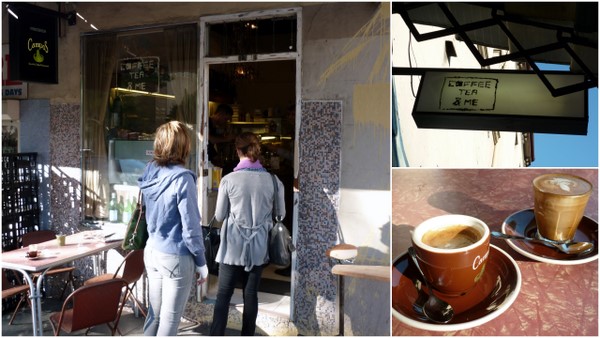 I was looking up City of Sydney planning applications that very day to try and figure out when they'd get permission for outdoor furniture – I figured that's when they'd open. I walked past most days 'just to check it out.' Soon a tantalisingly nonspecific 'coming soon' sign materialised. I checked out other cafés, but I wasn't interested in any other cafés. I wanted to check out Coffee tea & me.

Then one morning I walked by and miraculously, it had opened. And, true to form, I didn't have my camera on me. Blast! I grabbed a coffee anyway and it was pretty damn good. Campos, which contrary to popular opinion is not the best coffee in the whole of Australia but does ensure a level of barista training and screening that few brands adhere to.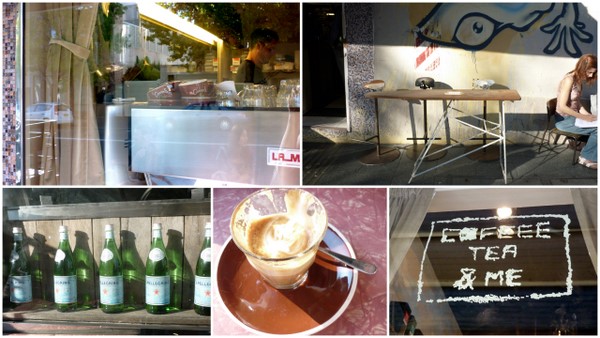 I returned a couple of days later. The place looked like a hipster paradise with only enough floor space for coffee and sandwiches. As the Redfern Street area continues to gentrify with the likes of Baffi and Mo, Eathouse and Pitt St Diner, it's hardly a surprising location for a teeny-tiny espresso bar.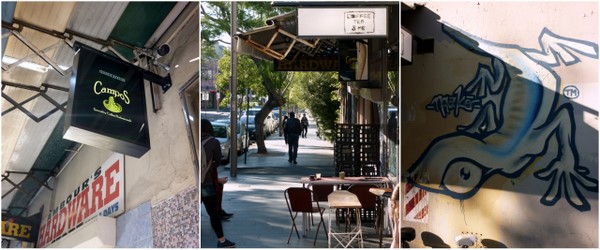 Coffee tea & me is literally on a bus stop and next to a hardware store. It's easy to spot its scattering of battered vintage school chairs, bicycle seat bar stools and laminate tables to perch on. I was there around 8am and not surprisingly most orders were takeaways. It'll be interesting to see what the vibe is like on weekends.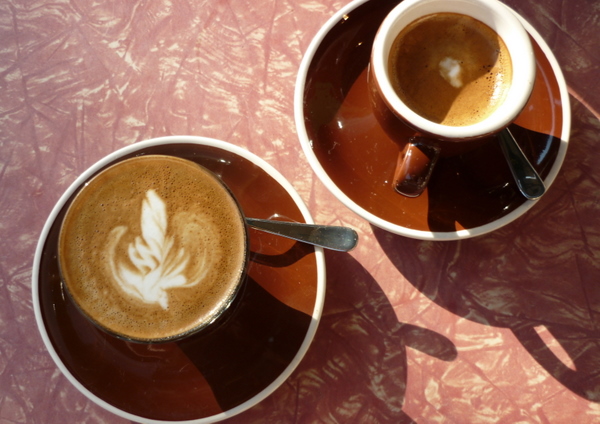 The coffee was good, syrupy and golden as I've come to expect for Campos. The two guys working there were friendly as a clump of eager takeaway customers awaited their coffees. Overall I was impressed and will definitely return.
Coffee tea & me
93b Redfern Street,
Redfern NSW 2016
(02) 90087121
Monday-Sunday, 6:00am – 6:00pm
Campos' second Sydney store is nothing special from the outside. Blink and you'll miss it, as the old saying goes. And in fact, I did- for three whole months. It was only when I came out of Dan Murphy's a couple of weeks ago that I noticed a café across the road, and headed over to check it out. 'I think it's a real Campos,' I marvelled to my boyfriend, meaning it's not just some café that stocks Campos but it is actually a coffee bar they own and run. We had to give it a try.

Even though I'm quite capable of making my own coffee, I've got to admit my heart skipped a beat at the thought a of a solid, reliable coffee shop walking distance from my house, maybe with somewhere nice to sit rather than our slowly deteriorating, floods-when-it-rains, overpriced terrace. On entering the store I was not disappointed. Polished concrete floors, exposed brick, high ceilings, industrial fittings, floor to ceiling windows – can I move in here?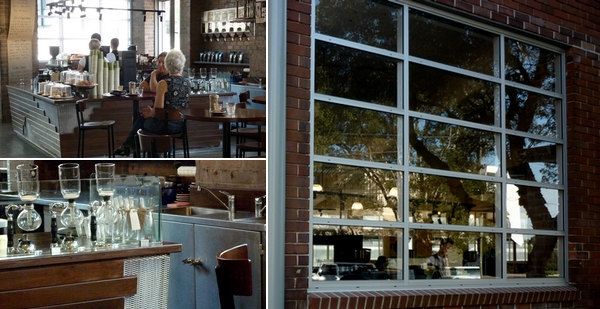 You'll find Don Campos at 'The Fountain', a newly gutted and refurbished warehouse on Fountain Street, Alexandria that's been subdivided into yet-to-be-leased retail space. Right now Campos is the only tenant on the ground floor so there's an eerie sense of space. You can take a seat at one of their trademark annoyingly high stools or sit outside surrounded by industrial bleakness but don't worry, this area is well on its way to full gentrification á la Danks Street.

As with Campos' Newtown store, you order and pay at the counter and the staff bring the coffee to your table. Food is self serve at the time of ordering and there's a filtered water tap embedded in a window-side bench if you need your thirst quenched. The menu is minimalist- miniature sandwiches and jewel-like cakes encrust the front counter. We got our coffees quickly, although there was a bit of a wait between them, which I always find a tad odd, especially as we ordered a macchiato and a piccolo latte.
The emphasis here is well and truly on the coffee, which is as it should be. There are various blends and single origins to try, as well as Campos' sparkling long black which I've yet to sample. Don Campos claims to be Sydney's first Siphon Bar, siphon coffee being a coffee geek's dream fusion of coffee and chemistry which is super trendy these days. So don your hipster specs and have a go. Or let these guys do it for you.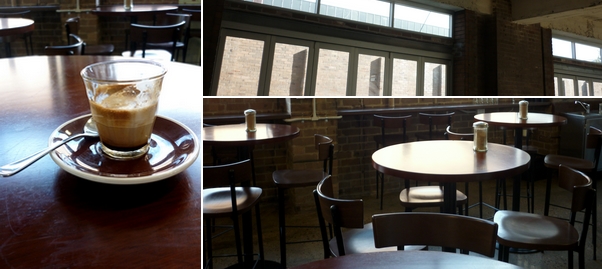 The verdict? Delicious. These guys made my dream macchiato, a drink which is known for being slightly different everywhere. I like mine with a decent amount of foam and a dash of milk. I've visited Don Campos three times in two weeks and all of my coffees have been a sight to behold, swirls of smooth, perfectly textured milk and a crema-rich coffee shot. The first time I went I had their dark City blend, which was fantastically rich and dark without being bitter. The other times I've been I had what I assume was their Superior Blend, which I sometimes buy pre-ground for home use. I found that less impressive, lacking the punch I was after.
There is admittedly a lot of hype around Campos as a brand and, as with all hype, take it with a grain of salt. I will say that they choose which cafés they supply very carefully, in accordance with their 'charter', and I can also honestly say I have never had a bad Campos Coffee. However, that doesn't mean every single coffee I've had from them has been fantastic. In the case of Don Campos, you can always send it back if it's not.
Don Campos
Shop 2, 21 Fountain Street,
Alexandria NSW 2015
(02) 9690 0090
Weekdays: 6:30am – 3:30pm
Weekends: 8:00am – 4:30pm
About me

Sharing easy recipes, hunting down the

best coffee

. Honest accounts, nothing too serious.

Read more...

Popular posts this month…

This work is licensed under a

Creative Commons Attribution-NonCommercial 2.5 Australia License

.

Disclaimer:

All opinions in this blog are mine, an everyday, real-life person. I do not accept payment for reviews and nor do I write sponsored posts. I do not endorse the content of the comments herein.