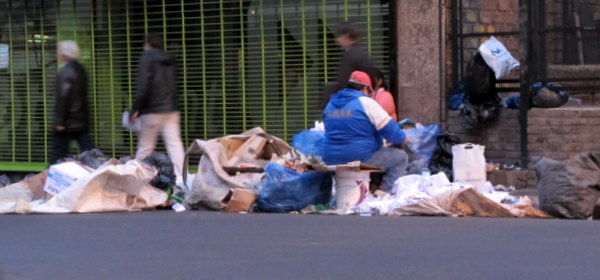 Yesterday afternoon, in the midst of wishing I could run out and grab a coffee I got an email from Luci, a woman living on the disability pension.

Luci feeds her whole family for $100-$150 each week. All 7 of them. That's $14-$21 per person, per week.
Sure, shared food costs may help – the cost of food for a family of 4, for example, is less per person than for a single person living alone. But $150 to feed 7 people is nothing in Australia, especially with the increase in cost of living.
As is true of so many things, Luci and her family pull it together each week through their own ingenuity. They're not starving, although she admits that things are getting harder as food gets more expensive.
"I do think we eat quite well though. We eat sprouts and eggs from our chickens, we grow pots of herbs for herbal tea, a leg of lamb (8.99/kg) can stretch to make 21 individual meals…"
My hokey little 'taste of poverty' challenge is not something Luci, or her family can afford to try. However, she wasn't critical of it, even though I am coming from the privileged position of being able to 'play' at being poor for a week.
"I really like this challenge however and I hope it does increase awareness of poverty in Australia. We tend to think it is overseas, not in our backyard."
These kinds of situations are exactly what I'm trying to raise awareness of. 11.1% of us live below the poverty line. 2.2 million Australians go without the basics we consider essential to live, not even a comfortable, but a not-hideously-uncomfortable life.
With this in mind, I invite you to donate to OzHarvest today. If you do, please comment below or email me at lau@corridorkitchen.com so that I can keep track of the $35 Challenge tally.
It's not too late to support The $35 Challenge. During Anti-Poverty Week, from October 16-22, participantshave $5 a day to spend on food. By experiencing poverty for just 7 days, we come to a better understanding of the realities and stresses of those living in poverty. By blogging or tweeting this experience, we can raise awareness of an issue so often swept under the rug. And by donating the remainder of the money we would usually spend on food to OzHarvest, we can make a real difference.
About me

Sharing easy recipes, hunting down the

best coffee

. Honest accounts, nothing too serious.

Read more...

Popular posts this month…

This work is licensed under a

Creative Commons Attribution-NonCommercial 2.5 Australia License

.

Disclaimer:

All opinions in this blog are mine, an everyday, real-life person. I do not accept payment for reviews and nor do I write sponsored posts. I do not endorse the content of the comments herein.